A seriously delicious and oh so filling salad, with loads of good ingredients that come together to create a really satisfying meal. Buckwheat, beluga lentils, roasted asparagus, sunflower seeds, mixed salad leaves, blueberries and a herby dressing with avocado and lime. Can you feel the freshness wafting through the screen?
It's getting warmer by the day. For me this means I'm starting to crave different sorts of food than I do when it's freezing cold. Yes obviously that means ice cream instead of chocolate, but it also means salads instead of heavy hot meals.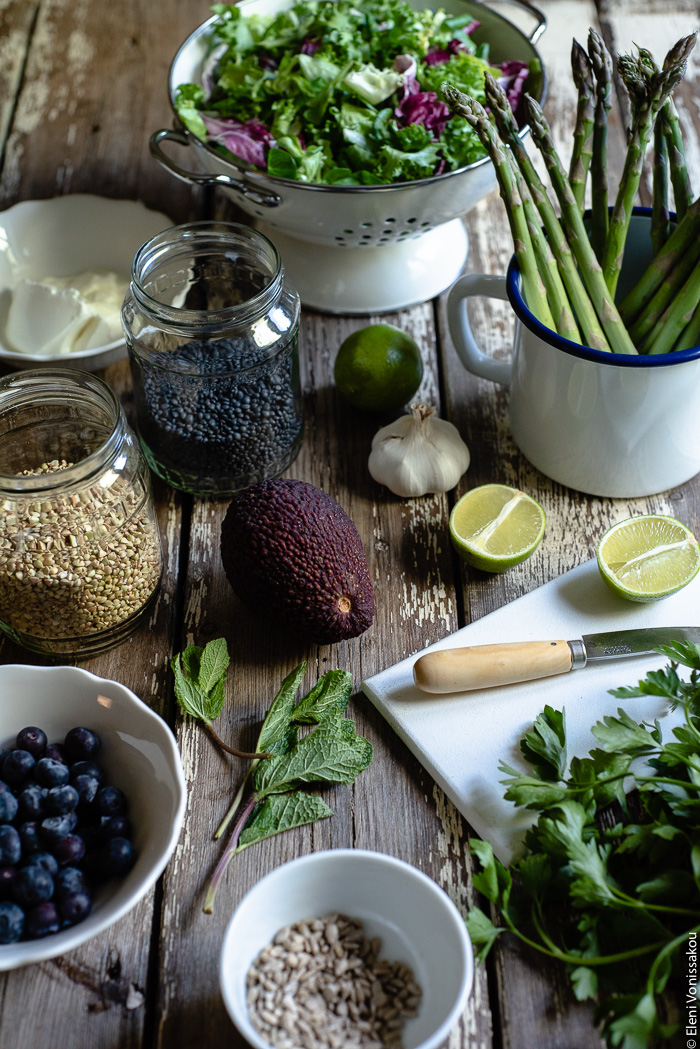 If the sound of salad for dinner makes you scoff, I'm with you. I have never been one to eat a couple of green leaves and a stick of celery and pretend it satisfied me. When I say salad, I mean something more like this baby here.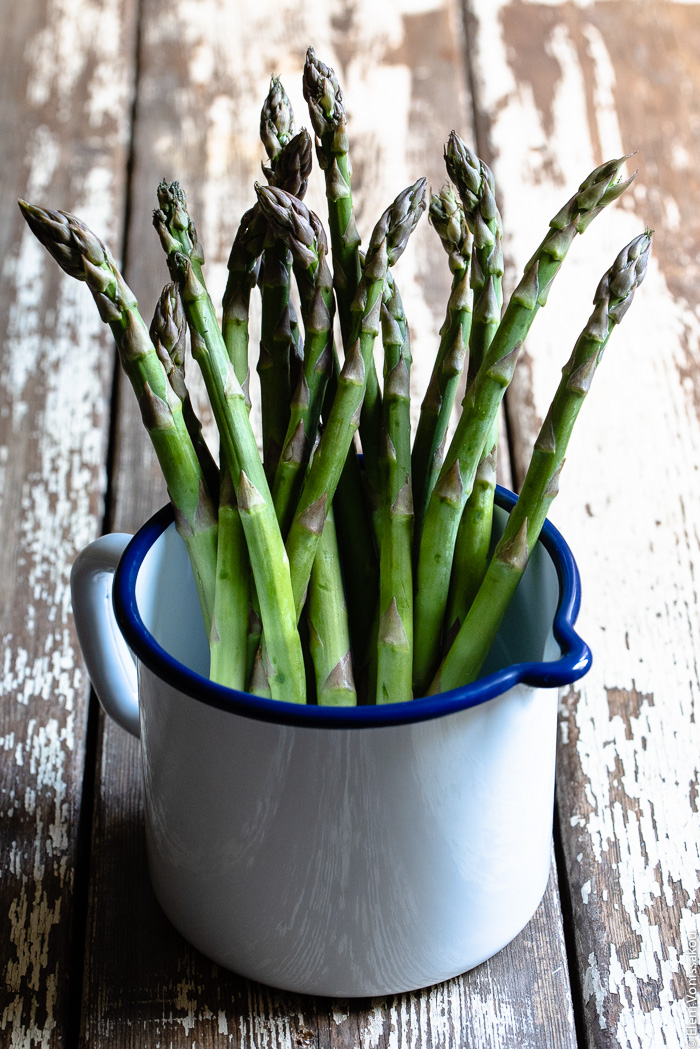 Maybe a better way to describe what I am referring to when I say "salad for dinner", is a salad-meal. Something "substantial" as Mrs. D. (my mum) would say. Something that will actually take up some space in my stomach. Well, sorry, but a couple of leaves and a stick of celery are only good for getting my stomach juices flowing and alerting them to the fact that proper dinner is on its way. Or they can be good for sitting at the side of whatever other yummy stuff I've loaded onto my plate.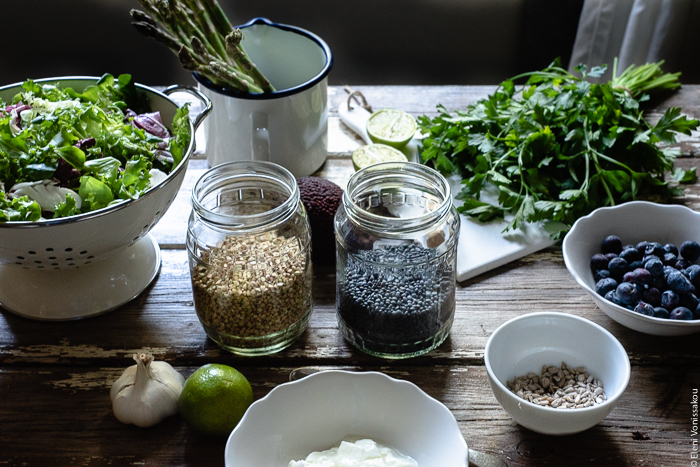 No, salad for dinner means a big big bowl of veggies PLUS something else. Best things to accompany the veg – for me – are legumes and/or grains. Lentils, chickpeas, cranberry beans (I love these) etc, or bulgur wheat, rice, wild rice, quinoa, buckwheat etc (quinoa and buckwheat are pseudograins but whatevs, they are delicious). Here I chose beluga lentils which are cute and hold their shape fantastically, and buckwheat which is so nutty and flavourful.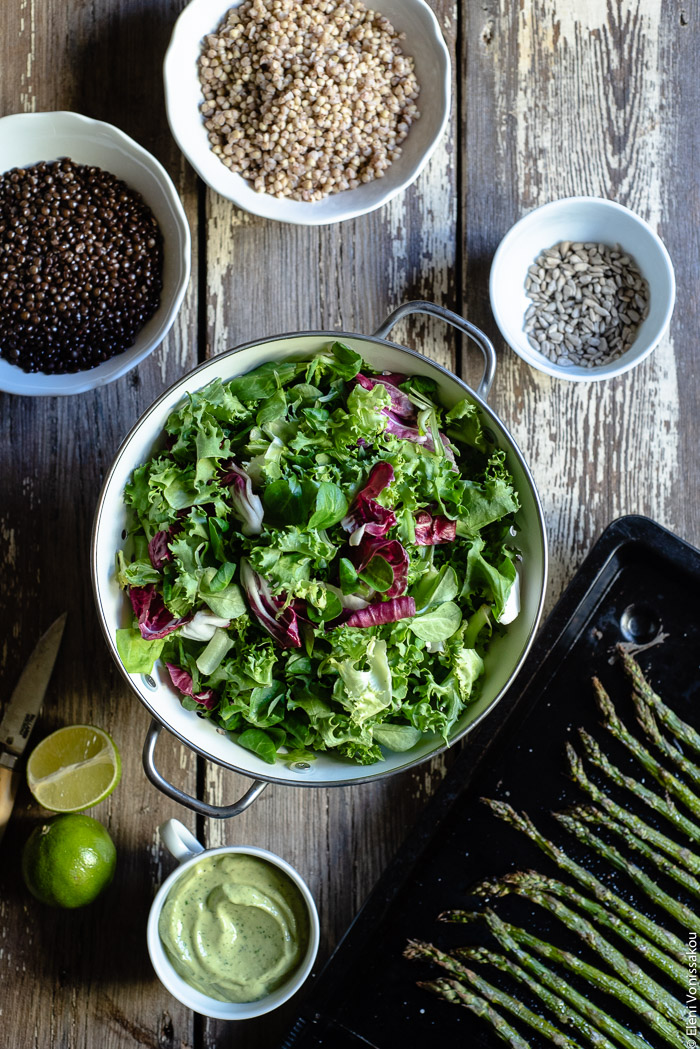 An interesting dressing is always necessary too. A simple olive oil and vinegar (heavy on the vinegar) dressing is great with some things, for example my Greek Dakos potato salad and anything containing beetroot, but I'll often experiment with other stuff as well. Orange juice is a favourite, I love it in salads. Also tahini, honey, cumin, tartar sauce, blue cheese, even buttermilk and jam, have all made appearances in my salads (not all at once, ha!).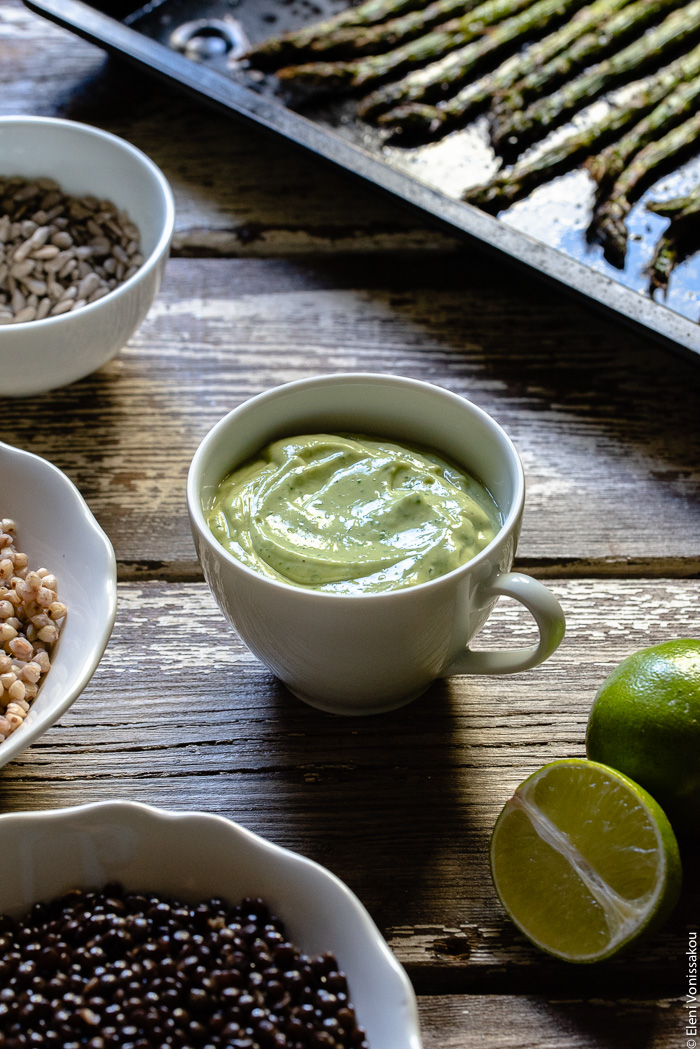 This time it's avocado, herbs and lime. This stuff is gorgeous. And if you omit the water you can use it to dip stuff in. So tasty, fresh and vibrant!
So, mixed salad leaves, always a good base for refreshing salads, lentils, buckwheat, and then sunflower seeds and blueberries too. The blueberries are optional but do provide little unexpected bursts of zingy sweetness here and there.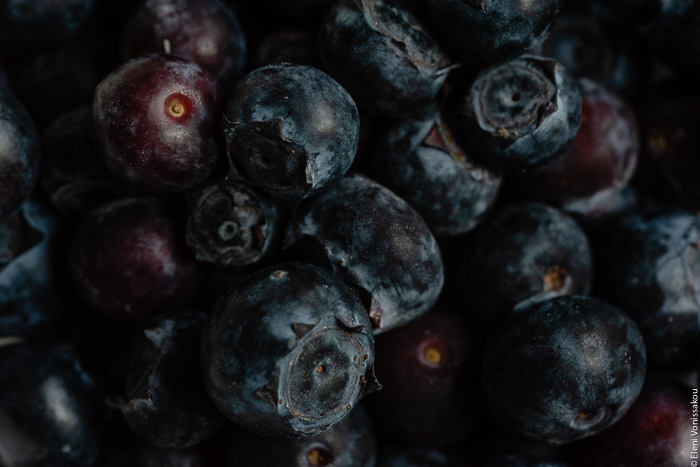 In the photos you will see some dairy products. In one there is a bowl of sheep's yogurt. This was initially included in the dressing, as I thought it would be an interesting creamy addition. Then (after having completed the photo shoot), I decided I needed to do one more test and made it again without. I discovered that in fact the avocado flavour was more prominent this way, and the dressing itself a bit sharper-tasting. Which is a good thing in this case. So no yogurt. The cheese you see on the platter is anthotyro, a soft fresh white cheese similar to ricotta. It's a mild tasting addition to the salad which is good, but can easily be left out without spoiling the overall deliciousness. This way the salad is completely plant based too.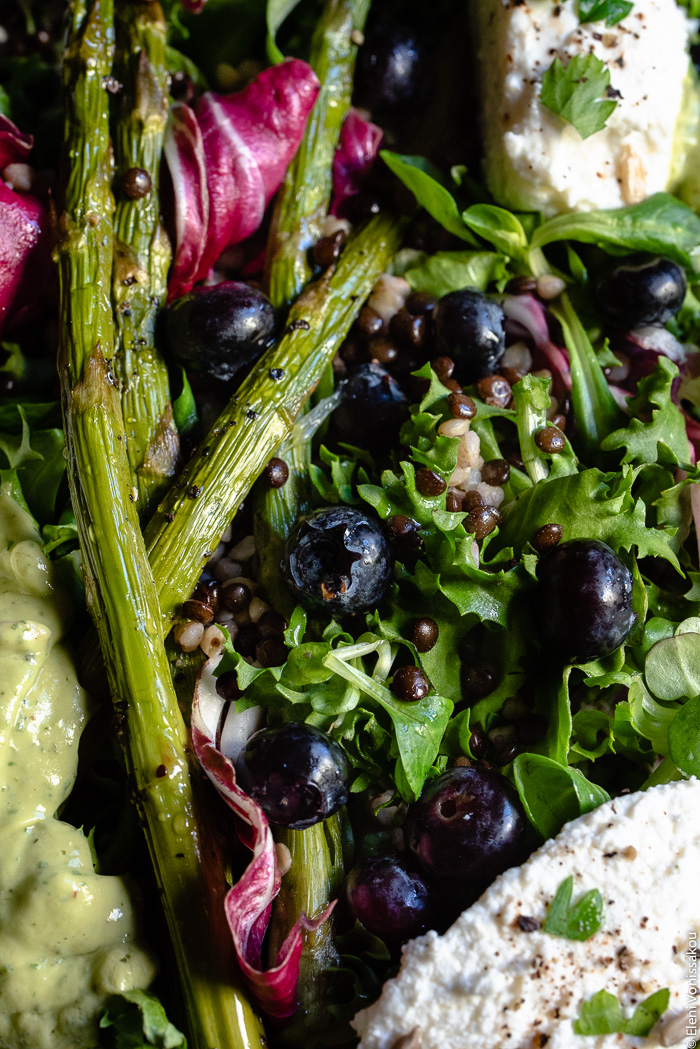 The roasted asparagus on the other hand should not be left out. It should not be left out of anything if you ask me! Ok, I may be exaggerating but it's my new food crush. Why haven't I eaten more asparagus in my life? I am going to make up for lost time.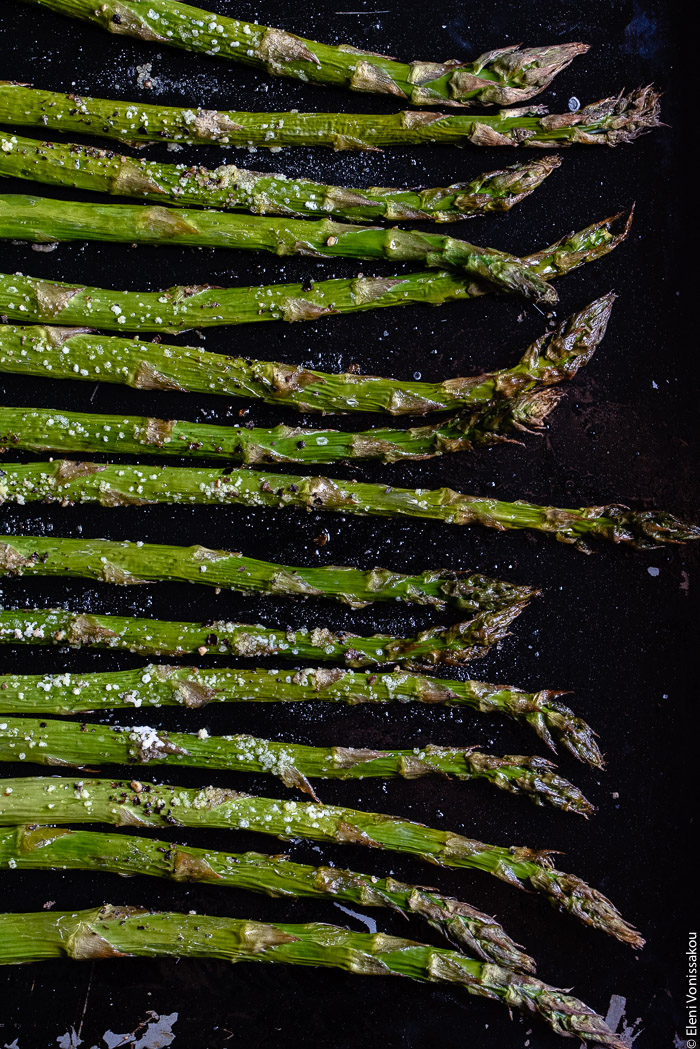 Oh and a quick note on the garlic. You can either pop it in the food processor as is with the dressing ingredients, for a zippy and slightly more intense result, or roast it beside the asparagus first, for a mellower flavor.
Right, I think that's enough of my babbling. Do I go on a bit too much about each and every ingredient? Please be honest, if I should be keeping my posts shorter it would be good to know!
And as always I'm going to ask that if you do make the recipe, please tag me (@thefoodiecorner) in any photos! I love sharing them on my IG stories!