The classic Greek Dakos salad with a twist. Broken up, crunchy rusks, plump ripe tomatoes and creamy, salty feta are joined by chunks of baked potato and drenched in a simple olive oil and red wine vinegar dressing. Capers and sea fennel (rock samphire) add a little something extra to this gorgeous and filling salad.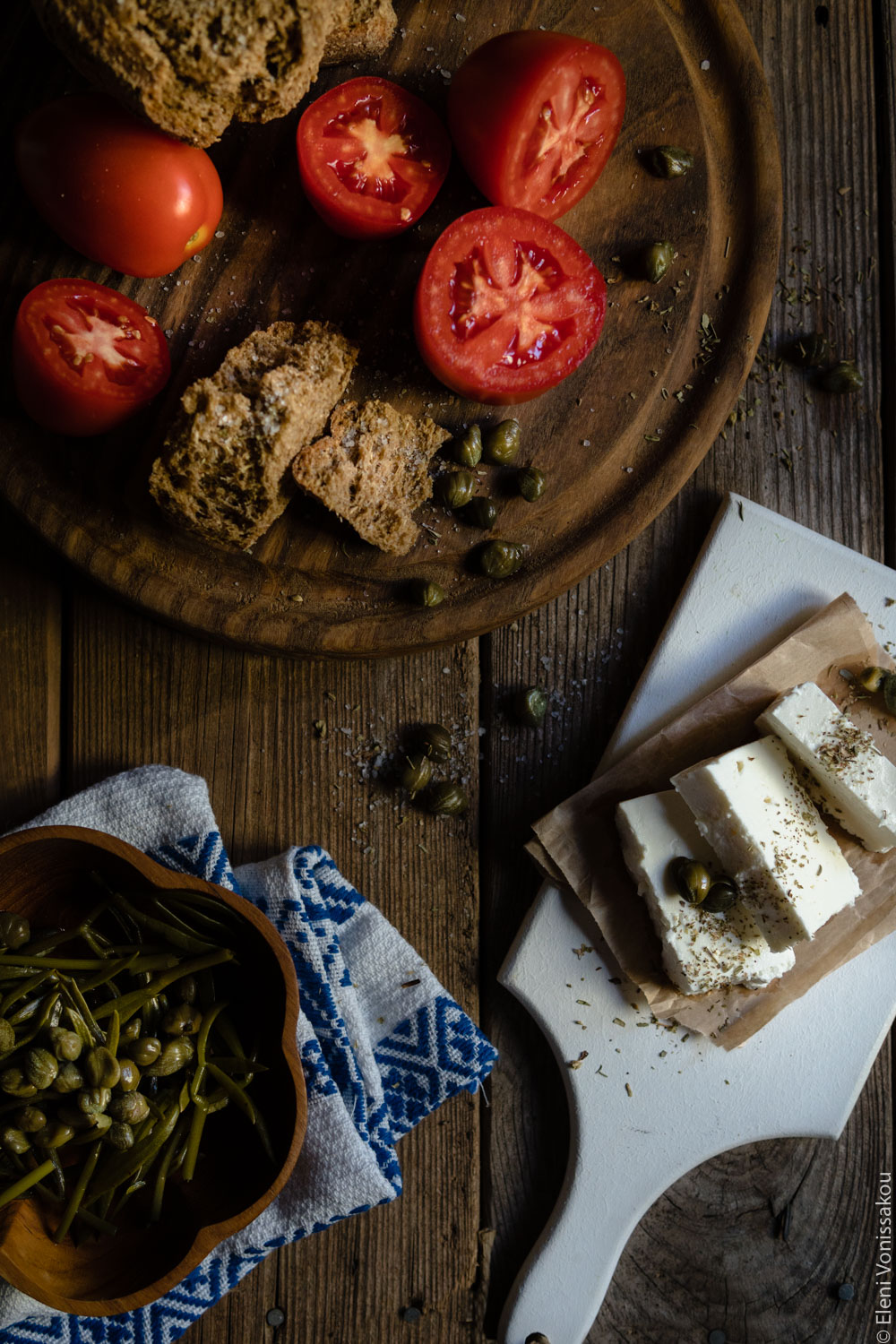 Dakos salad is a dish originating from Crete. The classic version has a base of barley rusk (twice baked bread that turns very dry and crunchy), lots of tomato and either feta or soft myzithra cheese. It's dressed in olive oil and sprinkled with dried oregano. Sometimes you might see it with olives too. It's one of those dishes that is really simple, with few ingredients, yet seriously delicious. The degree of deliciousness largely depends on the quality of these few ingredients, so make sure you use the best tomatoes you can find, and good olive oil. As for the rusks, I don't know how easy it is to find them overseas, but you can always turn to the internet for the real thing.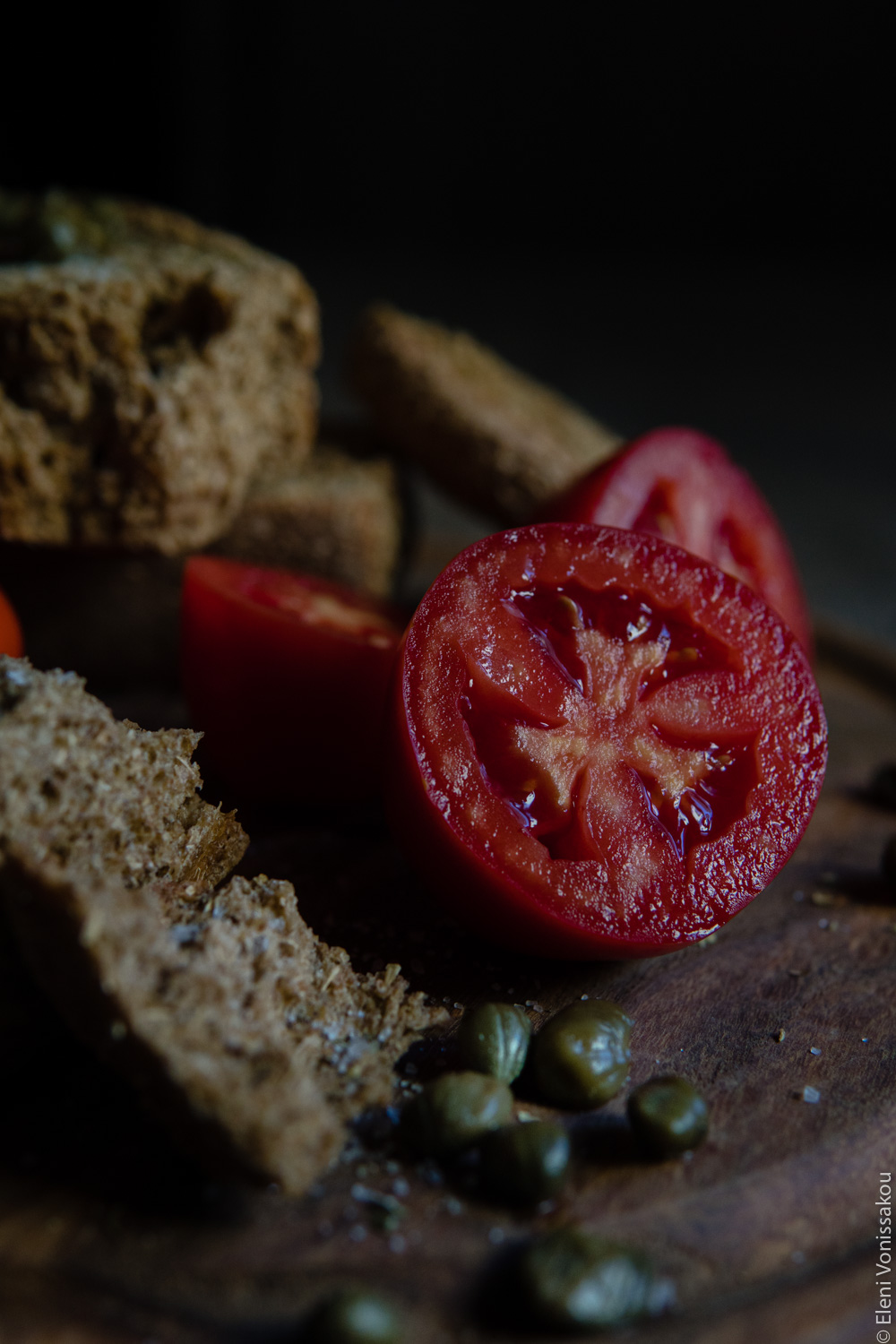 The rusks can be very very tough and even sharp-edged, so people sometimes sprinkle some water over them to soften them a bit. An important thing to keep in mind is that the tomato (at least some of it) should be grated over the rusks, rather than cut into pieces. Personally, after having made this salad at least once a week for the past couple of summers, I find that grating the tomato on a large-holed coarse grater provides enough moisture to soften the rusks. Combined of course with a fairly generous amount of olive oil. In the beginning, I was chopping my tomatoes, going a bit crazy with the oil, and still having to drizzle water over the rusks. This made for a few soggy bits and a pretty heavy salad. Then I thought I would try grating some of the tomatoes. Wow. I would have never imagined such a huge difference with this one detail. I don't know why it works, but I don't need nearly enough oil, I don't use any water, and I can eat a couple of huge bowlfuls of the stuff without feeling like I've eaten rocks later on. If you check the classic recipes they do mention grating tomatoes. Obviously they knew what they were talking about. Duh.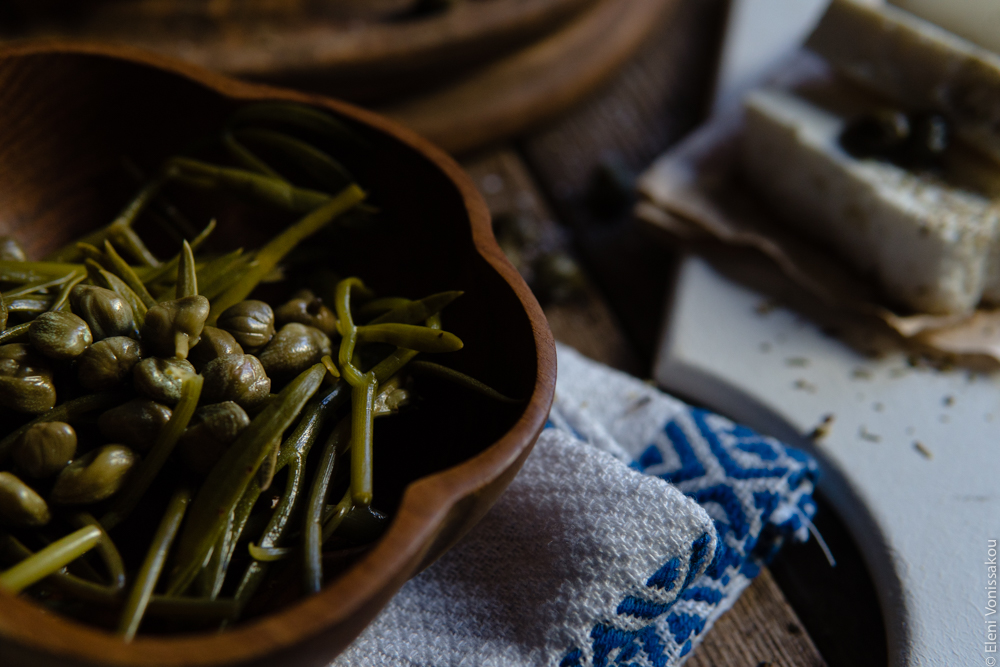 So that was a brief description of the classic dakos. As I said, it's a veeery frequent addition to my weekly menu during the summer. I think I can safely say it's one of the few things I actually like about this time of year (yeah, you probably know by now I'm a winter person).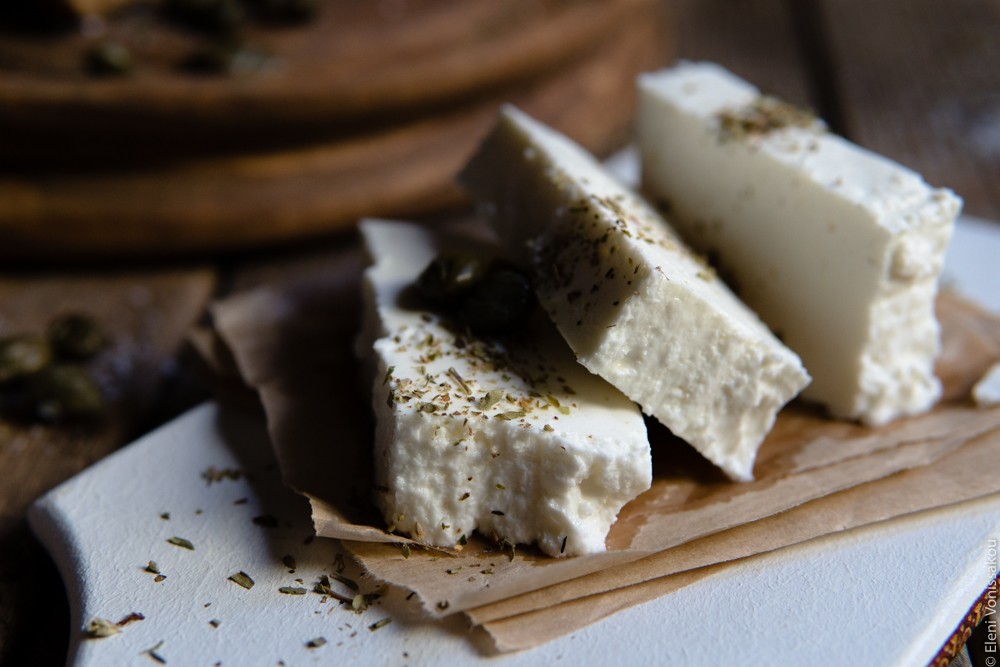 I decided however to share a slight variation of this with you guys today; a baked potato dakos. One day last year I fancied a dakos but I'd run out of rusks (the horror!). I did have a baked potato which had been cooked in the slow cooker (best ever way to make baked potatoes!), just sitting in the fridge. I thought I would try substituting the rusks with the potato. It was actually really good! But you know what? Why choose between the two if you don't have to? So, soon after that, when I'd replenished my rusk supplies, I tried combining both in the salad. Yes. It works really well.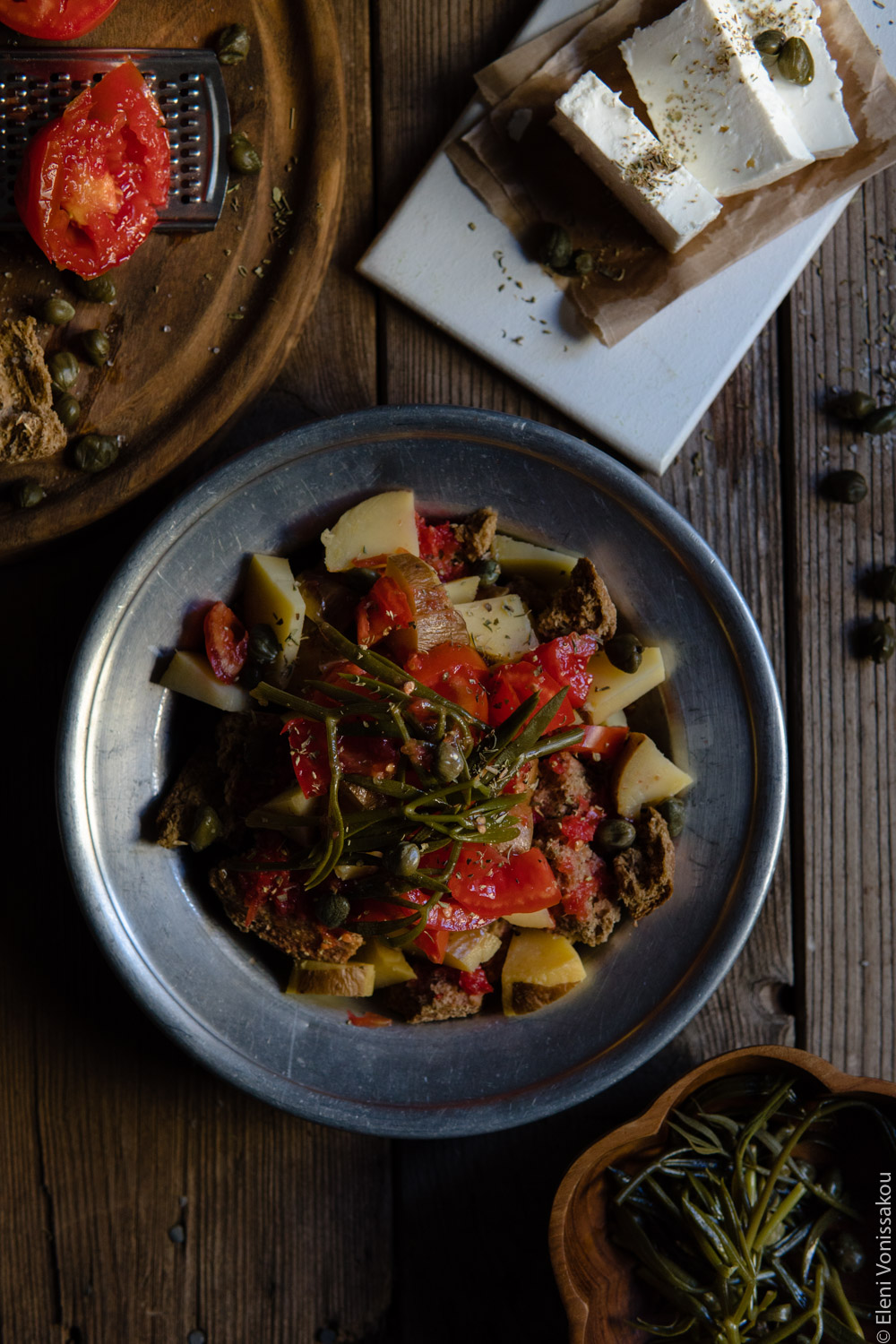 I added a few ingredients that you may or may not come across when it comes to dakos recipes. Red wine vinegar is one of them, which I absolutely adore with the potato and feta. Then I thought I might add some capers and some sea fennel (aka rock samphire or crithmum) which is a wild plant that grows near the sea and is kept in brine. These additions complement the salad really well. You could add olives too if you like them. I hate them so they're coming nowhere near my salad!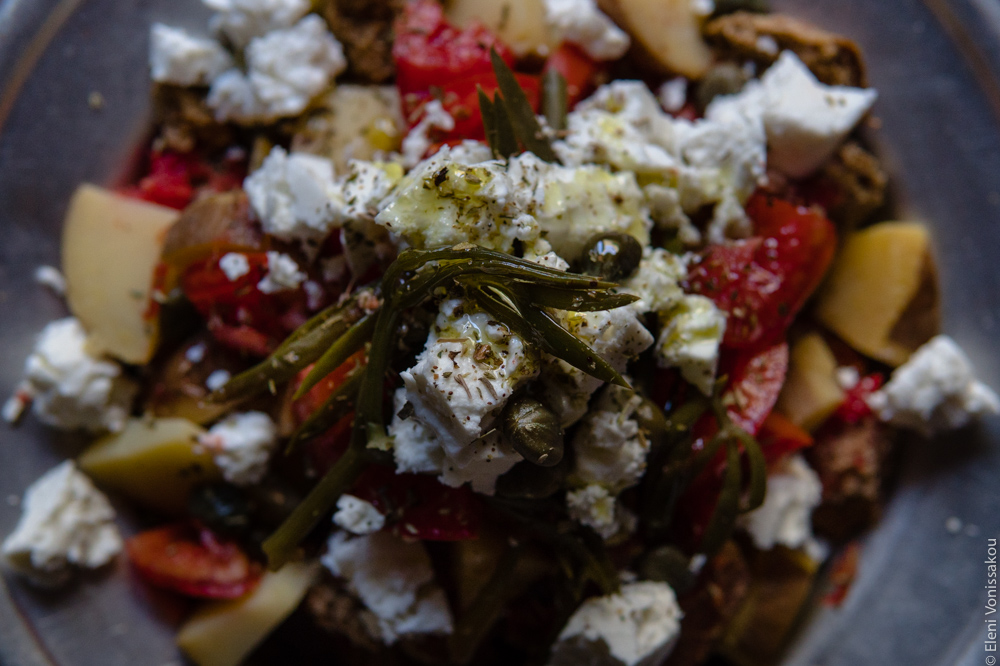 Hopefully you can still get your hands on some good, ripe, juicy tomatoes, in order to try this baked potato dakos salad. It's a meal in itself, so you could have it for dinner with a nice glass of chilled white wine or a cold beer. Ah, heaven.