A delicious curry, slightly on the spicy side (for my palate anyway) inspired by the traditional Sri Lankan version of jackfruit curry. Served with basmati rice and coconut flatbread.
I really hope I will be forgiven for simplifying this dish so much. First of all, I do know that to maximise the flavour of a curry you need to toast the spices before they are simmered in the sauce. It releases the aromas and gives an extra layer of depth to the final result. However, when it comes to the slow cooker, I feel that some of this extra depth is captured by the prolonged cooking time. And, I am not ashamed to say, sometimes the ease of just popping everything into the pot and letting it cook away while I do other things, is the best thing ever. There, I said it.
So, this curry is made with jackfruit. Baby jackfruit curry (polos curry) is a traditional dish in Sri Lanka, as jackfruit there is a staple rather than a new trend to hit food blogs and cookery magazines. It's a fruit that provides sustenance at low cost, since it grows in abundance all over the island, on trees that can withstand pests and harsh climate conditions (drought etc). In fact it is an integral part of many cuisines in South and Southeast Asia. Nowadays it's very popular in Western countries as its texture resembles meat and it's used as a substitute. (See my Greek kokkinisto with jackfruit here)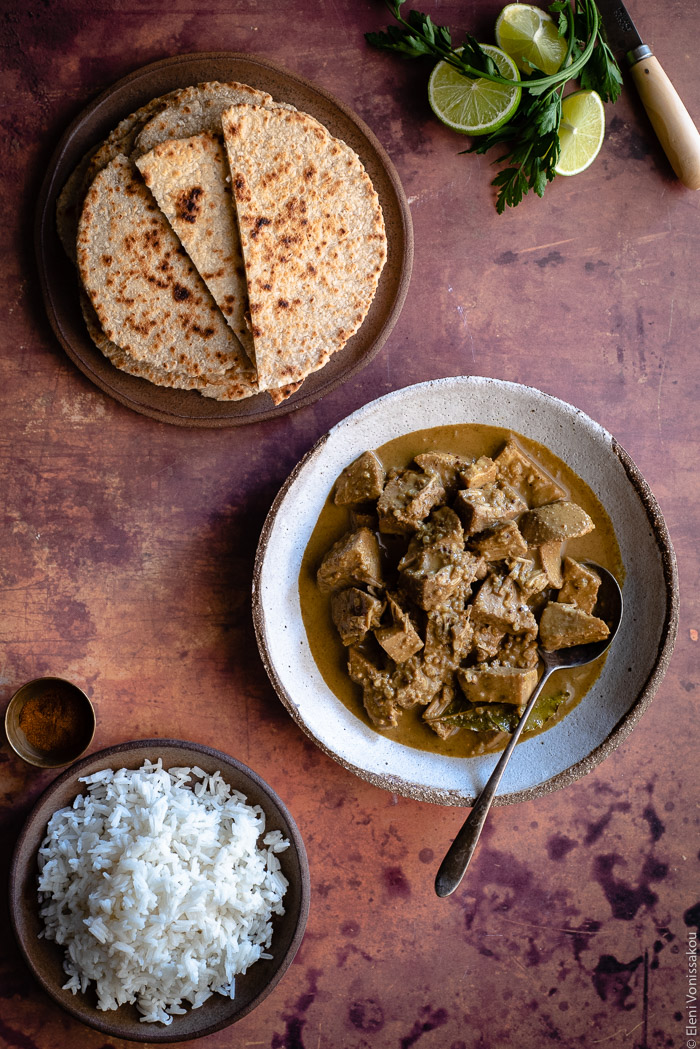 But back to the polos curry. After a bit of online browsing I found a recipe I liked on the blog Island Smile and tweaked it to suit the slow cooker and the availability of ingredients in Greece. Obviously some of them wouldn't be easy to get hold of here so I've substituted according to a) some research and b) what I thought would work best. For example lime doesn't usually feature in the original version, but I doubt I could easily find goraka (a fruit commonly used in Indian and Sri Lankan cuisine) or even tamarind paste which is a popular substitute. Pandan leaf is another difficult one. I hope I haven't caused any offence with my interference; I can only imagine how much more flavourful the real deal is! Not to say this isn't delicious and well worth a try. Serve it with some basmati rice and coconut flatbreads or roti as they are called, another Sri Lankan speciality I have attempted to recreate here.
How about you? Have you tried Sri Lankan cuisine?