A delicious tomato based stew with all the aromas of a Greek beef or chicken "kokkinisto" and the meaty texture of jackfruit. Served over thick pasta or any other way you might fancy. Embarrassingly easy, plant based and oh so tasty.
One of my favourite Greek meat dishes was always beef or chicken "kokkinisto". The word literally means "reddened" as the sauce is of course a deep dark red colour from the tomato. It's a great dish to cook in a crockpot and I have a couple of these classic recipes in my book The Greek Slow Cooker. Nowadays I prefer meatless alternatives and for a while now I've been contemplating making a plant-based version of this delicious Greek staple. And what would be a great substitute for the meat? Jackfruit.
I won't go into great detail here about what jackfruit is. It's a fruit (obvs) and it grows mainly in India and SE Asia. There is lots of information online so if you are curious do a quick search. Most interestingly, in my personal opinion, it's sustainable, nutritious and its cultivation could play a major role in strengthening farming communities that are under threat by climate change. Take a look at this article for more. As is often the case though, there is a drawback; jackfruit has to travel many miles to reach our plates, thus its carbon footprint is quite significant. Ugh, it's so hard to weigh all the factors and make the right decisions. The way I see it, the ideal is of course to eat local, sustainably produced food that is in season. But every so often it's ok to eat something that's travelled from far away, if we see it as a treat. Treats are good for the soul! What do you think?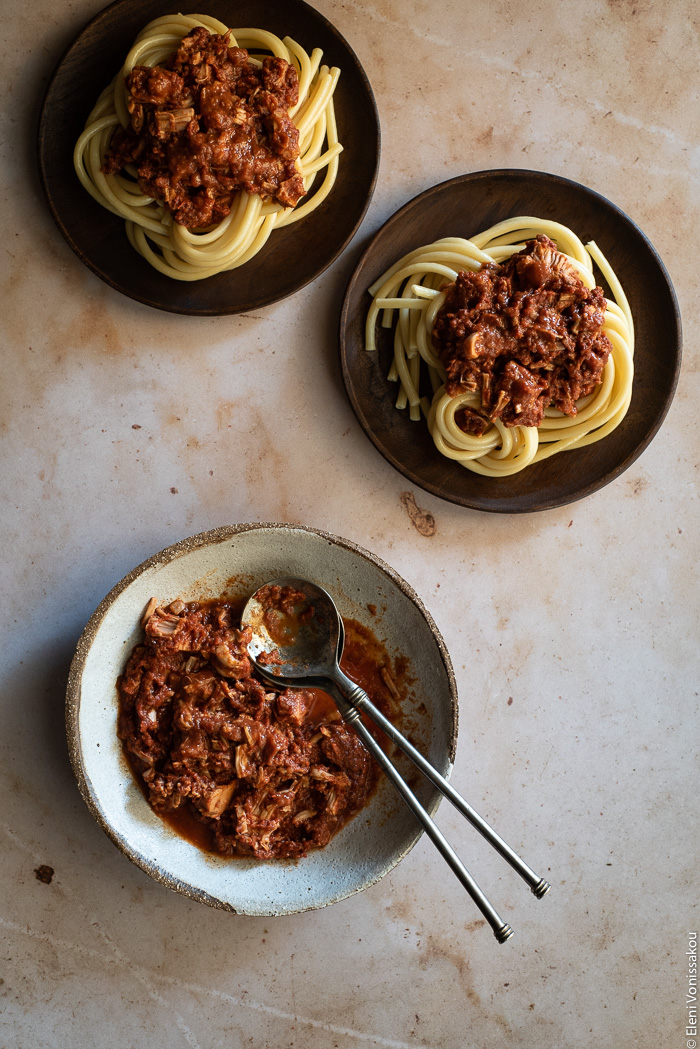 Here in Greece jackfruit is sold tinned and preserved in brine. I read somewhere that you can use fresh jackfruit in cooking but it's not easy to handle so the tinned version is better. Yay! I mean I'd be very very surprised if I could find fresh jackfruit here in the first place, and to be honest if it's tricky to prepare I'm thinking I would probably end up avoiding it most of the time anyway. This way I can have a tin in my cupboard for whenever the mood strikes. The fruit itself is pretty neutral tasting so it will take on the flavours of whatever sauce it's cooked in. The pieces are already cut up nicely in the tin and all one has to do is drain, cook and shred it.
Typically you wouldn't shred the meat in a traditional kokkinisto (it's served in large chunks), but for jackfruit it's best you do. The smaller pieces soak up more flavour and the texture really makes you feel like you're eating shredded chicken. Using spices typical to this Greek classic makes it even more reminiscent of the real thing.
Not yet convinced? What if I tell you this recipe is made in the slow cooker with my favourite plop-it-in-and-go method? Meaning you just plop all the ingredients in the pot and forget it for a few hours. Can't beat that can you? Especially in this heat!
You can serve the kokkinisto jackfruit with thick bucatini-style pasta, rice, mashed potato or chips (French fries for my friends over the pond). Just like a real kokkinisto. If you eat dairy you can sprinkle with grated cheese or crumbled feta, or use a plant-based parmesan if you prefer. Or enjoy as is, it's definitely tasty enough! Our leftovers were eaten up wrapped in a tortilla with some avocado. Delish.