An easy, plant-based savoury galette with spelt flour, juicy tomatoes and sweet apricots, accompanied by a basil vinaigrette just bursting with flavour.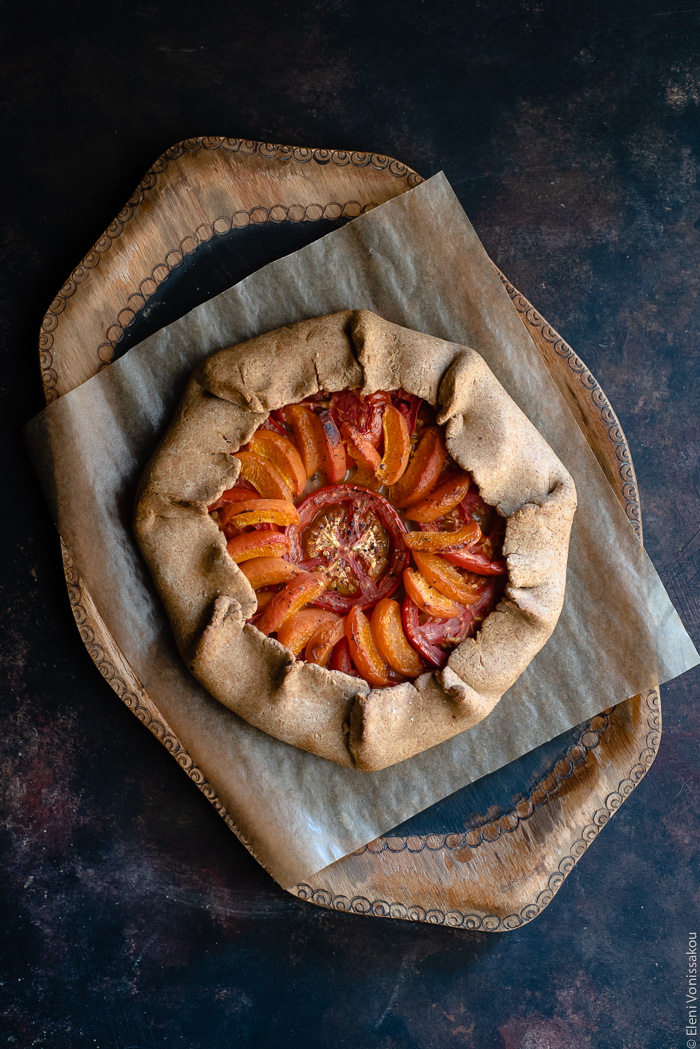 First of all, let's get past the spelt, galette, vinaigrette rhyming trio – it wasn't planned, lol! Now, we're just emerging from a horrible heatwave here in Greece, so you might be wondering how on earth I turned on the oven (if you know me at all you'll know turning on the oven isn't a priority when I'm feeling hot). The truth is I made this a few weeks ago, when the weather was still tolerable. And as soon as the temperature so much as hints at falling, I'll be making it again.
The apricot tomato combo is one I'm loving at the moment – I already made a delicious salsa with it here. Two flavours that go very well together and really shine when paired with a fresh basil vinaigrette. This stuff is so potent and bursting with flavour it's unreal.
And it's the perfect way to use up any basil you might have lying around. I find herbs are the number one wasted foodstuff in my kitchen so I always welcome recipes that use large amounts of them. And this vinaigrette can be enjoyed in so many different ways… hello pasta salad, hello panzanella, hello potato salad! Oh it's also lighter and crisper tasting than pesto.
The pastry (or should I call it a crust?) is a very easy one, just as I like it. Spelt flour because I'm still on my spelt kick (did you see the pancakes?), and a plant-based margarine spread that works really well. You could use regular marge instead or message me for info on mine. This crust would be a great base to use in any sort of savoury galette, but I do hope you try this one!
And don't forget to tag me in your creations! You can find me at @thefoodiecorner and use #thefoodiecorner on Insta so I can share in my stories!