An epic bruschetta board with a variety of delicious toppings. Honey-sweetened pickled cherries, cherry tomatoes marinated in olive oil with herbs, a fresh and tangy salsa with apricots and a heavenly dip with extra virgin olive oil and balsamic vinegar.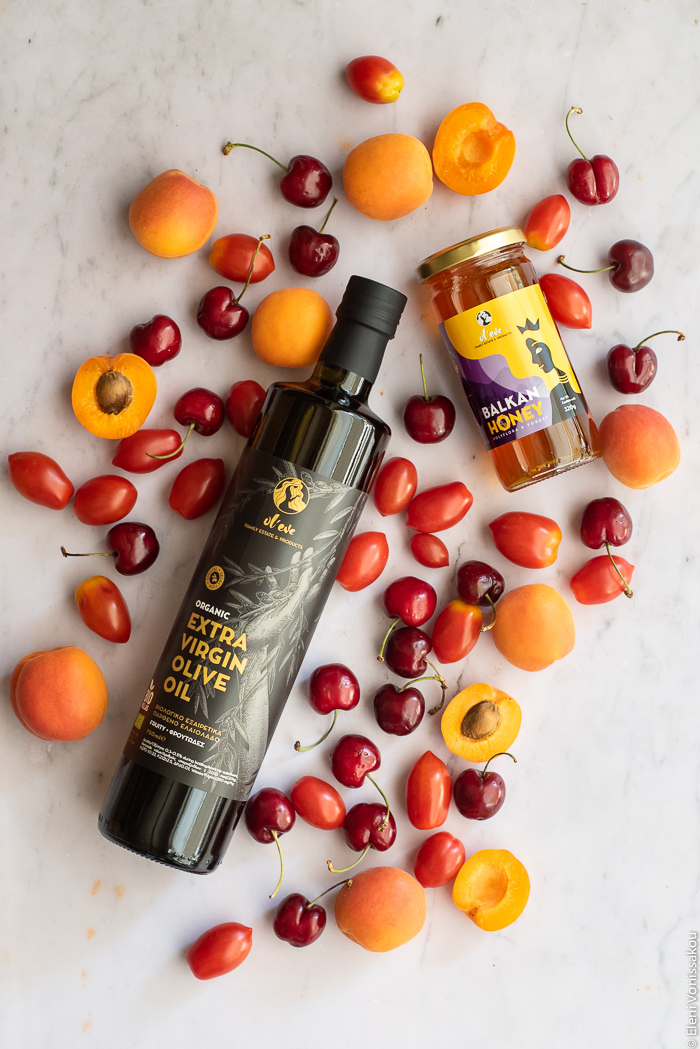 I love boards and platters. One of my favourite pastimes is to sit in front of an enormous spread of gorgeous nibbles with a glass of chilled wine. Whether to be enjoyed with friends or while watching a good series, a loaded bruschetta board is always a good idea. Although I will say that at the moment it would be a good idea to keep it small scale if you're entertaining friends. Maybe host in the garden or on the balcony? Let's keep on being safe, we're nearly out of the woods!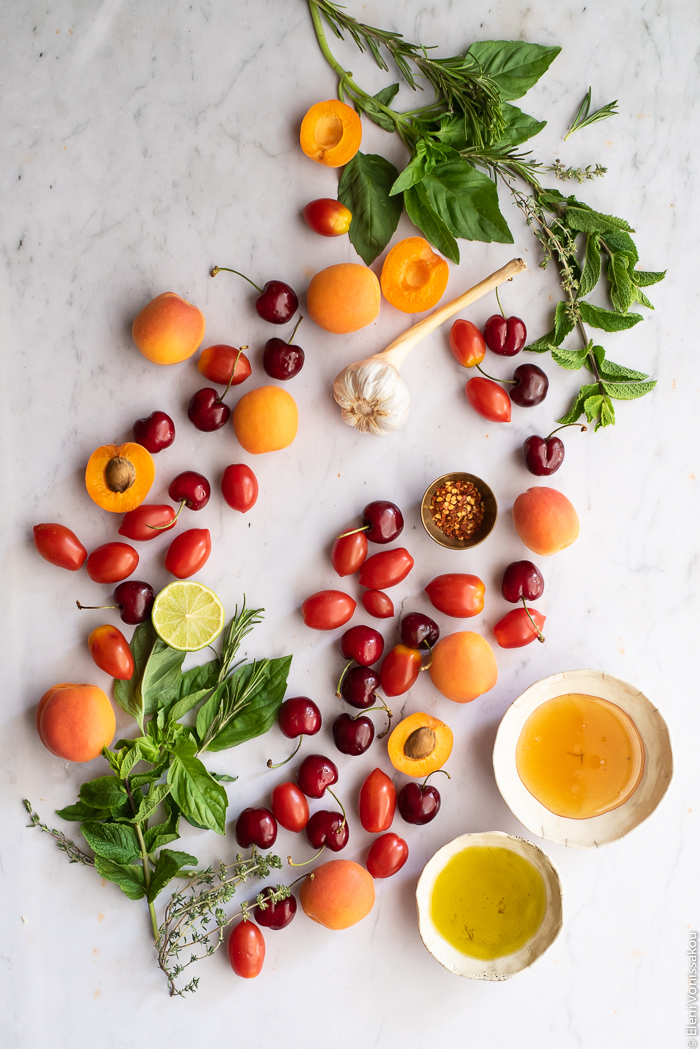 So what is on my epic bruschetta board? The main toppings are:
-Honey-sweetened pickled cherries with chilli and ginger
-Marinated cherry tomatoes with extra virgin olive oil and fresh herbs
-Fresh and tangy apricot salsa with onion and tomatoes
-Extra virgin olive oil dip with balsamic vinegar, capers and herbs
All of them taste wonderful with bread, so get toasting those baguette slices!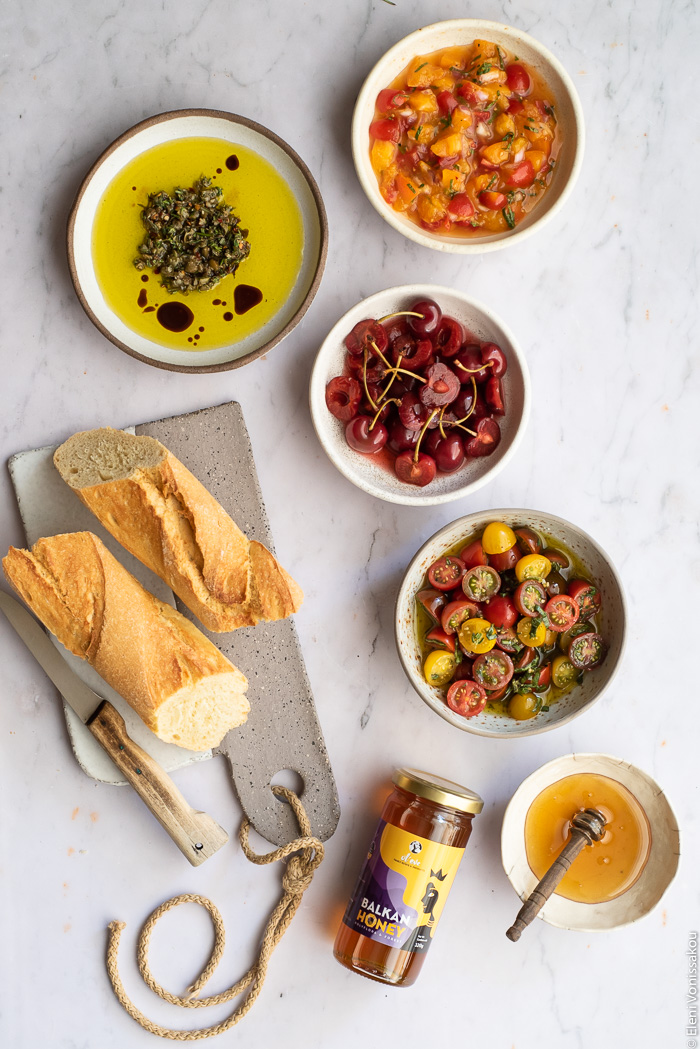 The olive oil featured in these delicious toppings is the organic extra virgin olive oil by Ol-eve. It's become my favourite, especially where raw oil is called for. It's the perfect ingredient for the dip and the tomato marinade as the flavour really shines through.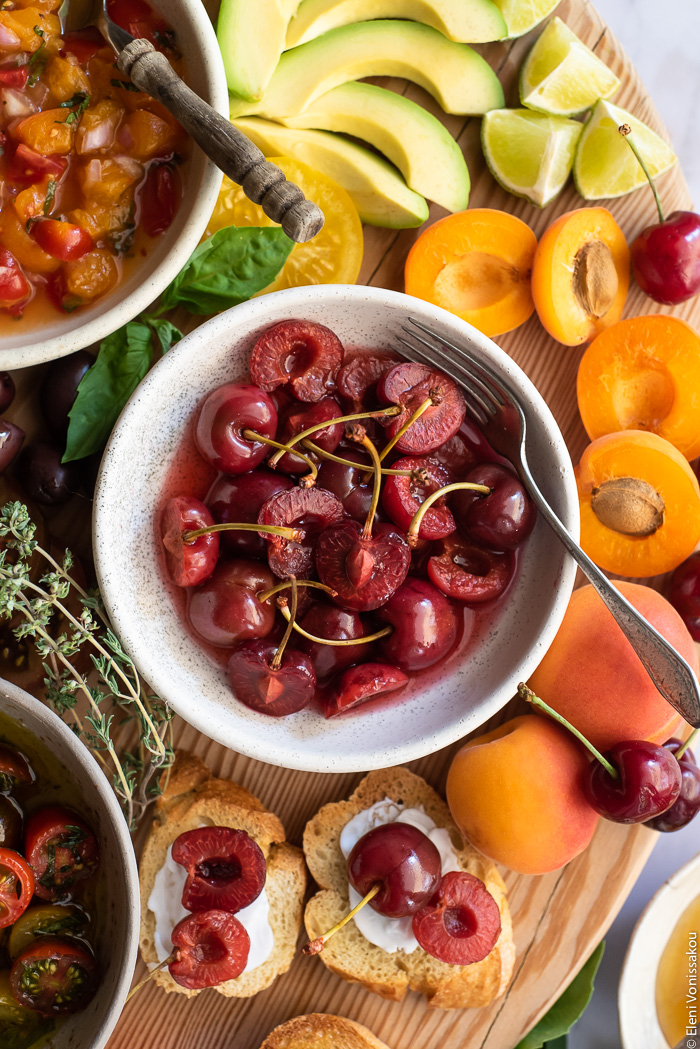 For the honey-sweetened pickled cherries and the apricot salsa I used a new (to me) honey called Balkan Honey, also by Ol-eve. It's a blend of forest and flower honey originating from Bulgaria, Greece and Romania, and has a lovely light colour and delicate flavour. Sometimes here in Greece we tend to think our products are the best in the whole wide world (!) and don't get me wrong, Greek honey is definitely top quality (when it's real of course, see my post about honey adulteration here). But the flavour of honey can be very different from area to area due to the difference in terrain. So honey from the dry, rocky southern Peloponnese won't taste the same as honey from a country further north that has rolling meadows filled with flowers! One isn't better than the other, just different. Of course this is true provided we're talking about certified pure honey made with sustainable practices, like Ol-eve honeys.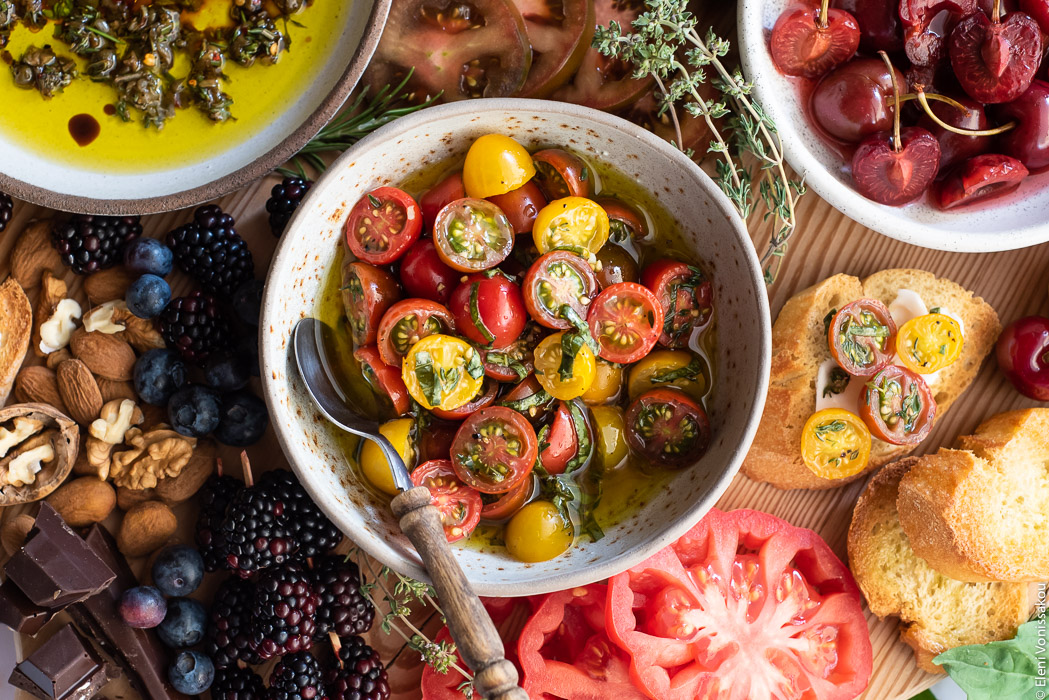 But back to our board. The four toppings I'm sharing are delicious enough to enjoy as bruschettas (or bruschette more correctly) so if there aren't that many of you, you don't need to go all out with the rest of the nibbles. It's important to be conscious of food waste. If you are super hungry or feeding several people then by all means, use your imagination to load up that board with anything you fancy. Fresh fruit and veg, nuts, dried fruit etc. If you eat cheese you could add a hard yellow or soft white variety (go for something sustainably/ethically sourced if possible). I chose a plant based cream cheese which paired perfectly with everything.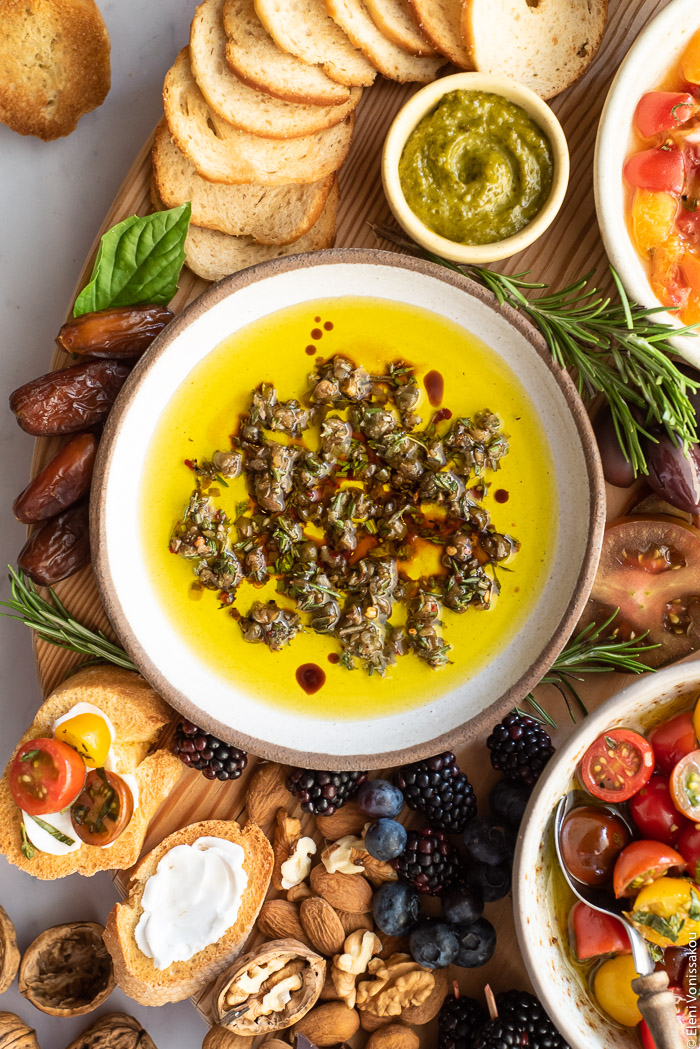 Here's what you can see in the photos:
-Pesto (store bought, plant based)
-Sliced tomato (I used heirloom, yellow and black varieties)
-Fruit (cherries, apricots, blueberries, blackberries, kiwi)
-Avocado
-Olives
-Sliced onion soaked in vinegar (for at least an hour before serving)
-Crackers
-Nuts
-Dates
-Honey
-Plant based cream cheese (or any cheese you prefer, it pairs well with honey)
-Dark chocolate (I used a salted variety)
-Herbs for decoration (but pop them back in the fridge soon after, so they don't go to waste)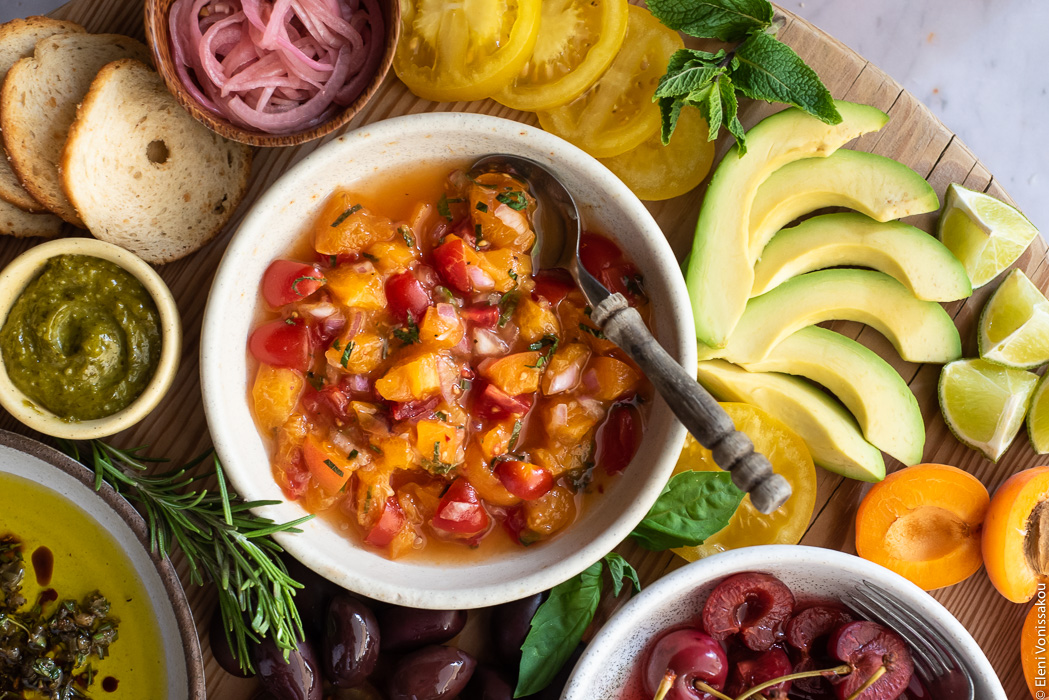 You can use any combinations of the above or substitute with other goodies of your liking. Toast some day old baguette slices (or any other bread), pour a glass of wine and enjoy! And don't forget to tag me in any photos; you can find me on Instagram at @thefoodiecorner!