A super tasty crustless pie made with chickpea flour. Some might call it a plant-based frittata but for me it's closer to a Greek "flour pie" (alevropita). I've filled it with leftover green bean stew (fasolakia), although you can use all sorts of cooked (or raw) vegetables that might be skulking in your produce drawer.
Have I told you how much I love dishes that can be made specifically to use up leftovers? (Haha ok, I think by now you get that I hate food waste.) A frittata is one such dish, originally made in Italy using leftover pasta. It's made with eggs and is a fabulous way to use up scraps of cheese, veggies etc.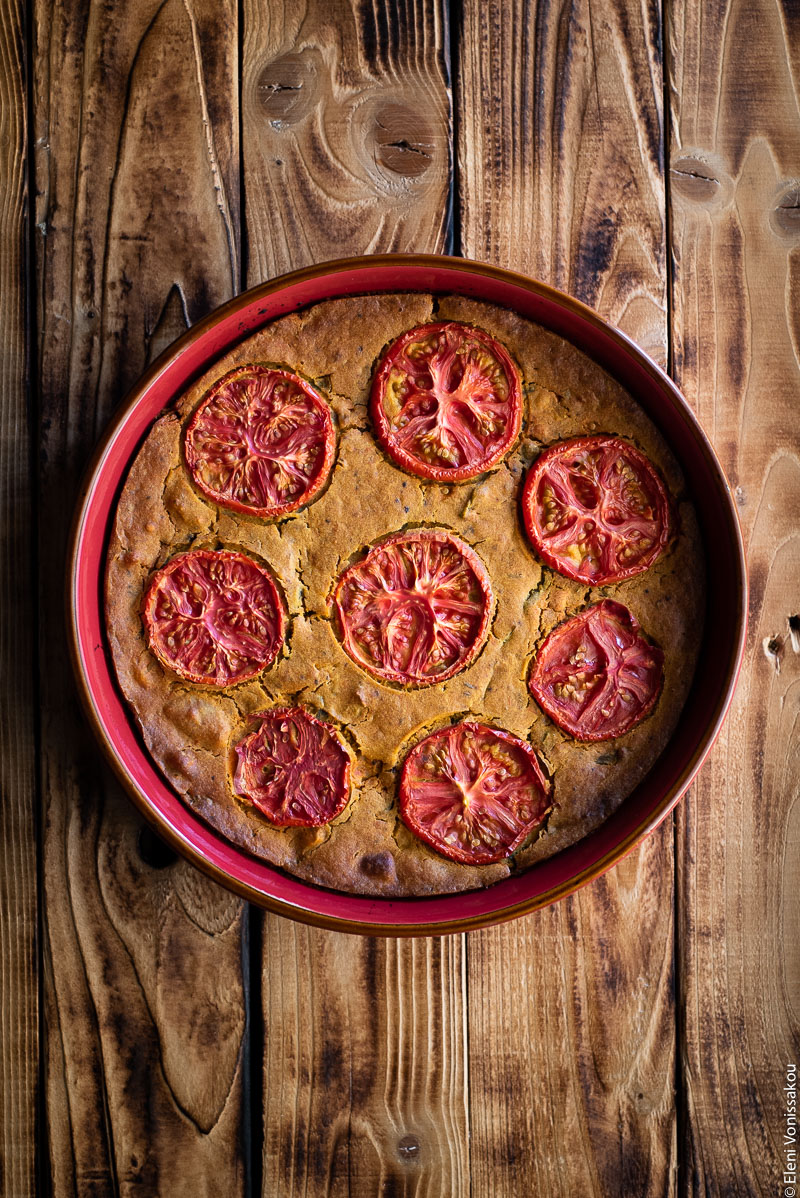 Nowadays I try and limit my consumption of eggs and dairy so I thought I would try out a plant-based version of frittata instead. I found many on Pinterest and they looked really good. They all seemed to have chickpea flour as their base so I got hold of some and went for it. So glad I did!
The chickpea flour is used to make a batter that is reminiscent of beaten eggs and if you can find some kala namak (black salt with sulphur) it is said that you get a bit of an eggy flavour too. When I made this version I hadn't been able to find kala namak so I haven't included it, but feel free to do so if you want. (It's still delicious without it)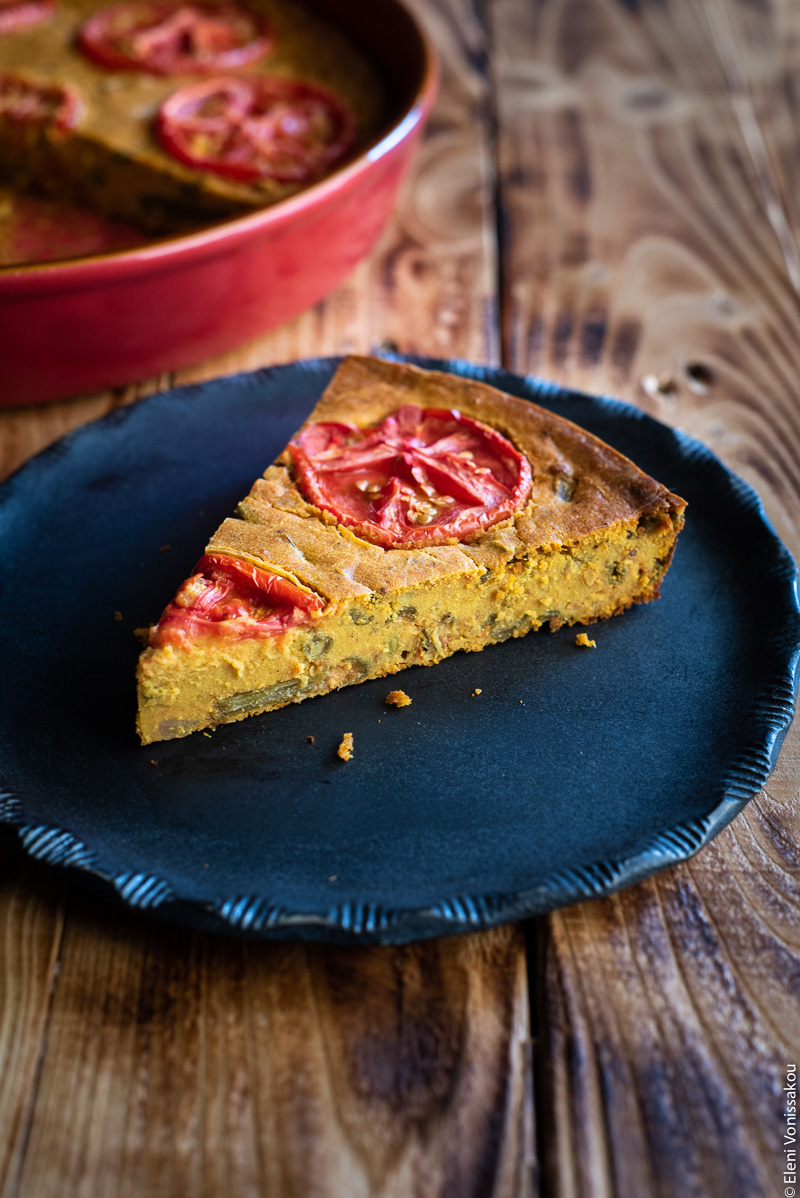 Now as far as the name is concerned, I am calling this a "flour pie" because sometimes I feel we aren't doing these dishes a favour by giving them the names of their animal by-product based counterparts. If someone takes a bite of this expecting to taste some frittata they might be disappointed through no fault of the actual dish, which is in fact delicious. I prefer to title recipes in a way that doesn't create unrealistic expectations and then give more info in the description.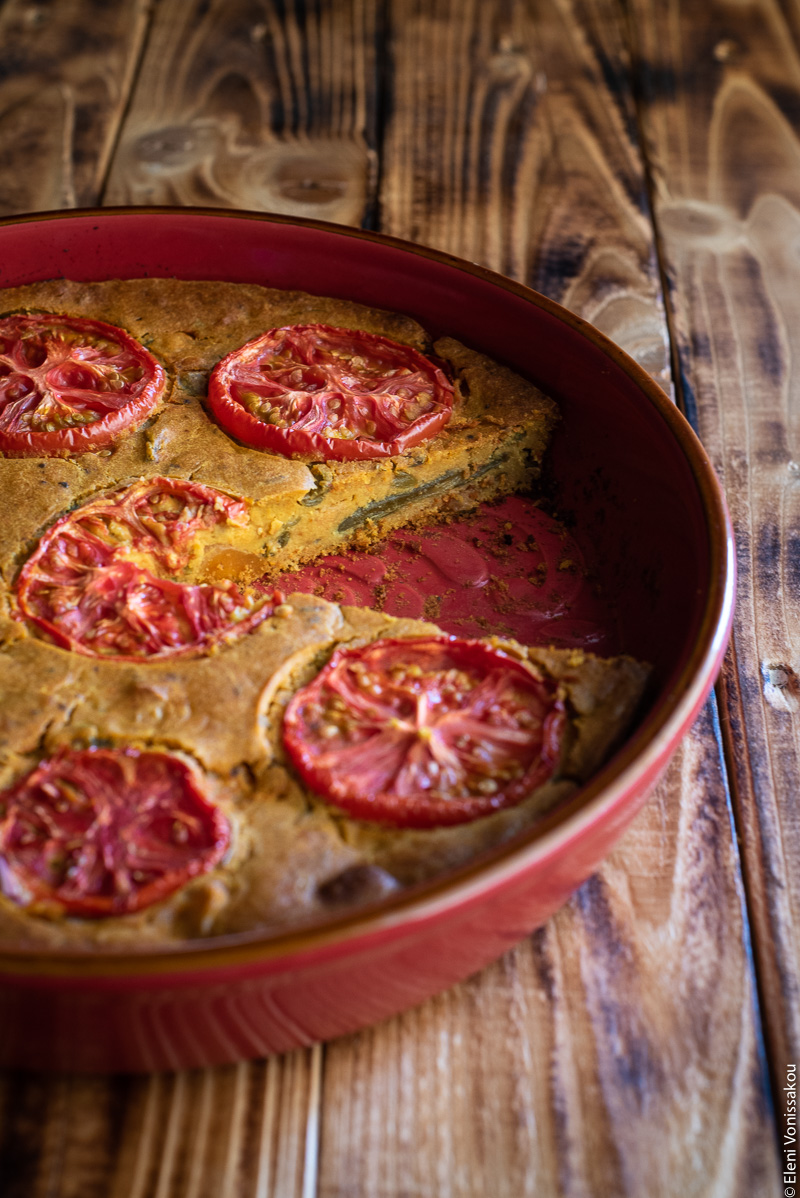 Anyway, back to the ingredients. I filled this pie with some leftover Greek green bean stew called Fasolakia (slow cooked green beans in tomato sauce), and in the past I've also used leftover briam. I have recipes for both these dishes in my book The Greek Slow Cooker and there are a couple of briam recipes here and here too. If you don't have my book you can try some friends' recipes for Fasolakia – I've mentioned them in the "Link Love" section below. (But if you have a slow cooker I do believe you'd like the book!) Anyway, just make sure you have enough leftovers! Of course this pie works with other add-ins such as sautéed spinach or mushrooms, frozen peas, lightly cooked broccoli or cauliflower, grated and squeezed courgettes (zucchini)… anything you have in your fridge and want to use up before it gets wasted! Be sure whatever you add isn't too wet.
A fab "love your leftovers" dish if ever there was one. And it's plant based too, so you're doing your bit for the planet twofold!