Red peppers roasted to juicy, sweet perfection and stuffed with a delicious and easy orzotto with mushrooms, pumpkin and harissa chickpeas for a spicy kick. All topped with a crunchy breadcrumb and pine nut topping to add an extra layer of flavour and a variety of textures.
So here I am, writing this post in London! I finally made it over after many obstacles and delays. If you follow me on Instagram you might have seen my stories during the four day road trip (yes, I drove here from Athens) or you can find them in the highlights under The Move. Anyway, I won't go into detail right now as I don't want to make this a very long post, but rest assured nothing will change here on The Foodie Corner, at least for now. My recipes will continue in both languages and I will try my best to create dishes with ingredients easily accessible to all, regardless of how limited or not their country's markets are.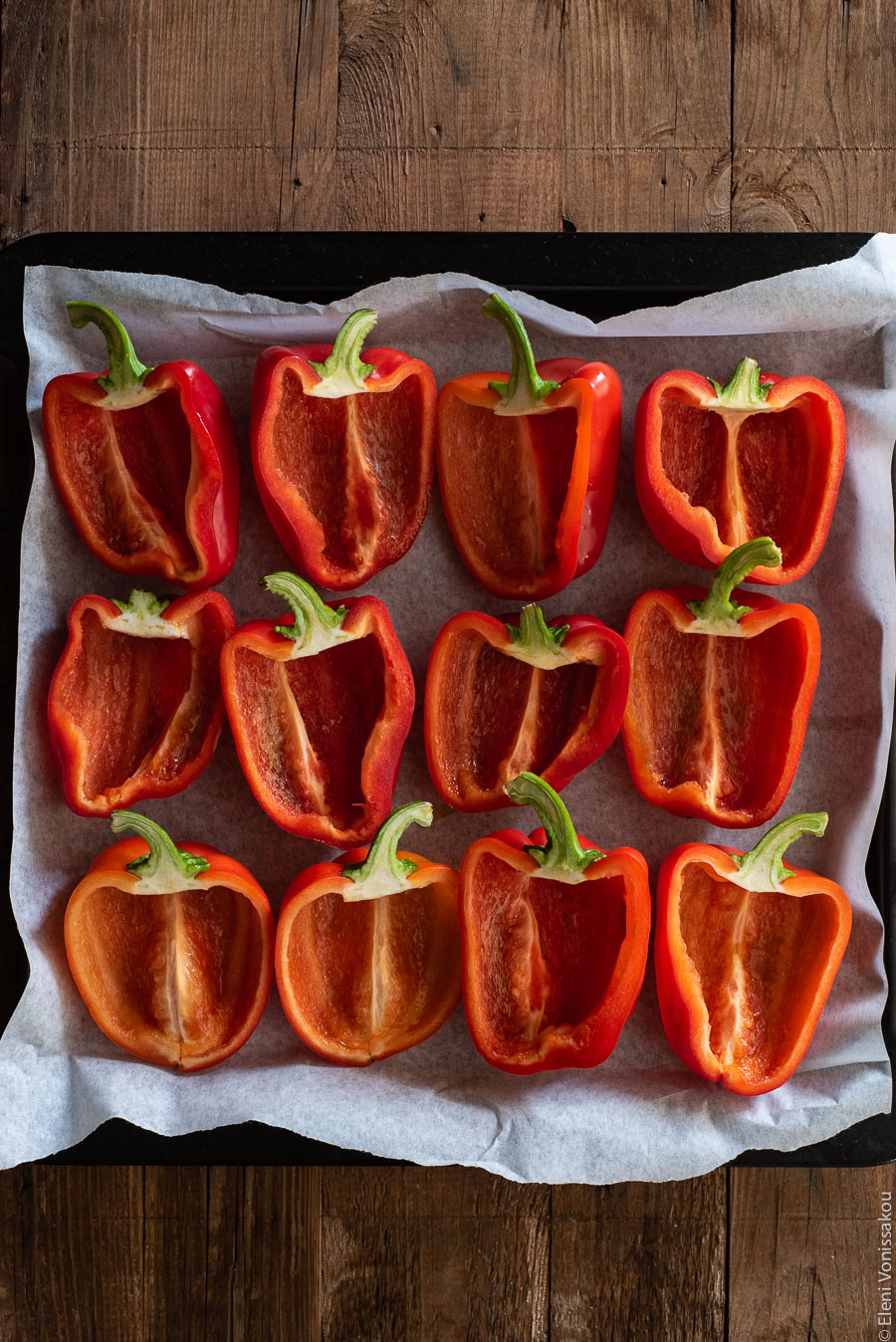 Let's talk about this dish. It might seem complicated but it's actually not. It's not the quickest dinner ever prepared, but it's not the most time consuming or effortful either. The main player here is the orzotto, something I love making as it's easy and so flexible you can use almost anything in it. Here I chose autumnal flavours such as mushrooms and pumpkin (you can use butternut squash of course), but I also added chickpeas to make it even more substantial as a meal.
The chickpeas are coated in harissa (a spicy red pepper paste originating from North Africa, namely Tunisia, Morocco and Algeria) which gives the orzotto a delicious spicy (but not overpoweringly hot) kick and balances out the sweetness from the squash and bell peppers.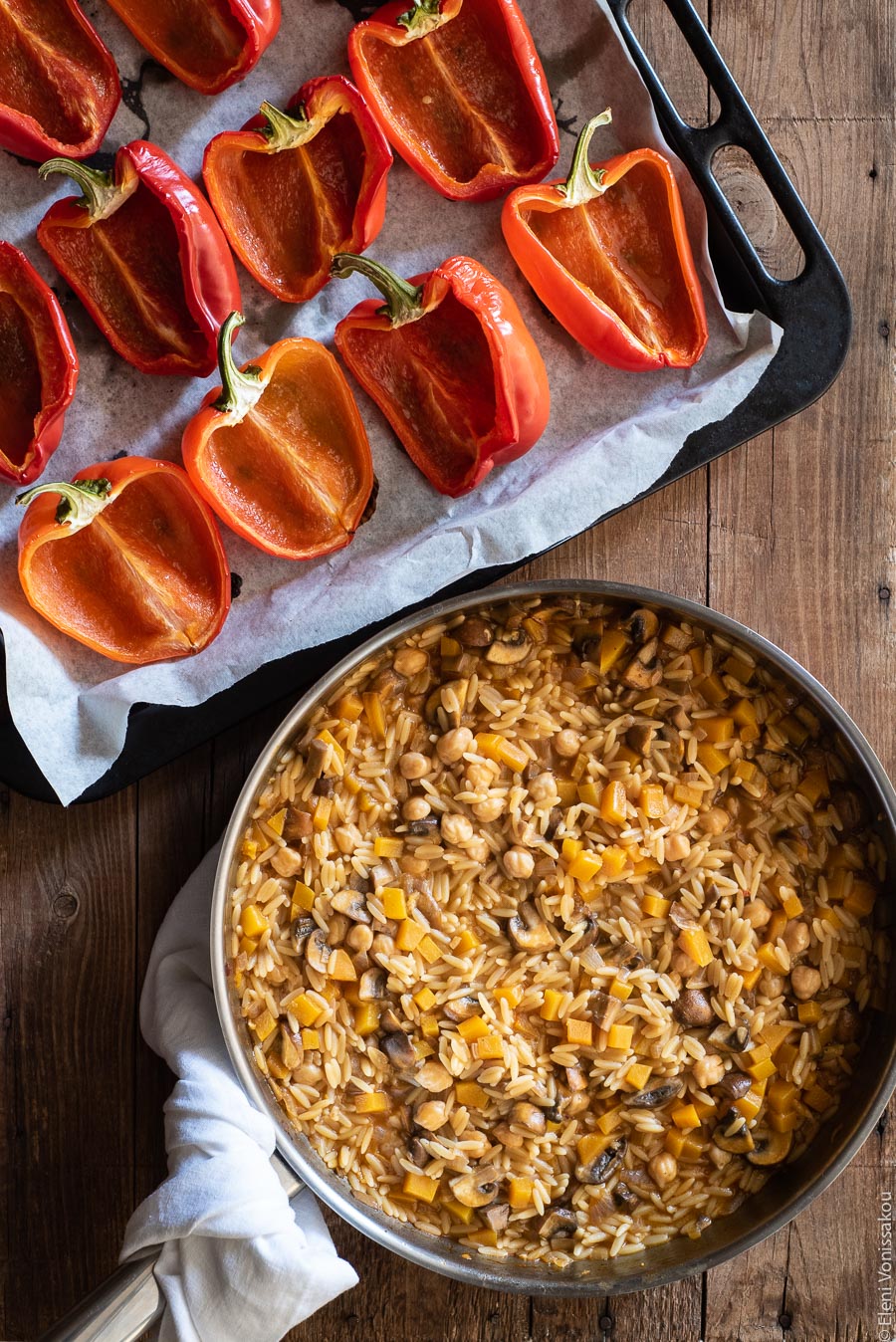 The bell peppers in this recipe play a double role. First is of course flavour, as they are full of juicy sweetness after spending time in the oven. The second is looks. They make for very cute vessels for the orzotto don't they? Sometimes you want some cuteness in your dinner! Cut them lengthways, keep the stalks for quirkiness and roast until softened and sweet.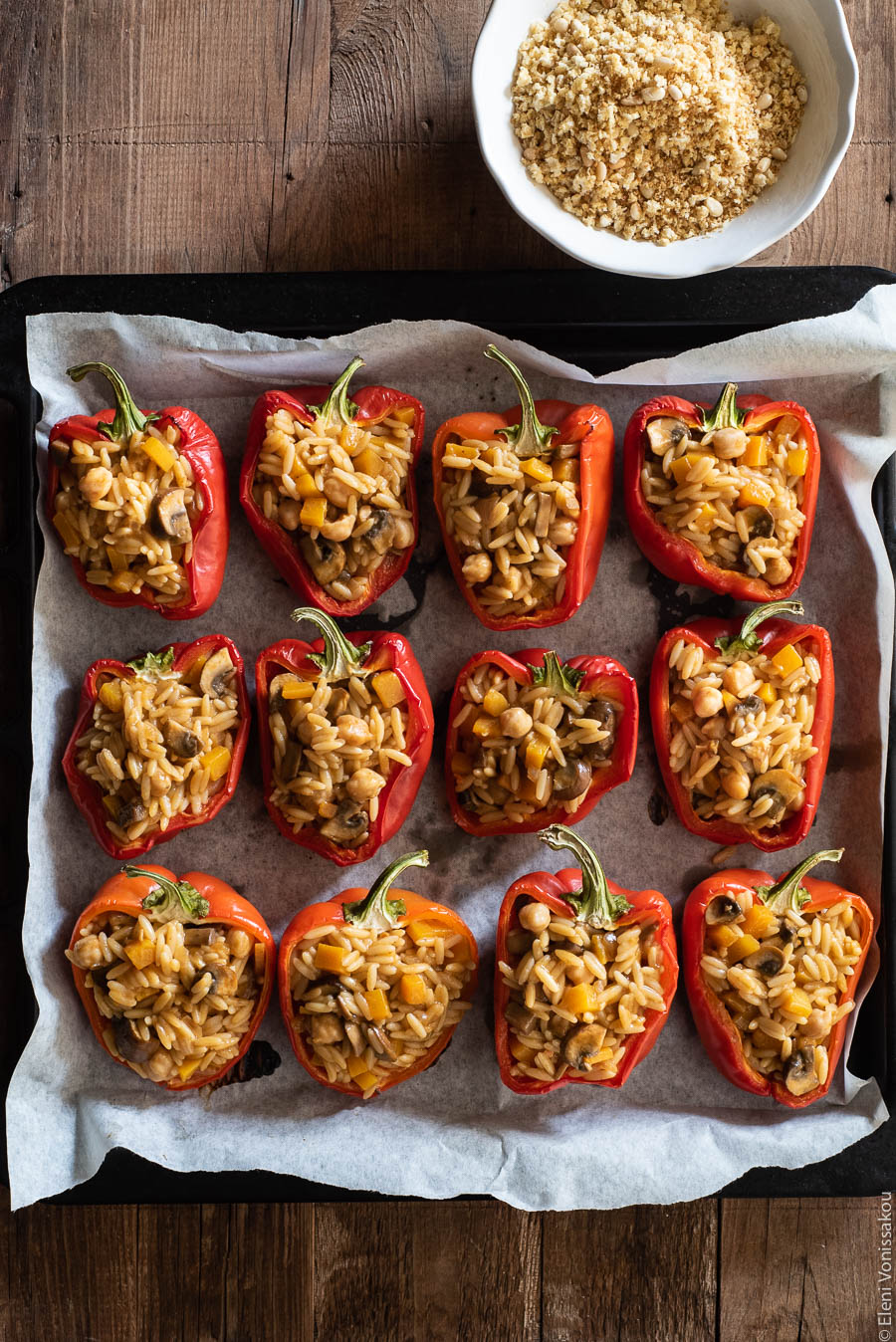 Then stuff with the delicious orzotto and sprinkle with a tasty mixture of breadcrumbs and pine nuts, a topping that adds a new texture and an extra complexity to the overall flavours. If you want you can pop the peppers under the grill to warm through (if the orzotto has gone a bit cold) and that way the topping will get toasted. Otherwise toast the mixture in a pan and just serve the peppers sprinkling it on top.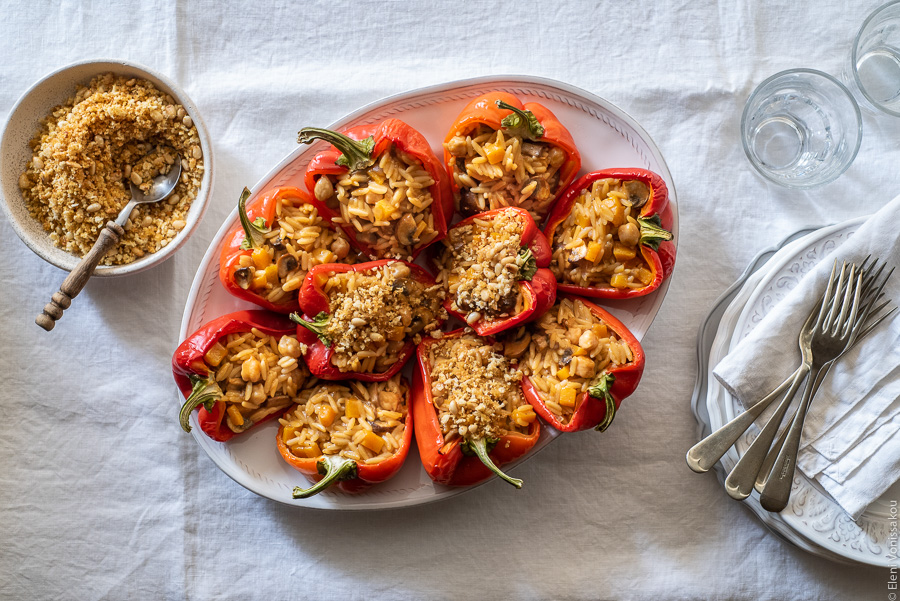 These orzotto stuffed peppers are impressive and ideal to serve at a dinner party alongside other dishes, but they are also great as a main course for an everyday or Sunday dinner. They also make great leftovers for lunch, at home or at work. I hope you try them and send me some pics! If you want you can tag me on Instagram (@thefoodiecorner and #thefoodiecorner) so I can share on stories!