A delicious garlicky dip originating from the Greek island group of the Cyclades, made with lots of parsley and olive oil. A fab way to use up that bunch of parsley lurking in the produce draw, and that piece of yesterday's bread that needs to be used up.
Many moons ago, I worked for a cruise agency. My role among other things involved organising tours for cruise ship passengers at the various Greek ports they visited. Needless to say my job required a fair bit of travelling. It was super hard work but I did get to see more of Greece (and a couple of other places like Miami and Seattle!) than I would have if I did something else. Anyway, as you can imagine I visited quite a few islands. One of those was Syros, a beautiful island that is fairly unspoilt by tourism and boasts numerous tiny restaurants with great food.
It was at one of these little restaurants (aka tavernas) that I tried what was called "parsley salad". It was gorgeous. If you're wondering about the name, Greek cuisine has many dip-like dishes that are called "salads" for some reason. Eggplant salad (melitzanosalata), cheese dip (tyrosalata), fish roe dip (taramosalata – yes, it's taramOsalata), beetroot dip (pantzarosalata) and the list goes on. Parsley dip/salad however is not one of the well known ones and you don't come across it often. In fact I never had it again after that one time, even though I would have definitely chosen it if I'd come across it on a menu.
For some reason I recently thought about this dish again. I happened to have loads of parsley left over from a photo shoot (you know, when you have to buy a whole bunch in order to scatter five leaves over a plate of food, lol) and I was trying to think of a way to eat it up (a way that wasn't pesto again). In a rare moment of clarity and good memory (I am SO forgetful) I remembered that I have a lovely Greek book that focuses on the culinary traditions of the Cyclades Islands (Essence of Cyclades). Sure enough, it included a recipe for parsley salad which I used for inspiration and created this version. It turned out great, but I will definitely use less garlic next time, or maybe switch the plain cloves for pickled or roasted cloves instead. I'm a bit of a lightweight when it comes to garlic! You can go with your own tastebuds on this.
This version of the dip is nice and thick so it can be used as a spread on crackers, bread, pitta chips etc. Talking about pitta chips, I'm including some info on how I made these crispy babies in the photo. No not from scratch you guys, it's summer, it's hot and I don't love baking enough to start making my own pitta bread! I've been making these for years and I originally got the idea from my friend Marilita's post here. (it's in Greek but there's a translate button)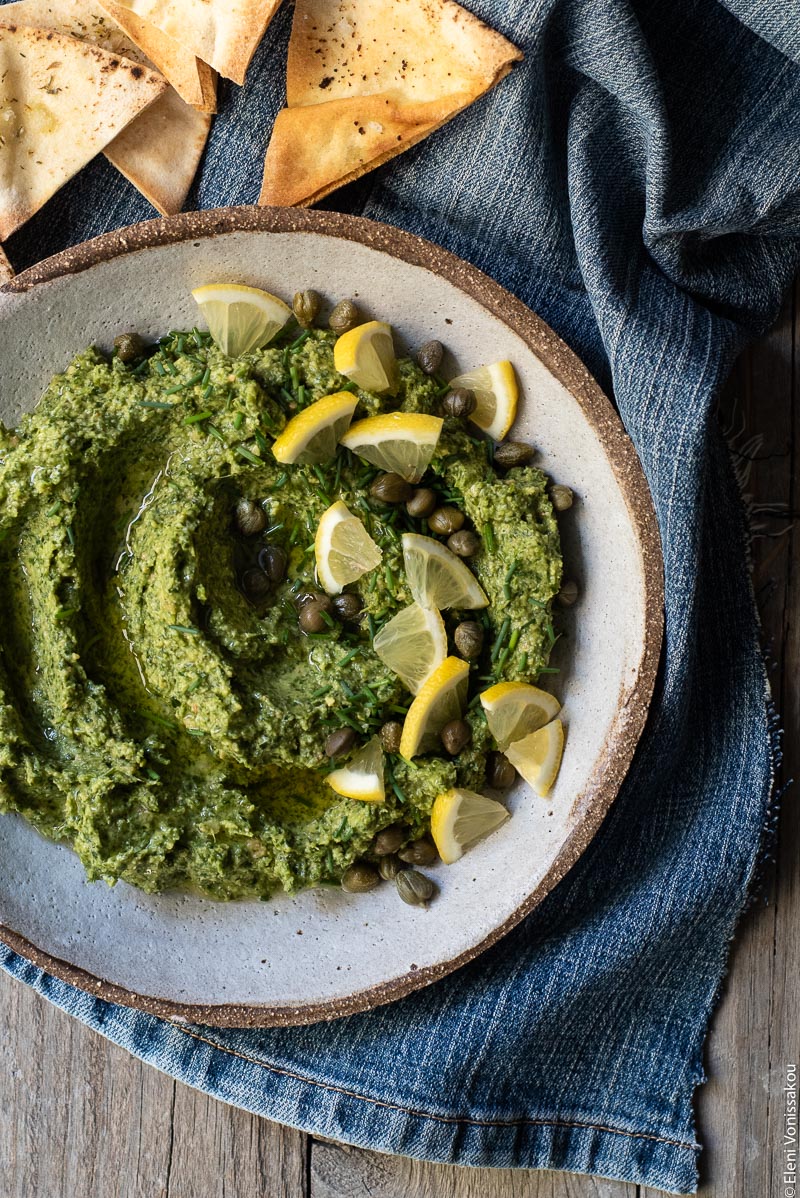 Hope you like the dip and the chips, if you make them please let me know, I love hearing how my recipes turn out for you! (Don't forget you can tag me on IG if you take pics – @thefoodiecorner and #thefoodiecorner)