A super easy, one-bowl "pie" with spinach, beetroot greens, lettuce and leeks. Cornmeal and spelt flour bring the greens together into a sliceable slab which is perfect with a tomato salad for a light dinner or lunch (or even breakfast), or on its own as a snack. Nutritional yeast and marmite provide the extra depth of flavour that is sometimes missing from pies without cheese.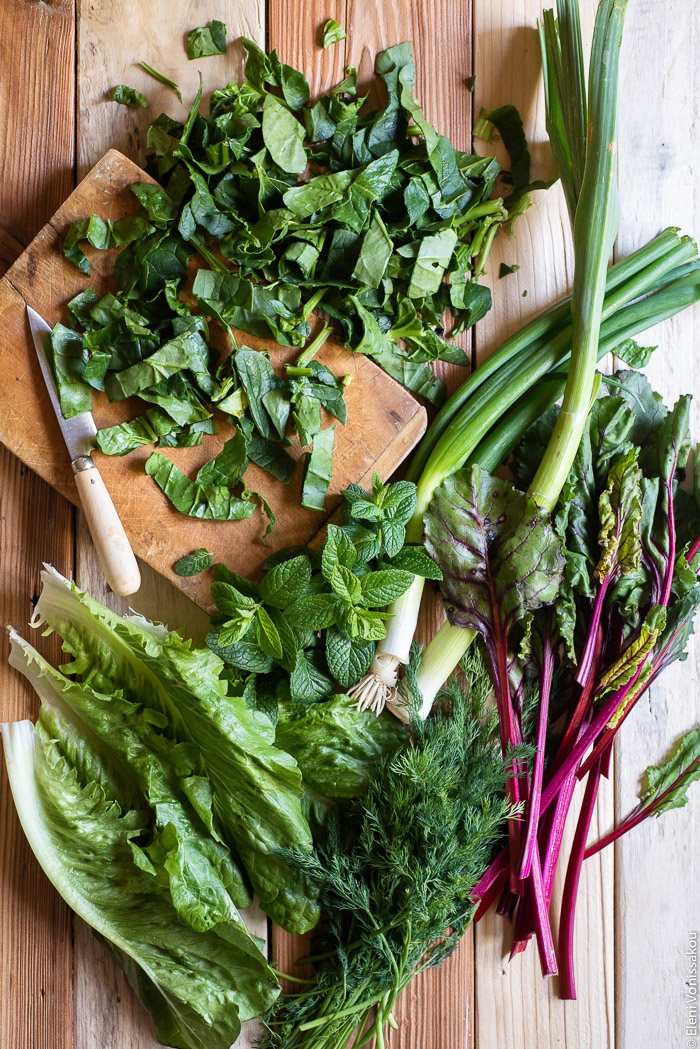 I adore pies of all kind. I adore eating them, but I don't particularly adore making them. They stress me out, as I'm always worried the pastry won't cook properly. Luckily, out of the hundreds of pies made here in Greece there are some that are ideal for anyone who has this weird kind of anxiety.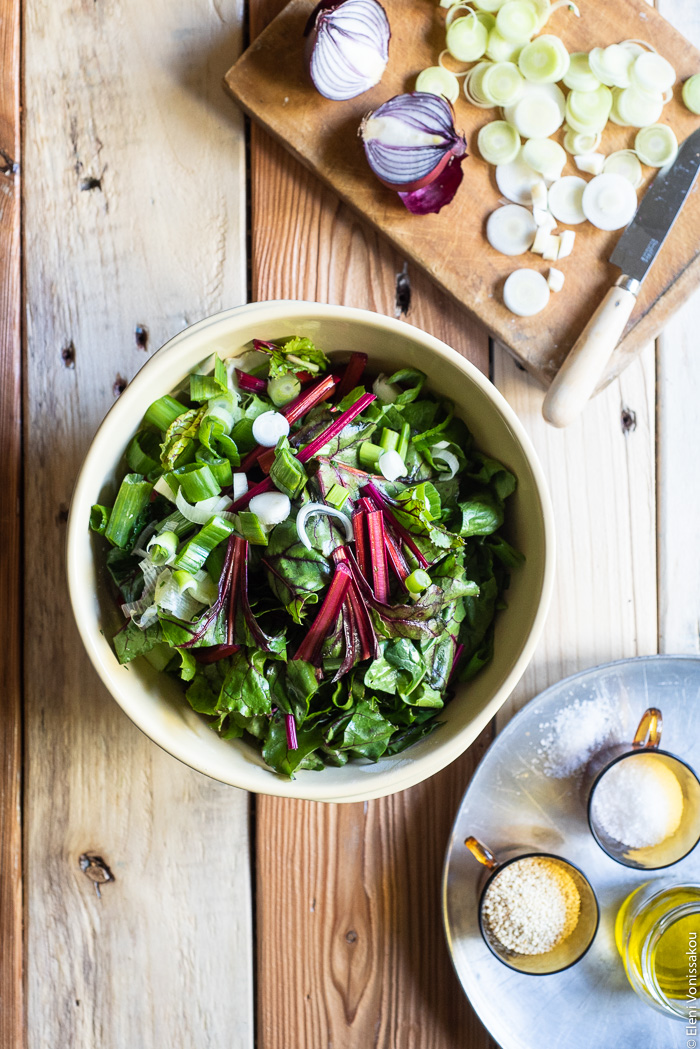 These pies are made with a flour or cornmeal batter. Not having to roll out pastry made them a much easier option back in the day when one couldn't just pop out and get a pack of ready-made phyllo. Hence the nick-name "lazy person's pie". They are also known as "flour-pies" and can be made with various cheeses instead of greens (or a combination).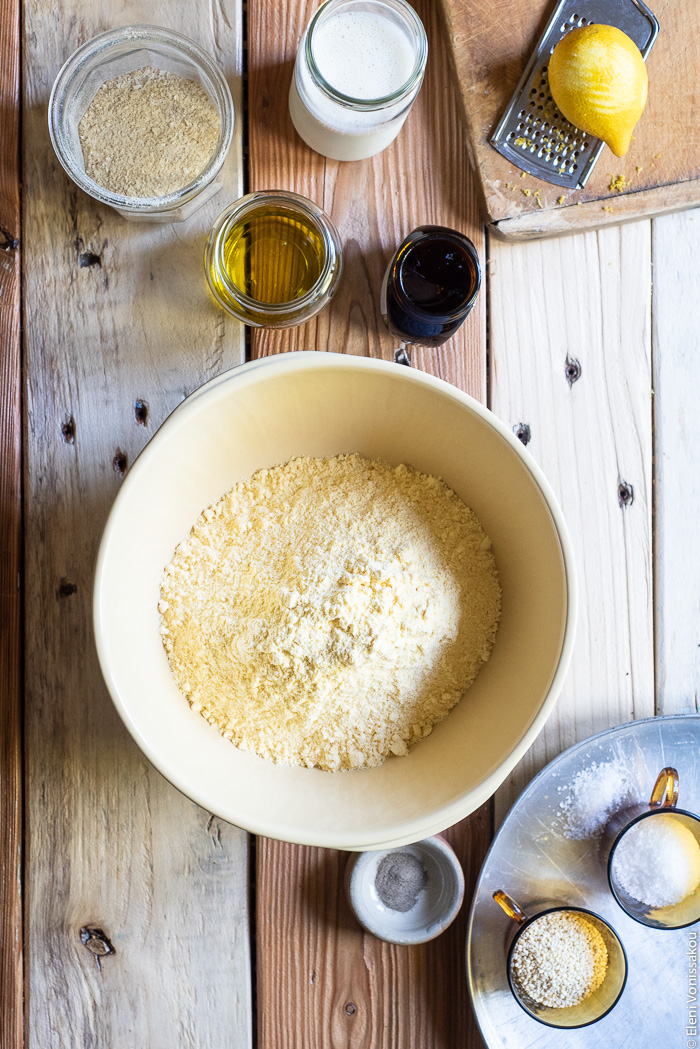 But let's talk about this one in particular. What I love most about it is its versatility. You can use any greens you have on hand. Spinach is almost always a major player, but you could mix and match with anything that takes your fancy, or anything you have lurking in the produce draw. You can use wilted or bruised leaves, so it's a great way to avoid food waste too. For example why throw out the outer leaves of that lettuce you just bought? Here I've used spinach, beetroot leaves and stalks, lettuce, leeks (whole), spring onions (whole), dill and spearmint. Other greens I would try are escarole (aka endive, the leafy green kind), chard, kale (not a lot since it's strong tasting), lamb's lettuce, sorrel, chervil etc.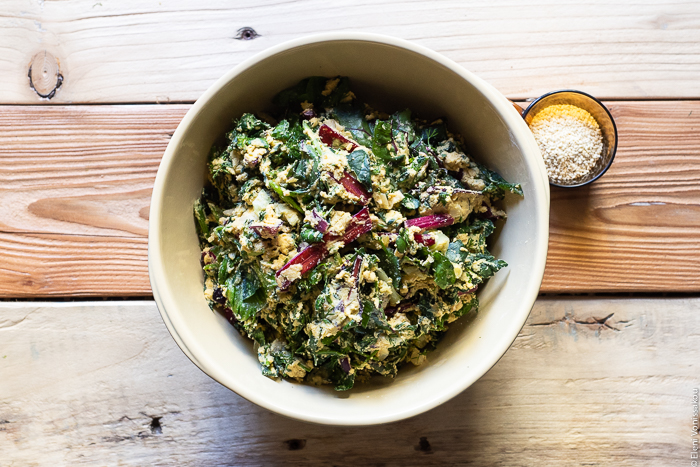 So many greens to choose from! Spring always makes me want to eat even more veg. If you've been tempted to buy a whole lot and you're not sure how to use it up, you can always check out the Love My Salad website. This is my third recipe for the site and I am always excited to contribute new dishes!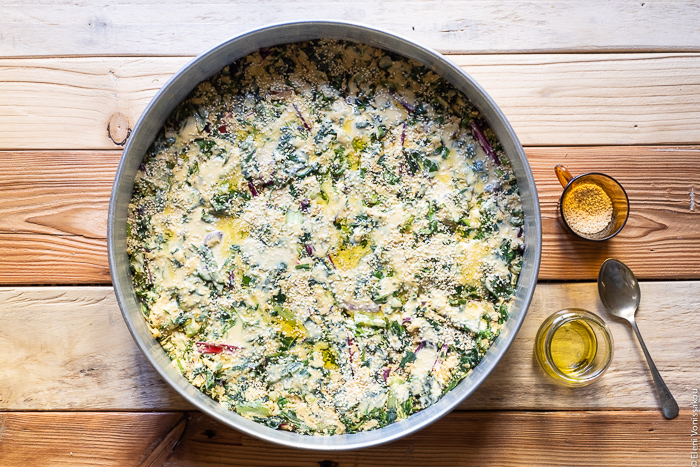 Back to our pie. As regards the flour, the traditional version that inspired me to create this recipe uses only cornmeal (flour made from corn). I, however, replaced part of the cornmeal with spelt flour. Cornmeal is quite coarse and I felt that the spelt evened things out a bit somehow. Feel free to use only cornmeal if you prefer or if you can't find spelt (also known as dinkel).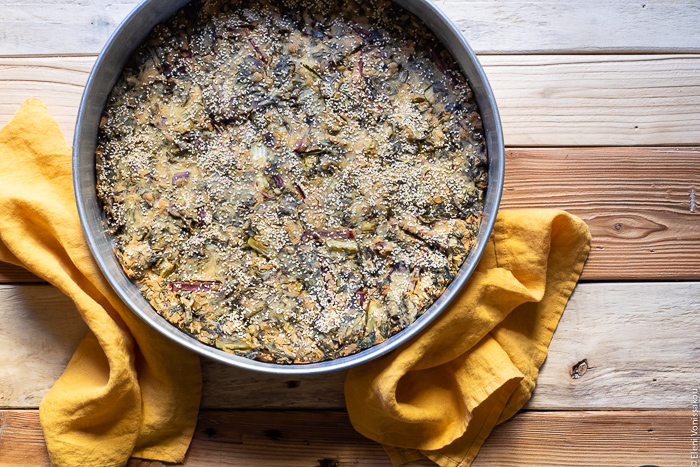 Another very non-traditional twist in this recipe is the addition of nutritional yeast and marmite (a food spread made from yeast extract). These are in no way Greek ingredients, but I've added them because they impart a great depth of flavour to the pie while keeping it plant-based.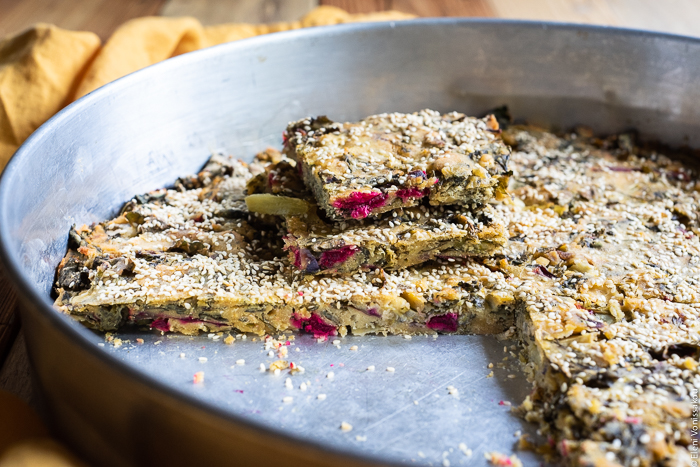 The main feature that makes this pie (and all others of its kind) "pie-like" is its thinness. To achieve it you need a large dish or tin. If it's baked in a smaller dish it will be more bread-y/cakey. Not quite what we are aiming for. If you don't have a dish or tin as large as mine use a large baking tray (maybe the one that came with your oven?) as long as it has a little bit of a "lip".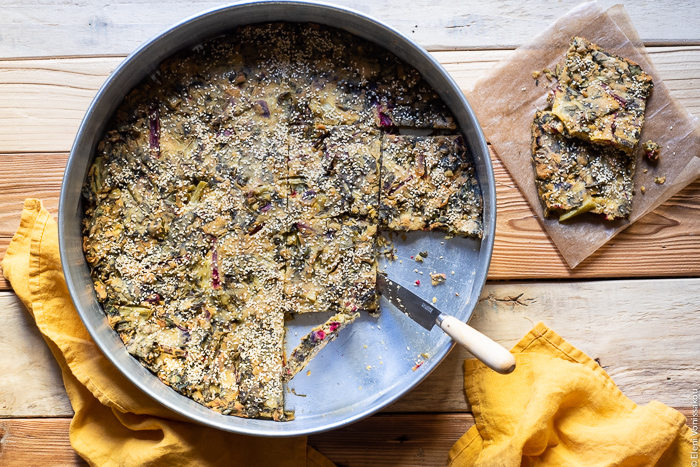 Right, I think I've babbled more than enough. Time to let the cooking do the talking! (But do also check the notes, there's a few of them today!)