A tasty, summery pasta dish with aubergine (eggplant) and cherry tomatoes that are first roasted in a garlicky olive oil and sundried tomato paste. A scattering of halloumi added to the vegetables half way through, gives the pasta extra bursts of salty deliciousness.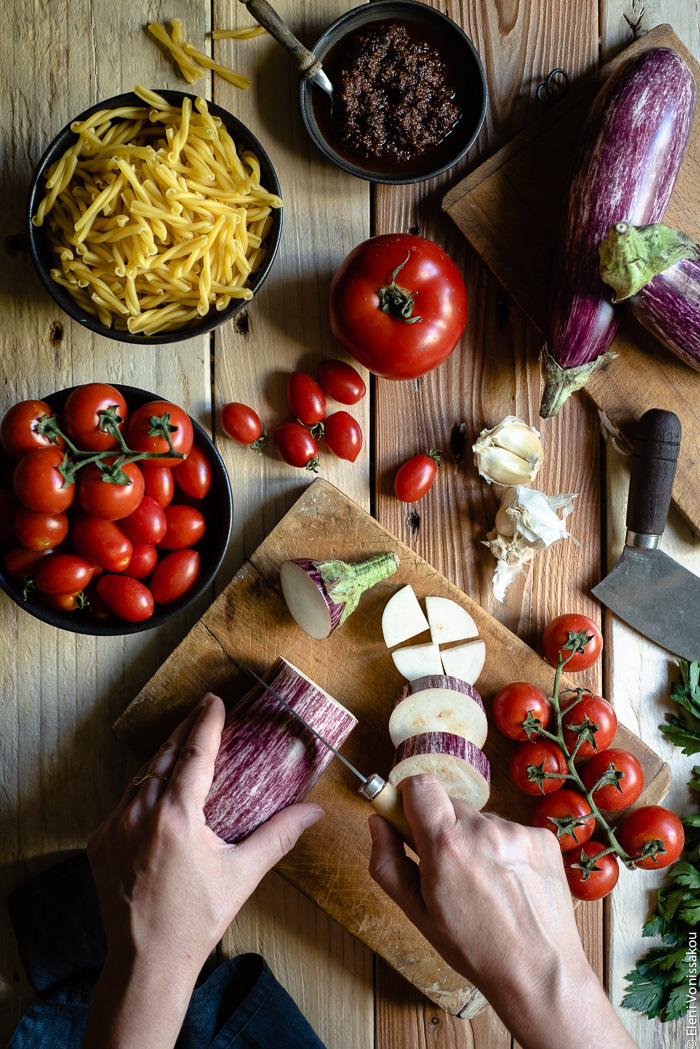 Have you guys heard of briam? Briam is a Greek version of ratatouille and it consists of summer vegetables such as courgettes (zucchini), aubergines (eggplant), potatoes, onion, tomato and sometimes peppers and carrots. The vegetables are roasted in lots of olive oil until soft, browned and slightly caramelized. It's a dish so simple in its ingredients, but so amazing in its flavours.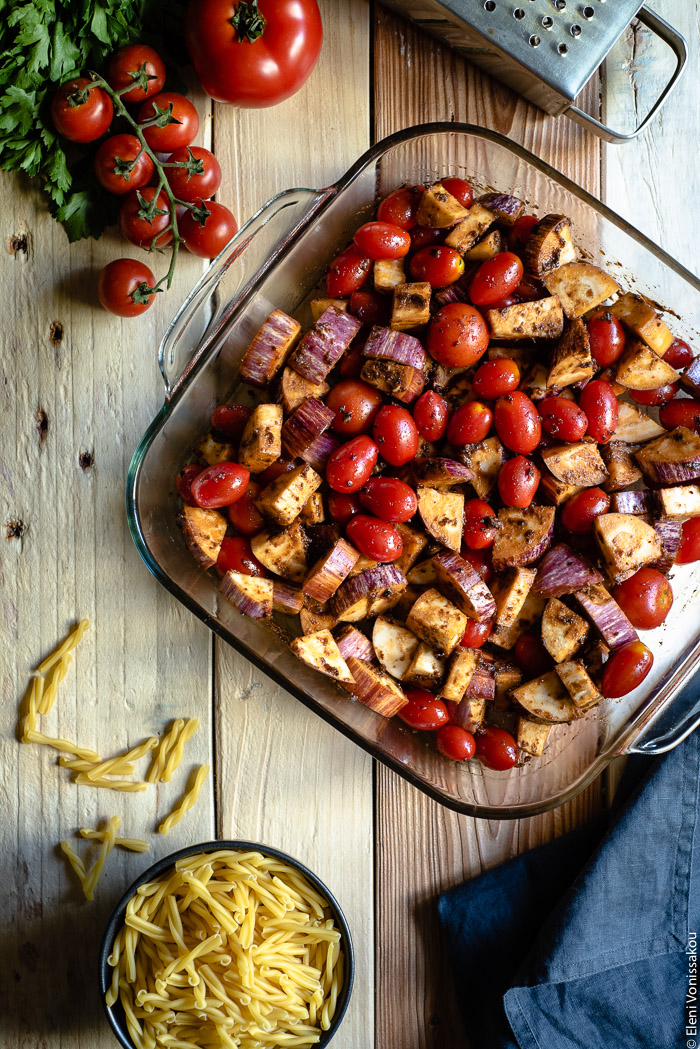 And just in case you were wondering, yes it can be made in the slow cooker! Here is one version, and I have a more traditional version coming up in the book! (What do you mean which book?? This book! Take a look!)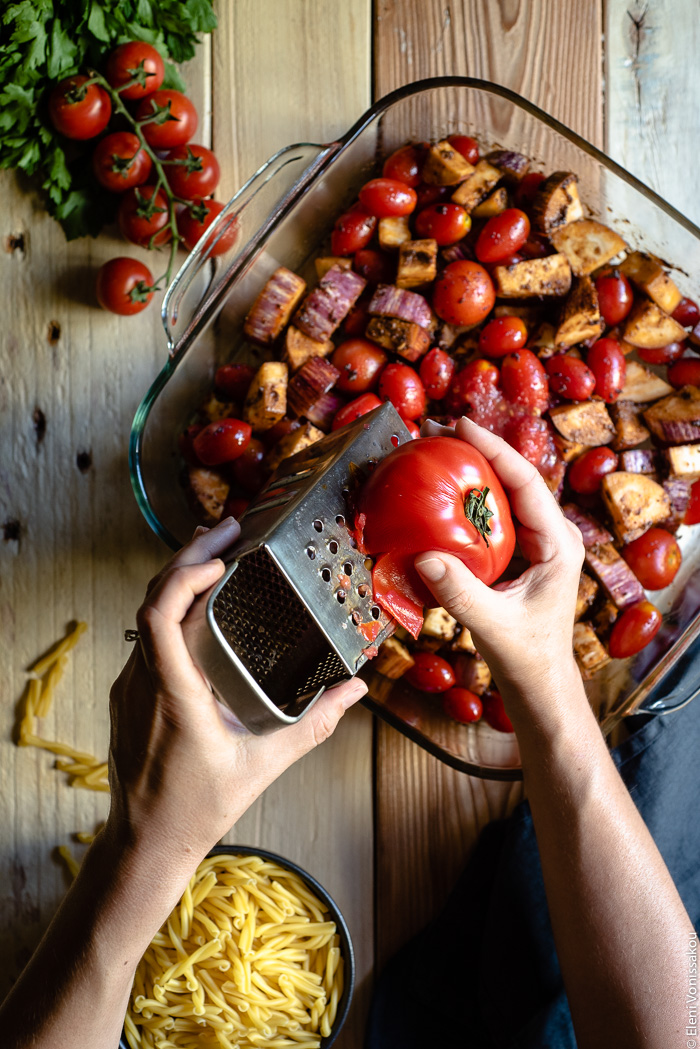 I've always liked mixing briam leftovers with cooked pasta, and that was what gave me the idea for this dish. Briam isn't normally roasted in a mixture like the olive oil and sundried tomato paste I've used here, and it also doesn't usually feature cherry tomatoes. So it's mainly the concept I've used, rather than a similar recipe. Using only aubergine and tomato meant that I had to give the overall flavour a bit of a boost, so garlic, olive oil and sundried (or just plain dried) tomato were the perfect solution, as they offer a lot of umami to the final dish.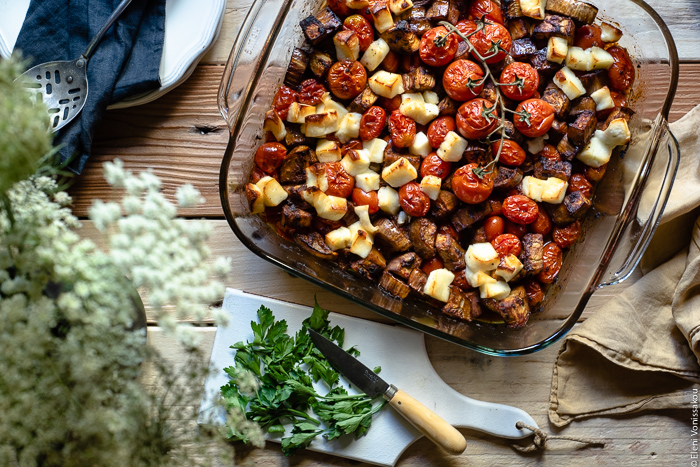 Halloumi is one of my favourite cheeses, so I couldn't resist adding some to the vegetables while they were roasting. Halloumi is usually fried, but you know what? Frying can easily toughen it. Roasting it (for a shorter time than the veg of course) keeps it more tender but still as tasty. Now, over the past few months I've been making an effort to cut down on cheese and dairy, so if I was making this for just a weeknight meal I might omit the cheese and maybe use a sprinkling of plant-based "parmesan" instead (here is one you could try if you want). That would make this dish 100% plant-based.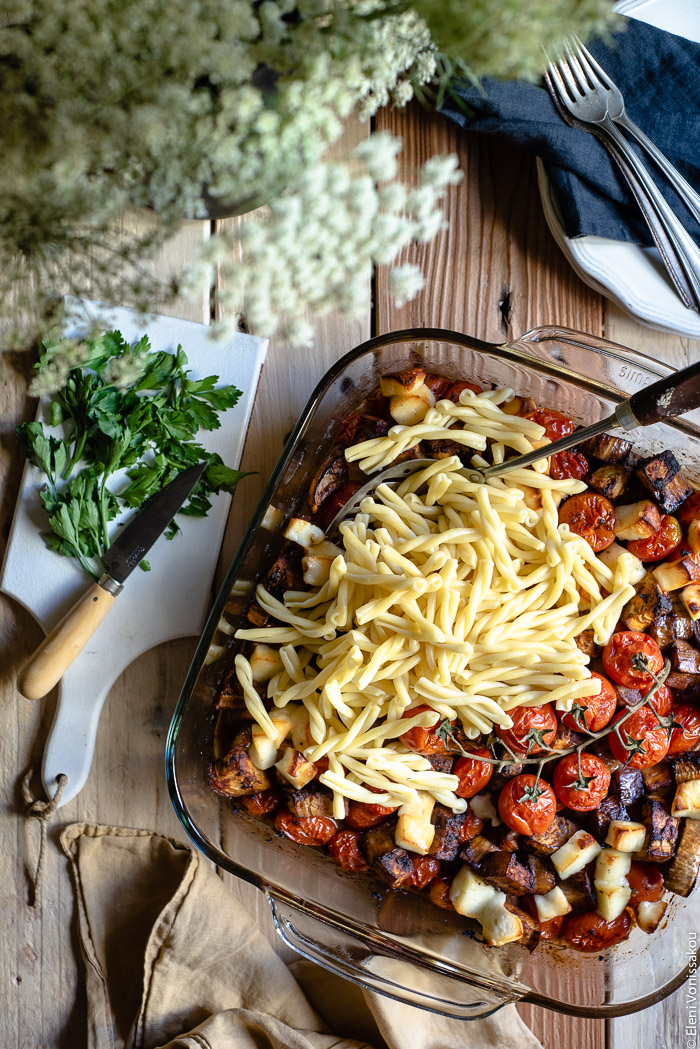 Ok, so over on the Greek side of the post, I asked readers if they knew anything about the flower in the pictures. It's a weed that grows absolutely everywhere in my area. The stalks can grow super tall (I'm talking human height) and the flower looks a bit like a flying saucer. From the little research I did I found that it's called Queen Anne's Lace, or daucus carota, or… wait for it… wild carrot! It apparently belongs to the carrot family and they say you can eat the roots and flowers?! Can that be true? There is so much of it everywhere, why are we not using it? Have I maybe made a big mistake and confused this with something else? If you know anything about this plant please let me know, because my curiosity may well get the better of me and I don't want to poison myself by trying to cook something I shouldn't!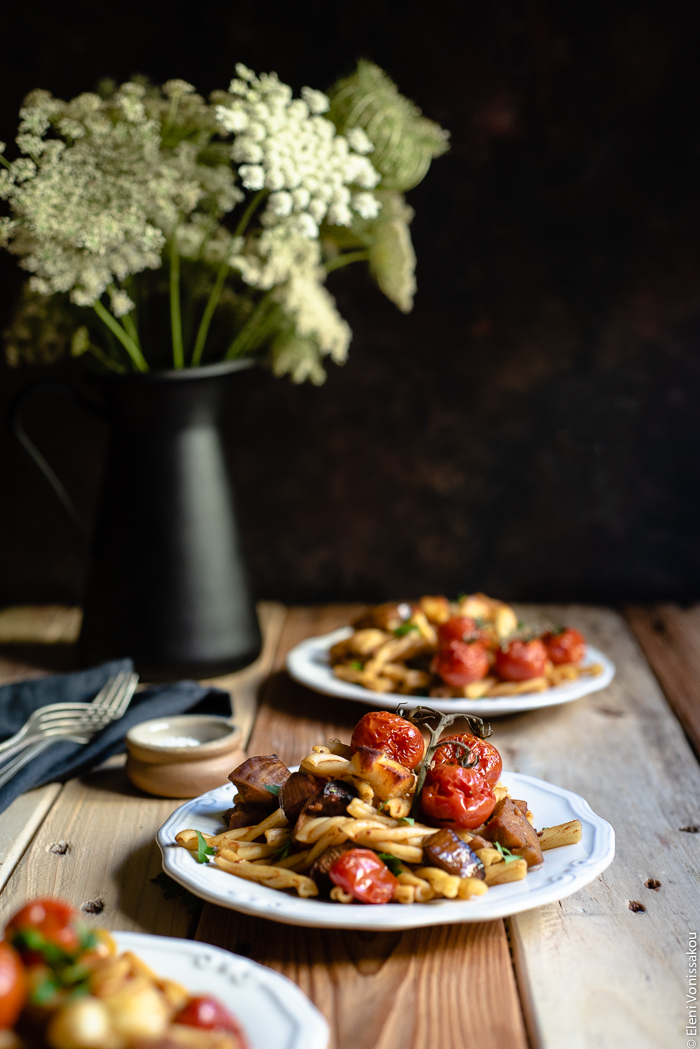 And on that note, off I go. Lots going on! I will tell you more about it soon.