One of my all time favourite potato salads. Whole baby potatoes, flaky smoked trout, gherkins (pickled cucumbers) and a dressing made with tartare sauce and lemon. Just a few ingredients but so many flavours.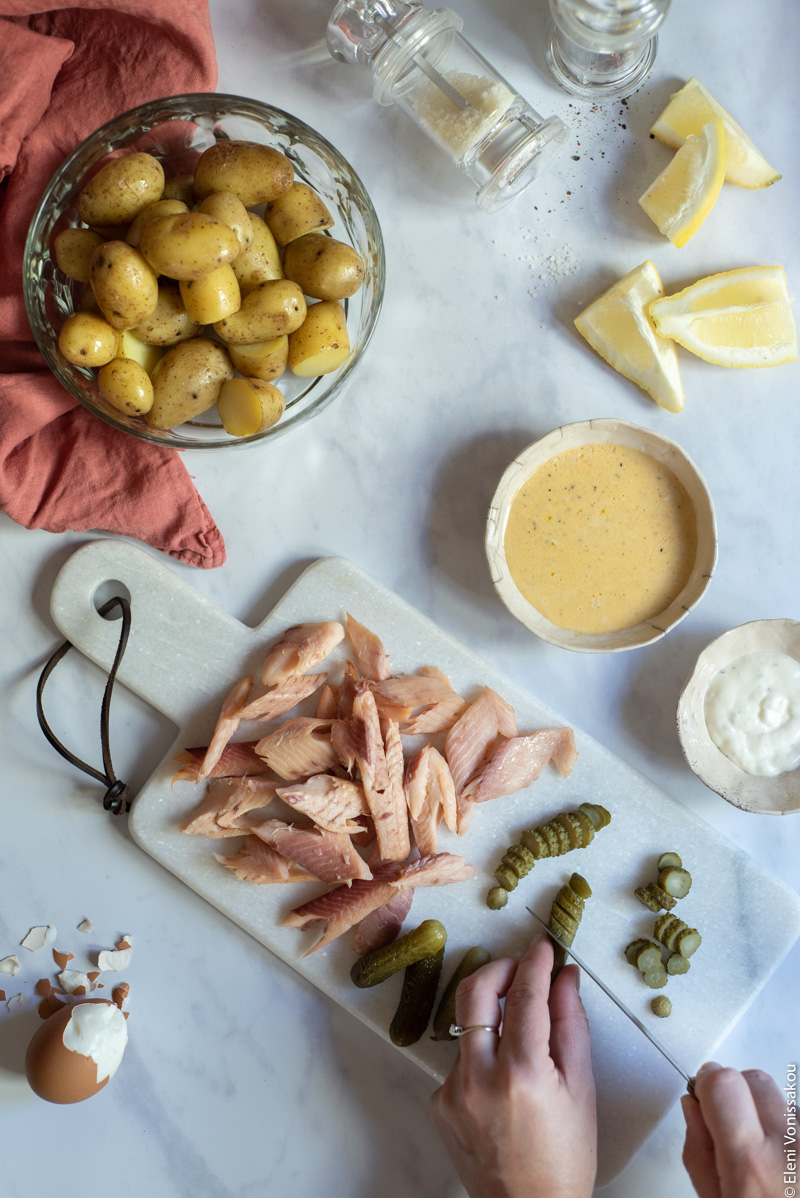 Well hello there! I'm back. I've been away. You kinda knew that though, right? Well, I'd love to say I was on a total break, a holiday, far away on a tropical beach with a pina colada in hand, or something like that. But no, I meant I've been away from the blog.
It wasn't planned. It started with the horrible fire we had close to our area. Although it never reached where I live, and I wasn't directly affected, for a long while I just didn't feel like doing much of anything. This post was meant to be published the next day, but I couldn't bring myself to do it. Even now, when I drive to the city and pass the blackened empty space the flames left behind, the burnt bus stops and gnarled tree stumps, I can't quite believe it. So many lives lost, so many homes destroyed. It's too horrible to even think about.
So this is where I stop talking about it. Anyway, after things started feeling a little normal again, it was time to get stuck into a project I had waiting for me. I'll tell you all about it at a later stage, but suffice it to say it took up a lot of my time! So that explains my too-long absence.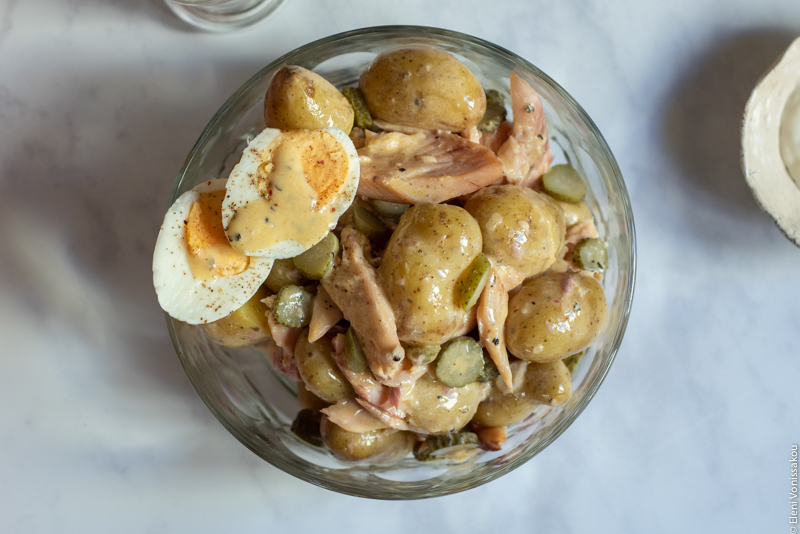 Anyway, what about this salad?
Do you like potato salad? I adore it. Most versions of it. I think the only time I wouldn't have potato salad is if it had olives in it (I hate them).
This version has smoked trout. And a tartar sauce dressing. It's definitely one of my favourites, if not THE favourite. Basically it's a tie between this one and this baked one. I can't decide which is best.
Btw, the baby potatoes are also delicious cooked in the slow cooker; they turn out almost like baked potatoes in flavour. You just pop them in the pot (without cutting them), and cook without any liquid until a knife glides easily into the largest one (5-7 hours depending on quantity of potatoes and size of pot). Whichever way you choose to make them, just make sure to leave the skins on, they are so tasty!
I hope you give it a go. Let me know what you think if you do!