Make life easier in the morning with a tasty instant oat mix that you can throw in the microwave with some water and create a creamy, delicious porridge (oatmeal) breakfast.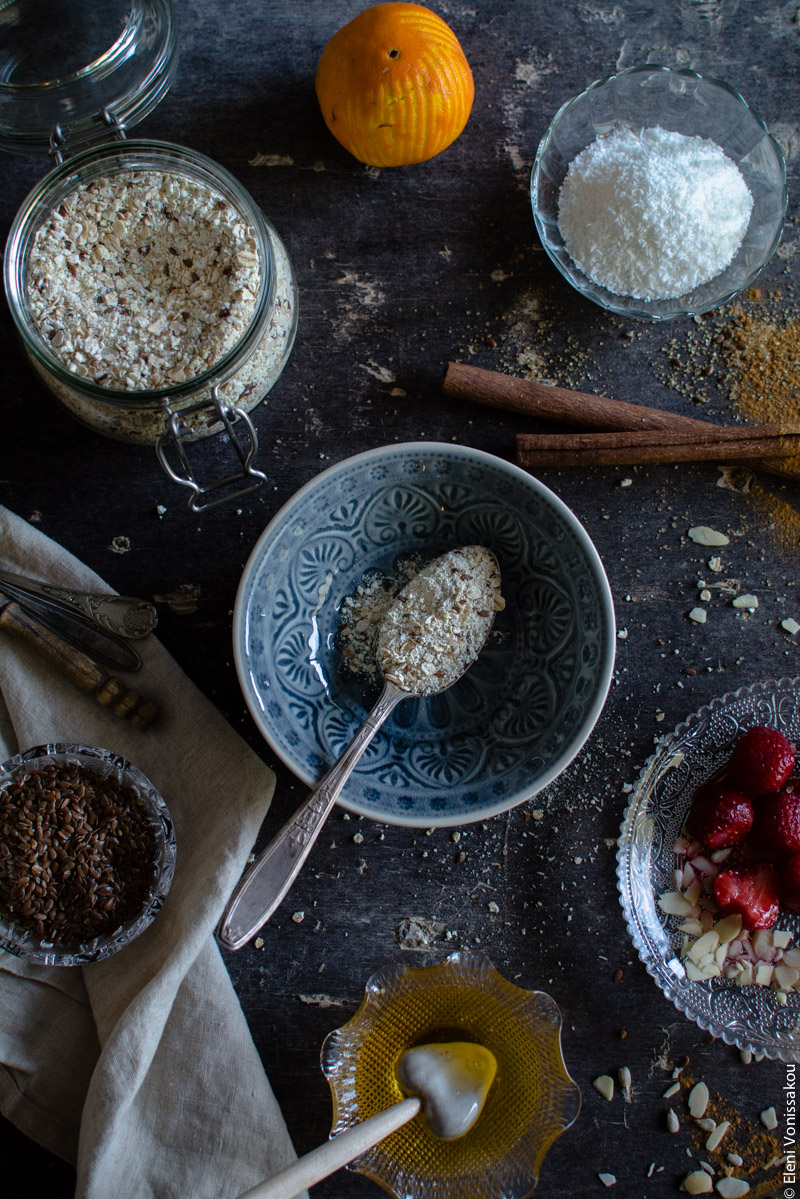 A couple of years ago I was in the UK, wandering through the isles of a supermarket. I tend to do that whenever I'm there, lusting over all the products that we don't have here in Greece, wishing I had the money and space in my suitcase to bring them all back with me.
Anyway, as I was browsing, I came across these sachets of instant porridge. Little packets containing oats and other unidentifiable things, that you heat in the microwave with milk and hey presto, porridge in a couple of minutes. One of the flavours displayed on the shelf was golden syrup. Well, that caught my attention. I bought some and brought it back.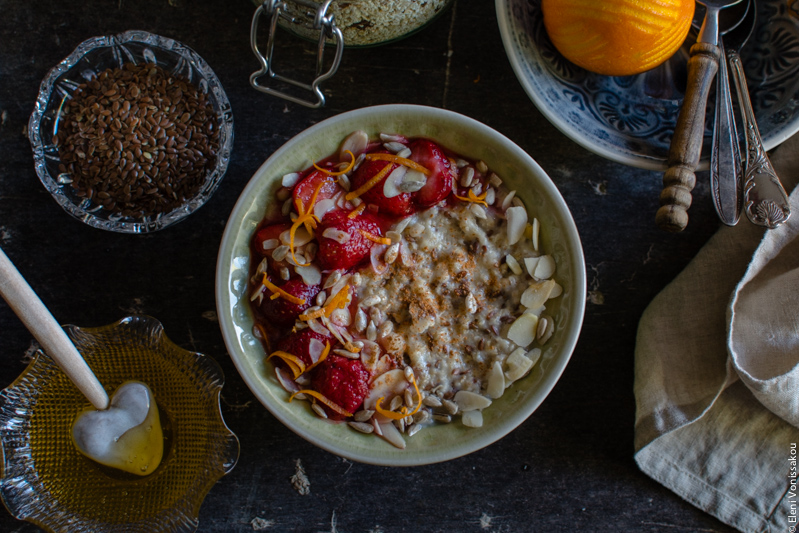 Now, I'm pretty well informed when it comes to oats, and I know that the instant type is the least beneficial to our bodies, especially if it comes with preservatives or whatever else is in the store-bought varieties. I'm not going to say don't buy or eat it, I firmly believe in making our lives easier, so sometimes a quick fix brekkie is the best option; and let's face it, you could do worse than instant oats for breakfast! (um, doughnuts, biscuits, cake, yesterday's pizza? Only me? Ok). Anyway, I enjoyed those instant oats so much that I started wondering how I can create something similar, but homemade.
So, I did some experimenting, and came up with this mix. It's a pretty simple one, with a few add-ins to make things more interesting (since I can't get my hands on golden syrup flavouring!). I've popped some flax seeds in there, some coconut and some sugar – just enough to create a tasty base. From then on it's up to each of us to decide if and how we want to further sweeten our porridge upon serving.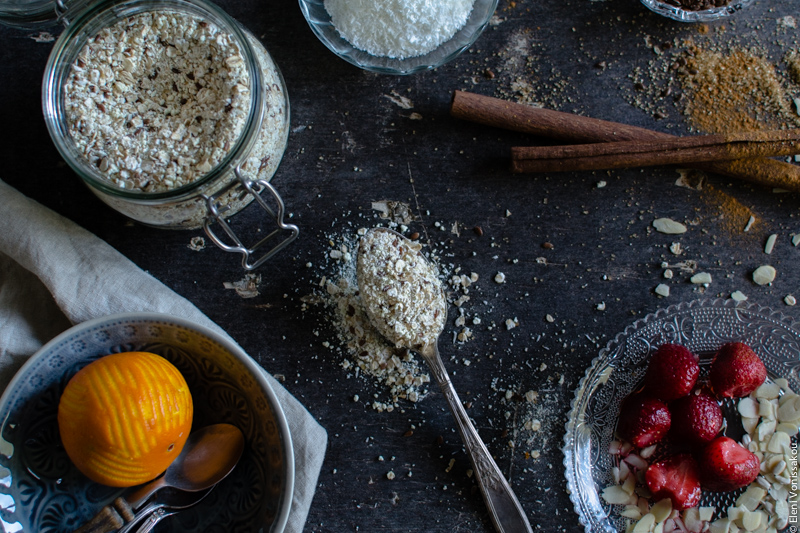 The secret ingredient in this mix, however, is something else. While I was thinking how to go about developing the recipe, what I kept in mind was my time working in an office. I thought back to what I would have liked then, and how an instant porridge mix would have made mornings so much easier. I was more of a breakfast-at-my-desk kind of person, so I would have had a jar of this in my office. But what would I have done on those days when I forgot to get milk? (This was an annoying occurrence but not a rare one!) And then it hit me. Powdered milk! I could add some to the mix, and then all that would be needed to make a bowl of creamy, milky porridge would be water and a microwave.
Sure enough, it works. The powdered milk (dried milk in the form of flakes – not coffee creamer!) is entirely optional, but a good solution for breakfasts away from home. If you always have fresh milk at hand (like I do nowadays) you don't really need it, and your mix will have a longer shelf life.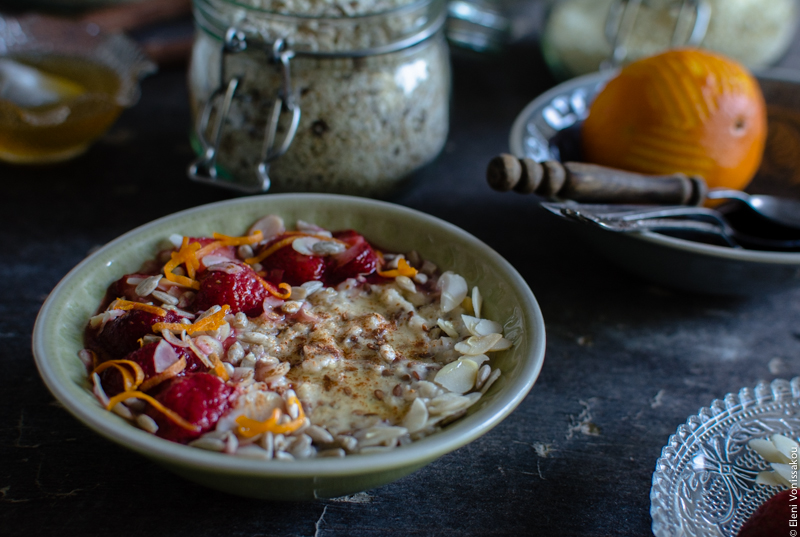 Just a quick note here. I refer to these oats as instant, in the sense that they cook in under two minutes. However the actual oats I use are quick cooking. The different types of oats have to do with the way they are processed. "Quick" oats are both rolled and cut up, whereas "instant" (when referring to the store-bought ones) are even more cut up or pretty much powdered.
So, mix up a batch of this oat mix and whenever you feel like it measure one part mix – one part water (or fresh milk if you aren't using powdered) and heat in the microwave for about a minute and a half, or until it reaches the desired consistency. Simple as that! A fab way to have a healthy, nutritious and filling breakfast within a couple of minutes.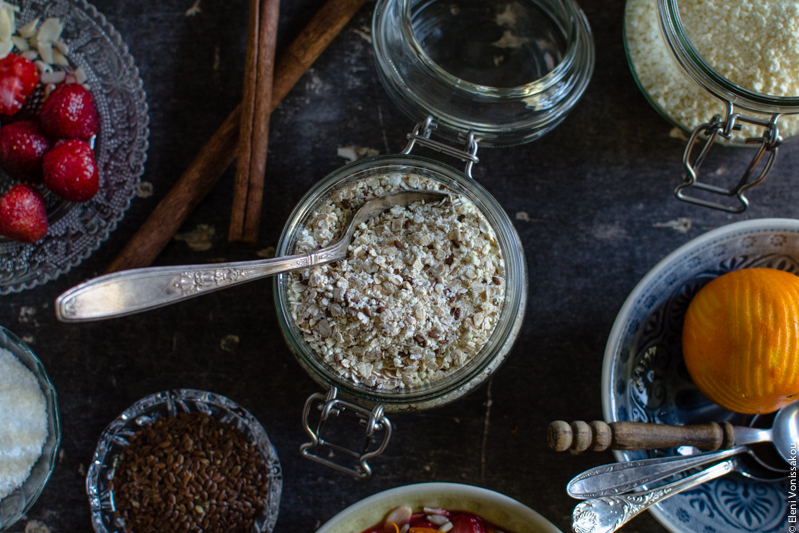 As for toppings? The possibilities are endless. Fruit, nut butters, tahini with honey, syrups of all kind, nuts and seeds, anything you love! Or, just eat it plain with a bit of extra sugar if you want. What better way to start the day?