A green salad with a variety of mixed leaves, baby lettuce, refreshing cucumber, sweet and juicy blueberries, buttery avocado and crunchy, mildly spicy buckwheat granola. All dressed in a creamy balsamic dressing.
It's been a while since I put together a nice big salad, and I must say, this one is worth the wait. It's a three-element recipe, with the actual salad part, the dressing, and a crunchy topping. I do love my salad toppings!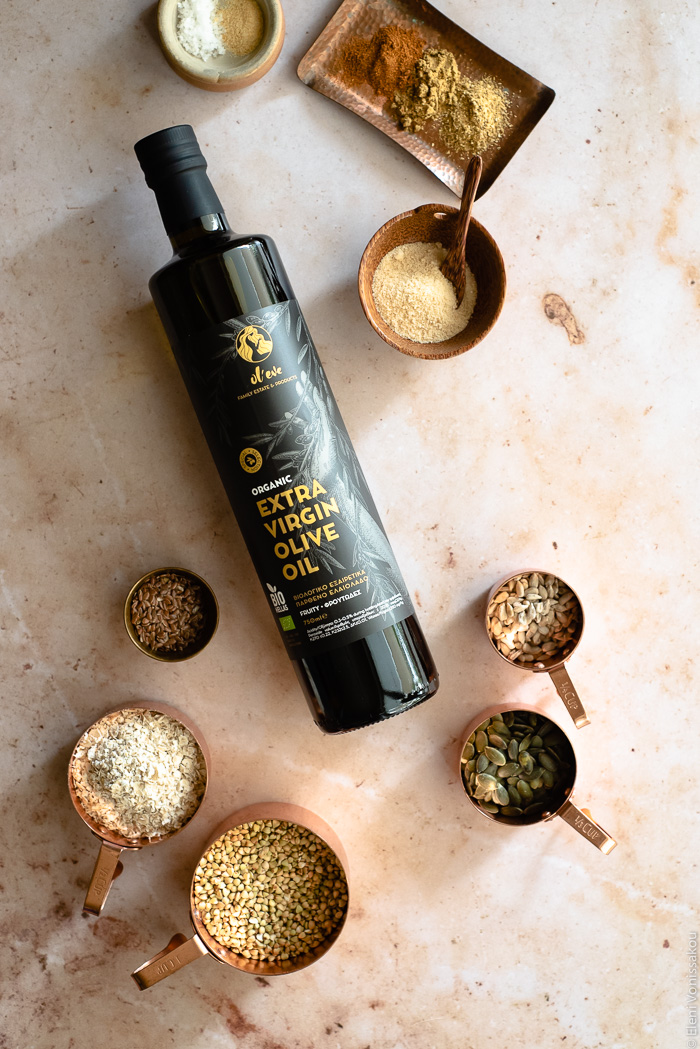 So the salad part is straightforward, with whatever baby green leaves you prefer (I use a mix with rocket aka arugula, baby spinach, baby beetroot leaves and more), baby lettuce (ok I admit, it was their cuteness I couldn't resist), cucumber, avocado and blueberries. Have you ever had blueberries in salad? They are really delicious, I first tried them in this beauty here. Not too many ingredients but the handful that are used are very well suited to each other!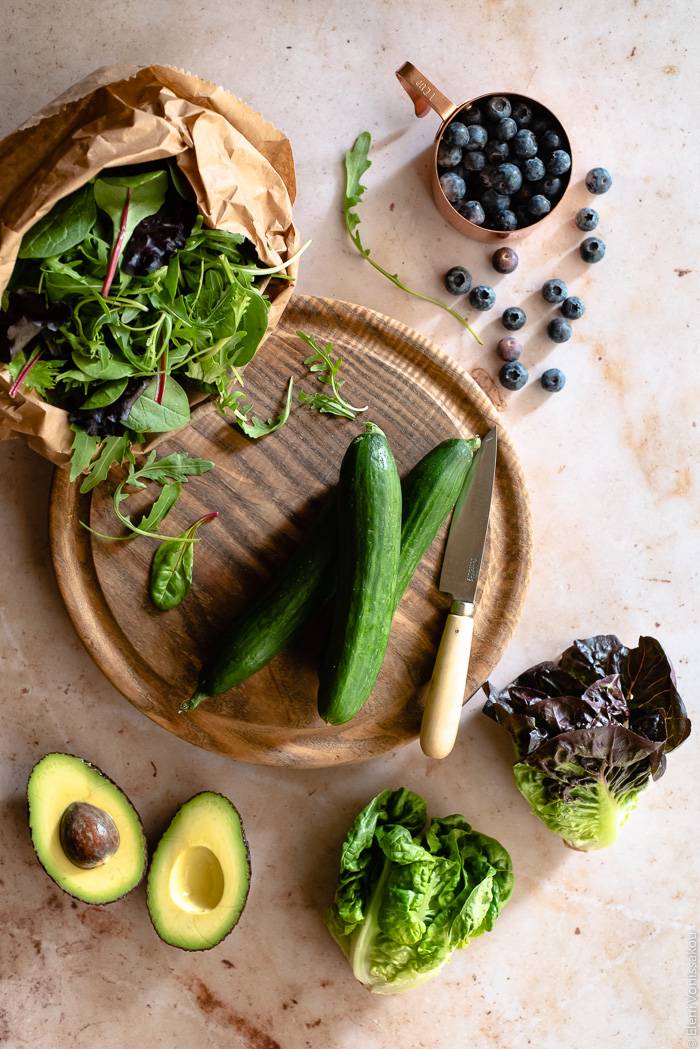 What makes this salad different is the topping. A savoury granola made with warming spices like chilli and cumin, crunchy buckwheat, oats and seeds. It's mildly spicy when you try it on its own but that disappears when the granola is added to the salad and you get just a warm and aromatic aftertaste. And of course the bursts of crunchiness! I opted to soak my buckwheat first so it wouldn't go too hard and indeed it was chewier when it was first made, but it did get harder as the granola sat overnight. So take care if you have sensitive teeth. You can go for just oats if you prefer, but buckwheat does add to the level of nutrition in this recipe.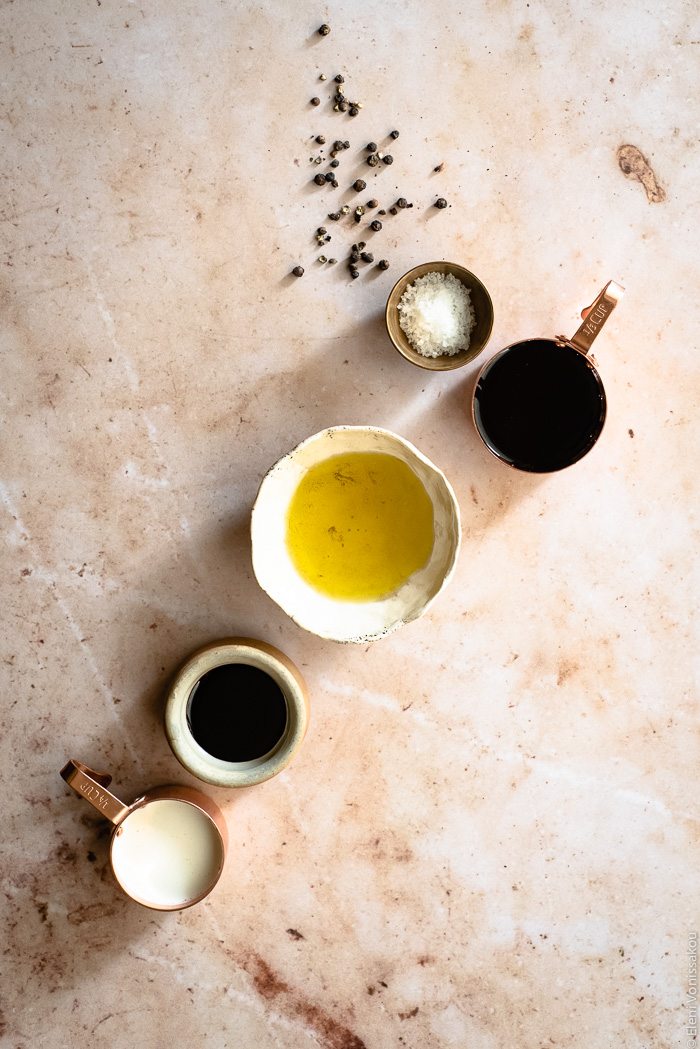 The dressing is a luxurious creamy balsamic concoction, using extra virgin olive oil, aged balsamic vinegar, soy cream (you can use any plant-based cream you prefer, I imagine oat cream would be gorgeous) and agave syrup. It's a keeper for when you want to dress a special salad!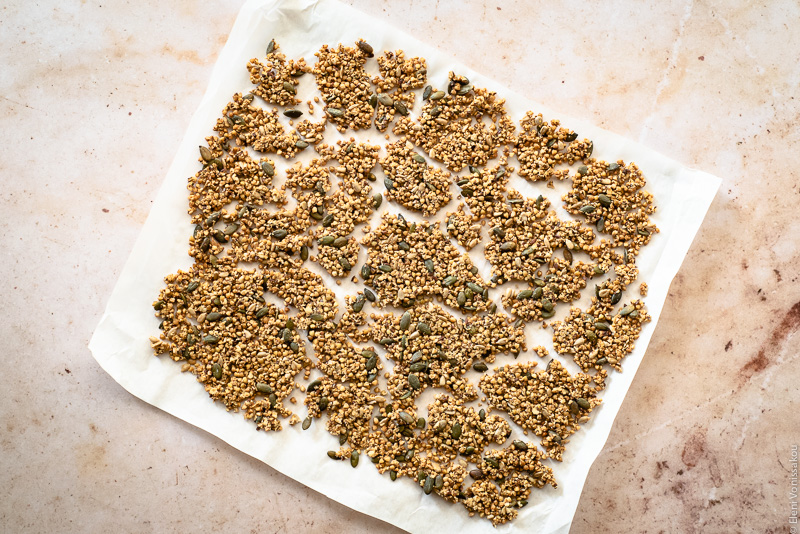 I chose Ol-eve organic extra virgin olive oil to use in both the salad dressing and the savoury granola. Good quality olive oil is a must for any pantry, and this is a truly delicious choice with the added bonus of it being made in a sustainable way. The agave syrup is also by Ol-eve (it's infused with hibiscus and I'm in danger of becoming obsessed with it) as is the maple sugar. They do have quite an impressive selection of alternative sweeteners on the site!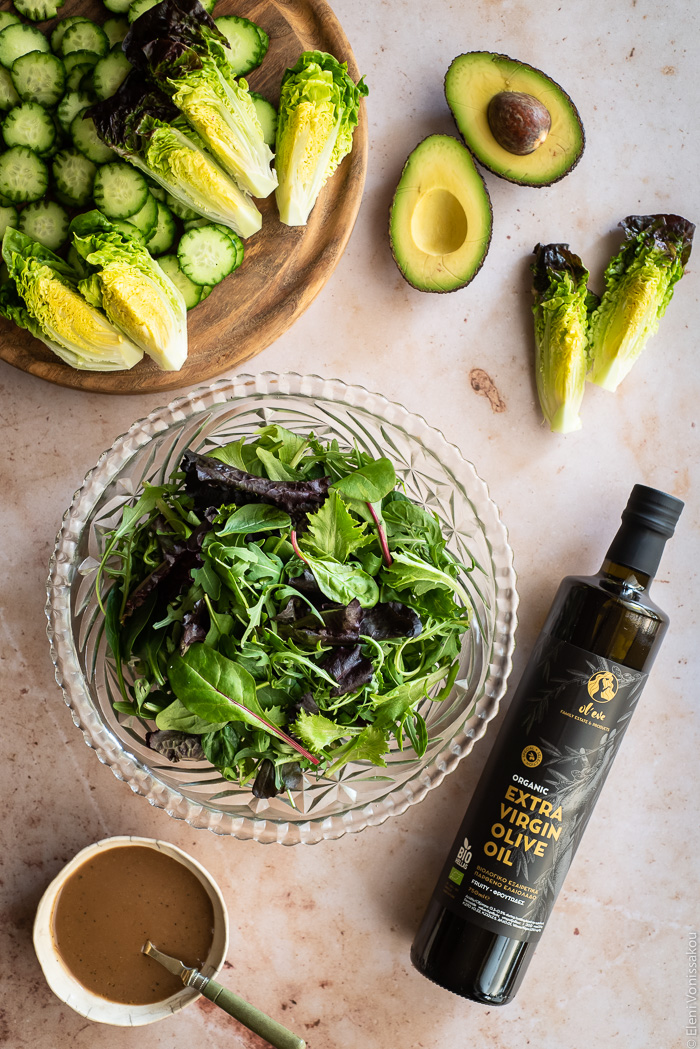 So, with summer just around the corner, this salad is a great addition to your recipe box. It's refreshing, tasty, crunchy and aromatic. It's also quite filling with the granola so you can have a large portion as a meal or enjoy a smaller amount as a side to any main. Hope you love it!