A delicious salad with cucumber, radishes, carrot, onion and mixed green leaves such as iceberg and escarole lettuce, Chinese cabbage and radicchio. Homemade croutons make for a crunchy and filling addition, and if you can find them, snow peas are also delicious. The vinaigrette is made with grape must syrup for a sweetness that complements the slight peppery tones of the salad.
I've tried grape must syrup in several recipes now, but I haven't experimented with it in salad dressings all that much. I should, it's really good. It provides a depth of flavour and sweetness that really elevates even the simplest of salads. Here it also helps to balance the slight peppery flavours of some of the veggies, namely the radishes and rocket.
I wouldn't call this salad a simple one, however the ingredients aren't at all hard to find, apart from maybe the snow peas here in Greece. Can you find snow peas easily where you are? Anyway, all you need is a good mixed leaf salad (mine has romaine, iceberg and escarole lettuce, Chinese cabbage, radicchio and rocket), some cucumber, carrot, a few radishes, onion and if possible, the snow peas.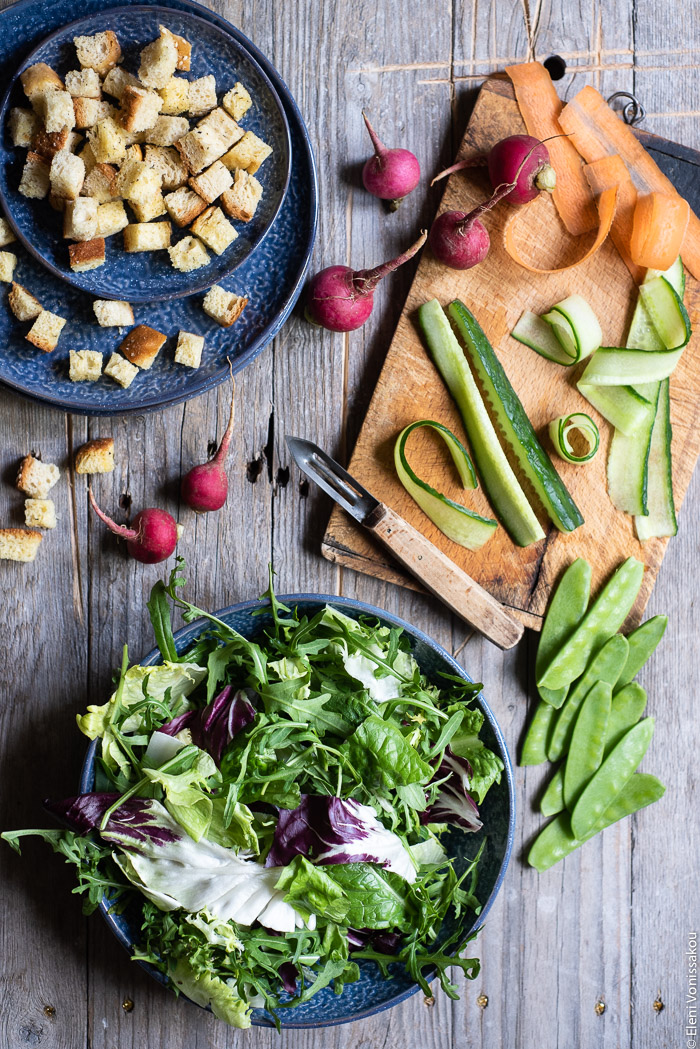 I'm not usually a huge fan of raw onion in salad. It's just a bit too strong for me. However, I recently tried this trick and I must say it's really good. Soaking the onion for a short time in a vinegary dressing (or plain vinegar) takes away some of the "bite" and mellows it out a bit. Perfect.
Croutons are always a good idea in my book, and as they are the best way to use up leftover bread I've included a very easy homemade version in this recipe. There are no grains or other particularly filling elements here, so a few crunchy croutons do the trick without making the dish too bulky. This salad is intended mainly as an accompaniment to a meal, it's not a meal in itself. So I'm keeping it light. I hope you like it!