A winter version of the Greek classic, Briam. Delicious root veggies such as sweet potato, turnips, carrots, beetroot, celery root, onions and radishes meet cauliflower, lemon, olive oil and warming spices, and all together they roast away slowly in the oven until soft and slightly caramelized. Easy to prepare and so good to enjoy.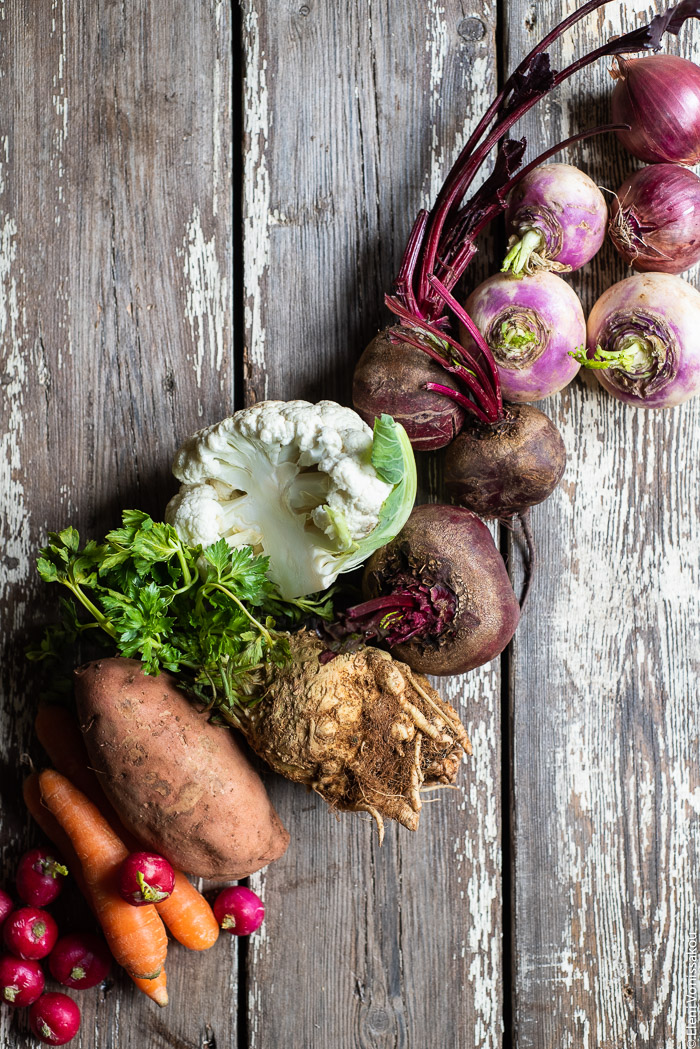 I've talked about Briam before, and I've shared a tasty slow cooker version too. Classic Briam is a very summery dish, and the traditional recipe uses courgettes (zucchini), aubergine (eggplant), tomatoes, potatoes, onions and lots of olive oil (with a few variations on these ingredients depending on who is making it of course). You could make the summer version all year round but why not try something different and more seasonal in winter?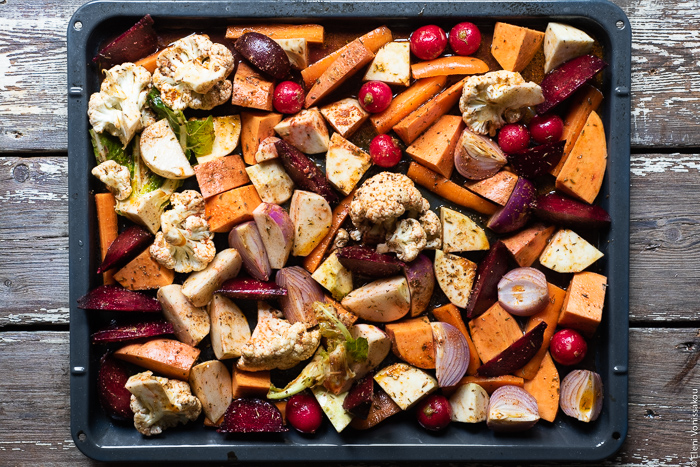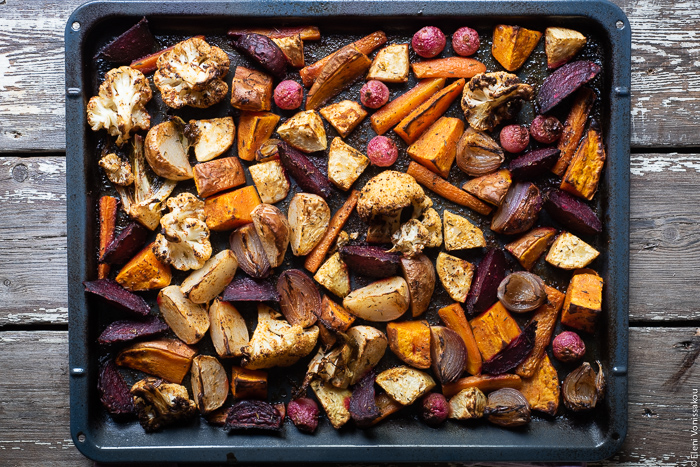 This is a similar style dish, i.e. vegetables roasted in olive oil, only I've swapped the summer veggies for their gorgeous winter cousins. A large variety of root vegetables which I adore, plus some good old cauliflower which is so delicious when roasted. You know the saying, "eat the rainbow"? You're off to a good start with this recipe that's for sure.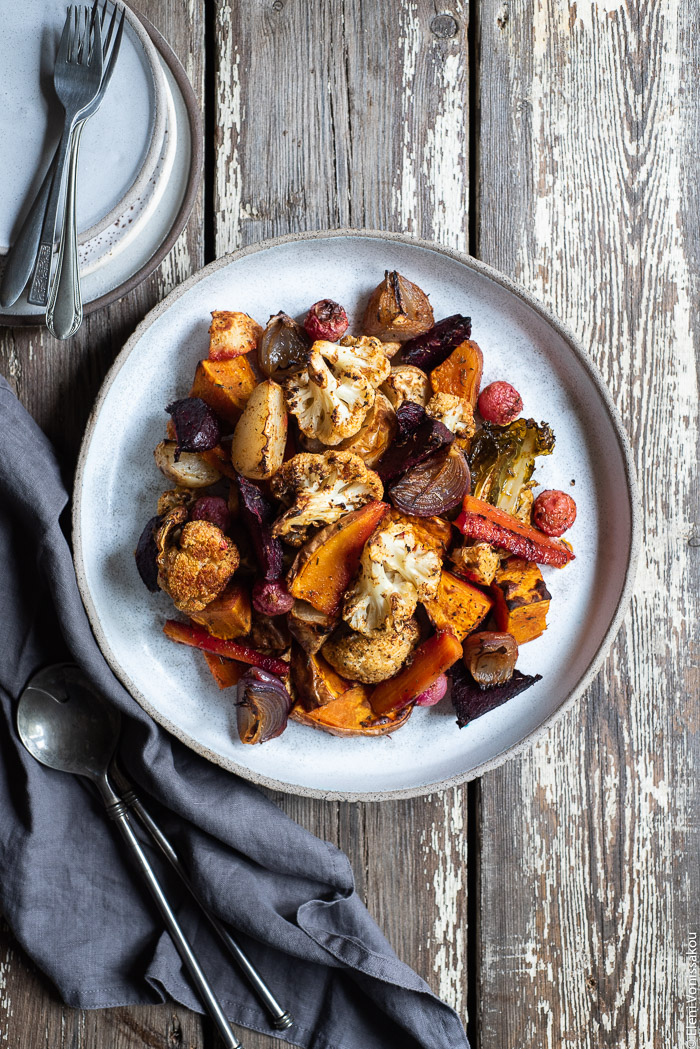 "Eating the rainbow" is something I am really trying to get into the habit of myself. I must confess I sometimes forget and end up with more beige on my plate than I'd like, so I am especially happy to have found a great resource for inspiration, ideas and recipes. Are you familiar with the website Love My Salad? If you sometimes struggle to find ideas for new veggie-loaded dishes, this is a great site to turn to. There is something for everyone here, with many different ingredients and many different cuisines to explore. I am really happy to be contributing to this fantastic initiative, and helping in my small way those who are struggling to incorporate more vegetables in their diet.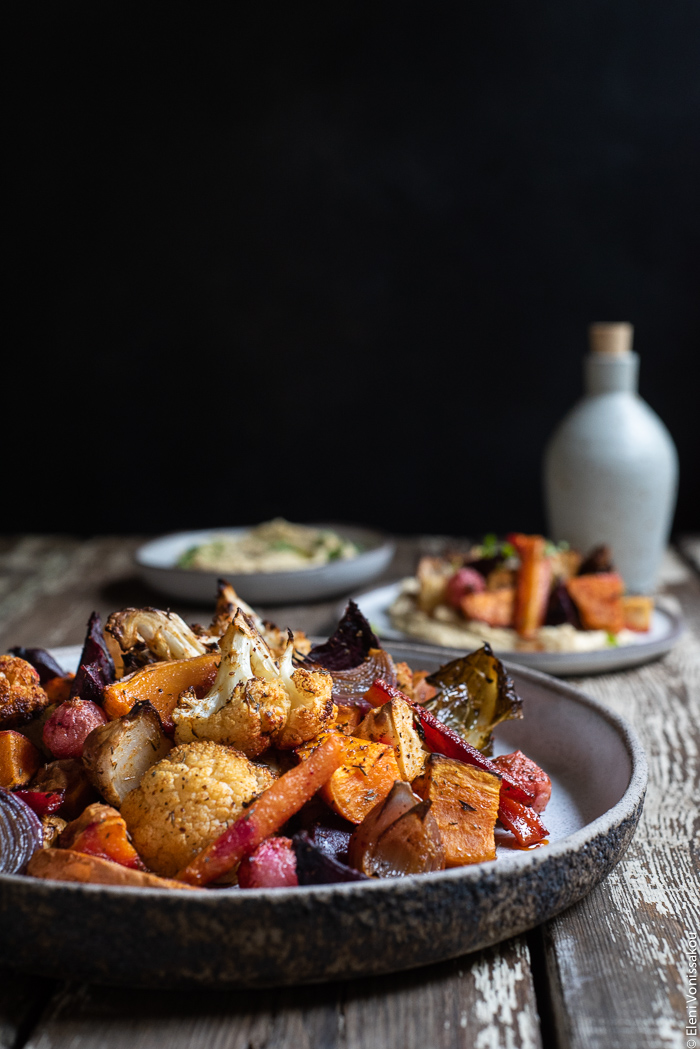 Go take a look and get some inspiration for tomorrow's dinner. I say tomorrow's because tonight you're making this winter briam, right?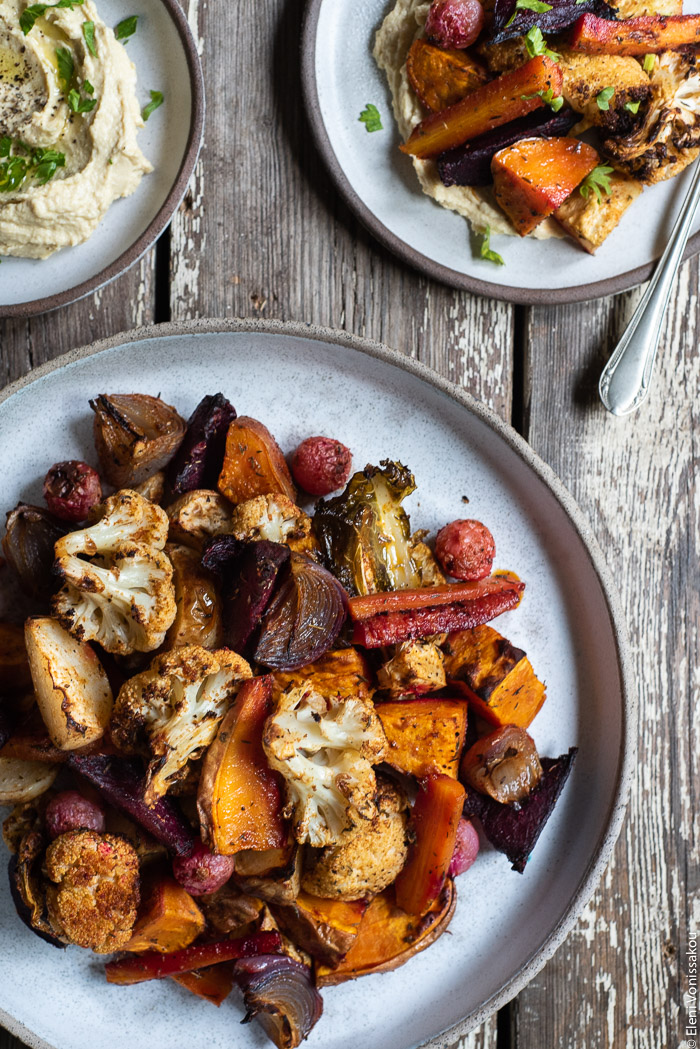 Sweet potatoes, turnips, carrots, beetroot, celery root (celeriac), onions and radishes combined with cauliflower, all bathed in a mixture of tangy lemon juice, rich olive oil and warming spices like cumin and paprika, and slow roasted until tender and slightly caramelized. It's a doddle to prepare, despite having several ingredients. And you can always adapt it and use veggies you have on hand. I suggest serving this delicious vegetable medley with some hummus for an even more wholesome and filling meal. But a loaf of good crusty bread or some barley rusks and feta would also be ideal accompaniments.