A very special combo of flavours, in an easy but bold pasta recipe. Caramelised onions, sweet dried figs, creamy fresh sheep and goat's cheese and peppery arugula (rocket) mixed in with sturdy rigatoni. Something special for World Pasta Day!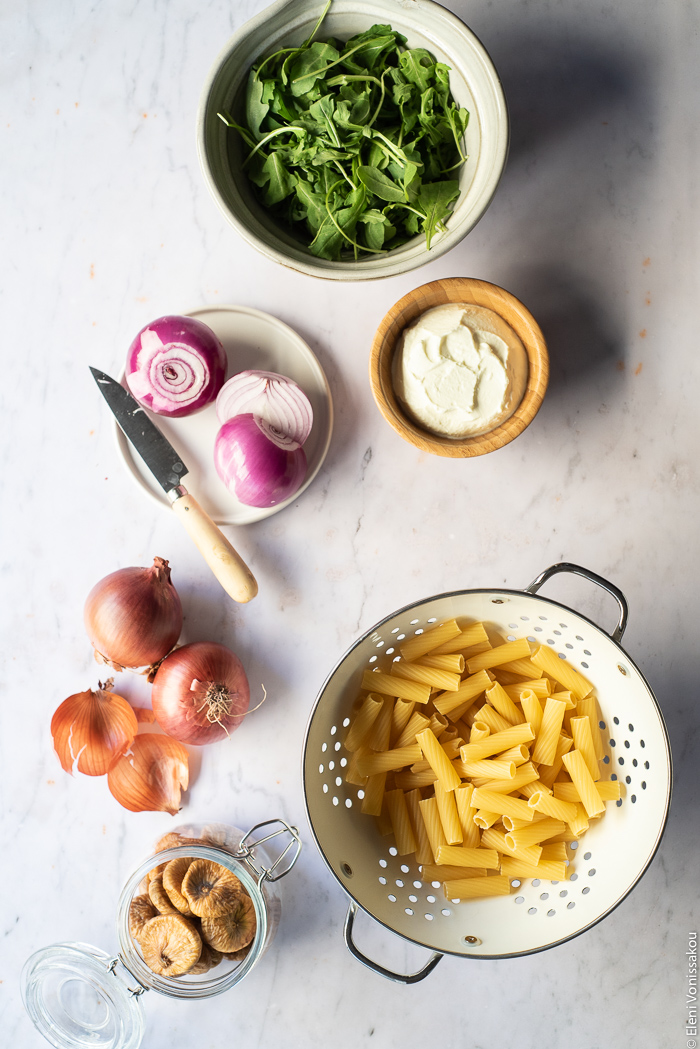 I'm not usually good with international days of this and that, I learn about them too late to do anything. This time, thanks to a collaboration over on the Greek side of TFC, I'm well prepared and on time! So, in anticipation of the pasta party that's coming up in a couple of days, here is a rather special dish with a very interesting flavour combination.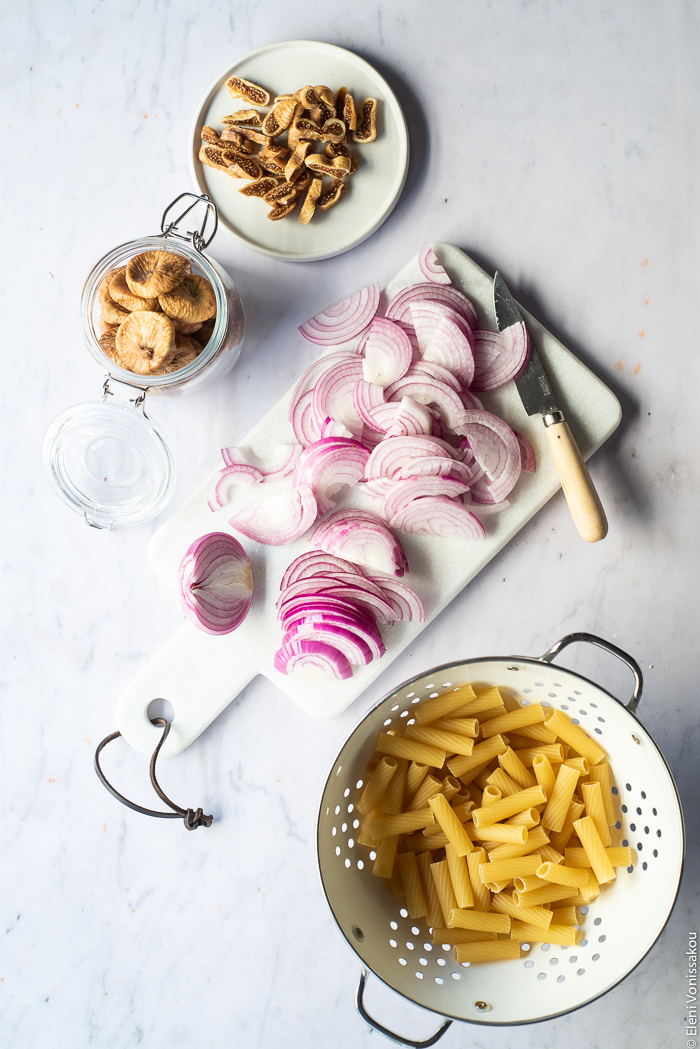 Best thing about this dish is that it feels very elegant and chic (well, it does to me!) yet it is very easy to make. The only element that needs a little attention is the caramelised onions. They aren't in the least difficult to make, but they do need some patience. Factor in the long cooking time and keep in mind you can do other things while the onions do theirs.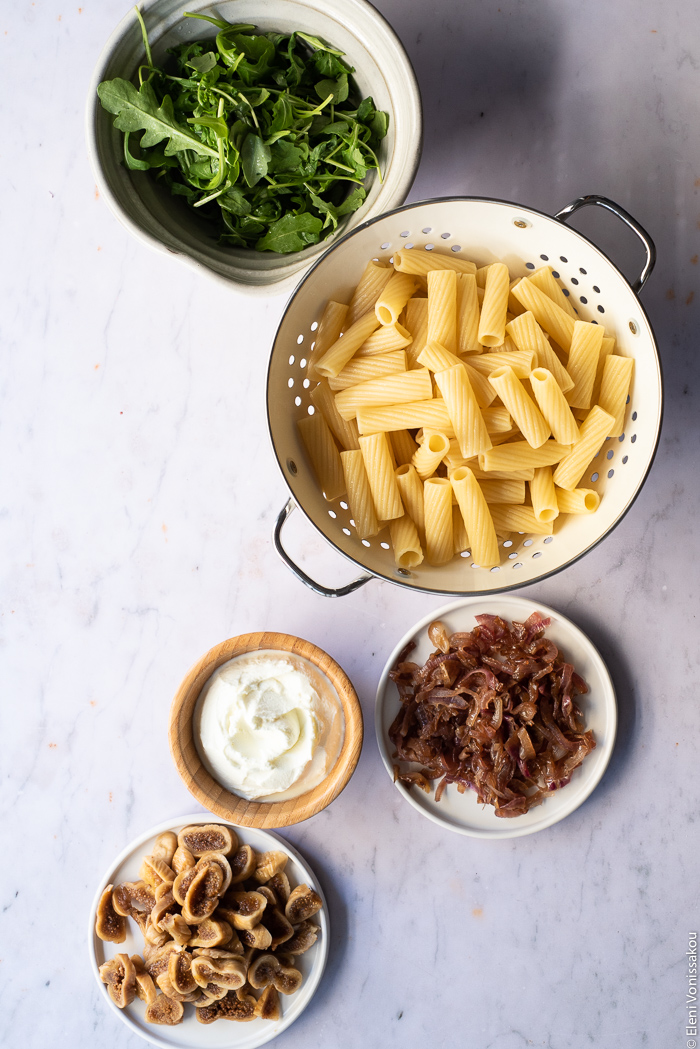 The cheese I've used here is called Katiki Domokou and it's a traditional spreadable white cheese made with a combination of sheep and goat's milk. It's creamy and slightly sour. If you can't find it (please try, it's worth it) you can whip some soft feta with some Greek yogurt and use that instead. Or try the dish with any soft white cheese you like, as long as it's got a bit of flavour – plain cream cheese might be a bit boring here.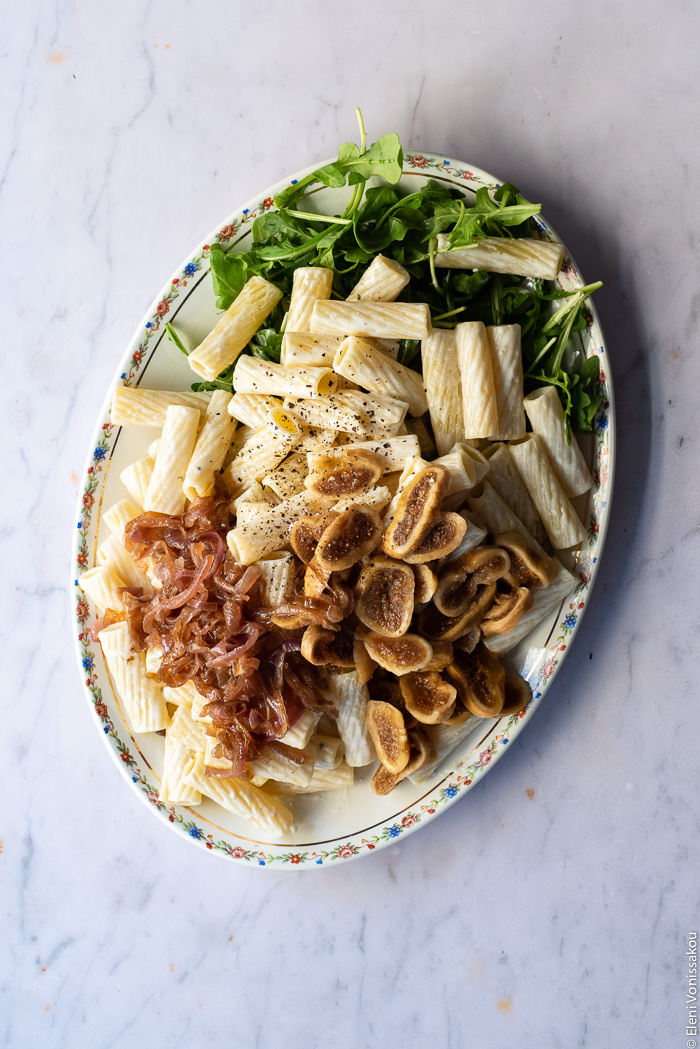 I'm going to love you and leave you guys now. A shorter post than normal but it's a crazy busy time and I have to get back to shooting client work! Enjoy the recipe and as always, if you make it please tag me in your photos so I can share on Instagram stories. I love seeing your creations! (@thefoodiecorner & #thefoodiecorner) Happy World Pasta Day!