My favourite summer tipple with rosé wine, pomegranate and sour cherry juice. Aka what I've been drinking almost every evening with dinner.
This is a little bonus recipe as I wasn't planning on sharing it. It's hardly a recipe to be honest. But it is a delicious drink, so why not give it a mention? If anything, it might inspire you to try something similar.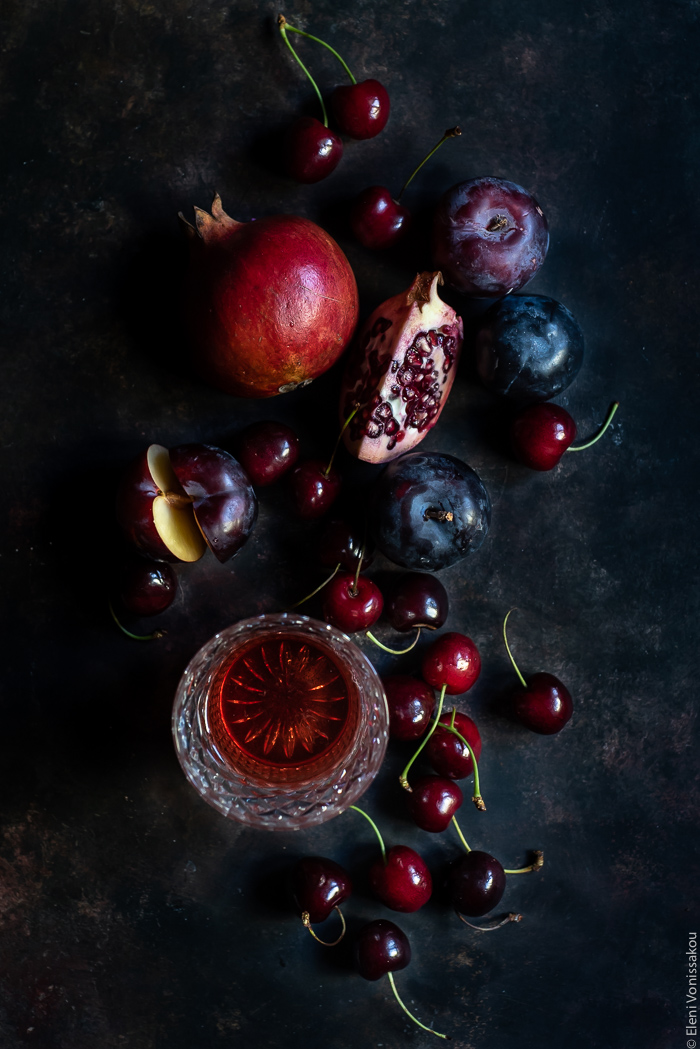 Rosé has become my favourite wine lately. Especially one particular brand which I really enjoy. What happens however is this. I go to the supermarket, look at the rose wines, look at my favourite wine's price label and – although it's actually not too expensive – I always get tempted by cheaper labels sitting right next to it. They look good, the colour is beautiful, so I go for it. More times than not, I regret it. Yuck.
One such time I was trying to force myself to drink the wine (I had nothing else in, no alternative, don't judge) and I spotted a raspberry cordial in the fridge. It's one I am not in love with as it contains stevia which I hate. I thought I might try adding some of that to the wine, in case it helped (yes, it was that bad). Wow, the result was delicious. Sweet and tart and really good.
I can't remember how and why I ended up adding some pomegranate juice too. Maybe it was just there looking at me so I threw it in. Natural pomegranate isn't sweet, it's actually kind of strange, in a good way. Anyhow, in that went too. The combination was amazing. Almost sherbert-y (as in the British powder, not the sorbet meaning).
Since the raspberry cordial thingy is a specific brand, I decided I would try the drink with some sour cherry juice before sharing, since it's more common here. I hope that's something you can easily find outside Greece. If you can't, try raspberry juice instead. If you choose a cordial you will have to adapt the recipe accordingly as you will need much less.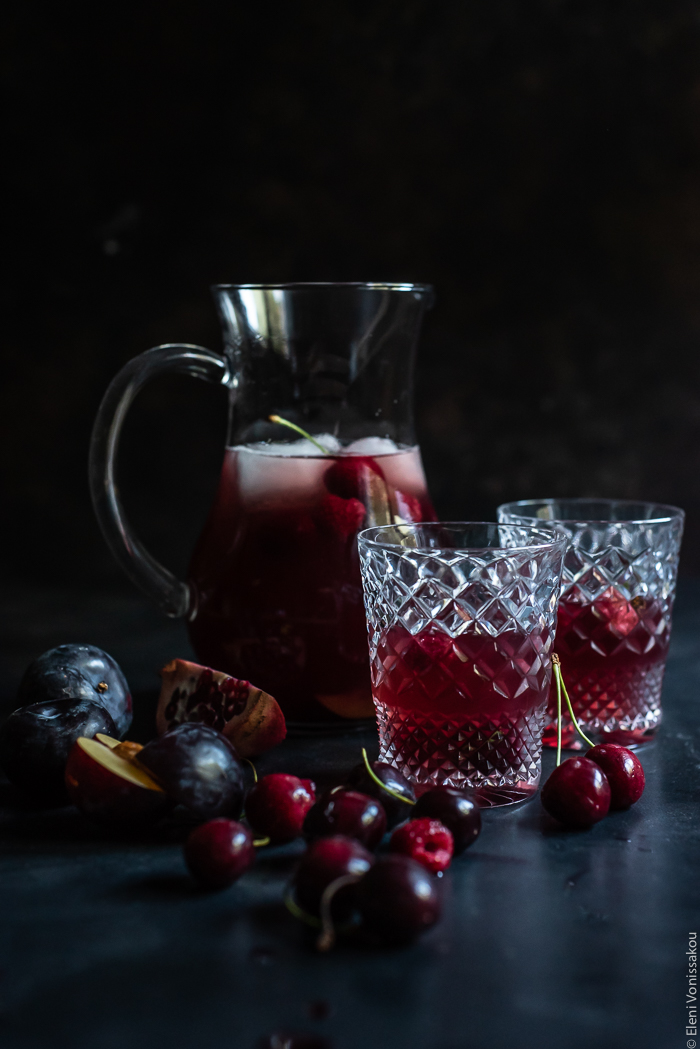 Talking of quantities, the ones below are more of a guideline, as the final result will depend hugely on your wine. You might need to play around with the ratios to perfect the drink. Just make sure to use a dry rosé unless you like really sweet drinks.
It's super easy, very refreshing and delicious, and keeps well so you can make a pitcher. It's what's getting me through this heatwave.
Oh and one more thing. There is a whole load of fruit in the photo, and that is because I shot it in order to enter it into an Instagram challenge. Obviously you can add them to the drink to make a proper sangria (especially if you're making a pitcher for a special occasion), but in no way are they compulsory. I don't usually bother.
Cheers!