The perfect midweek meal, or even Saturday night comfort dinner. A deeply tasty dish with orzo pasta, delicious mushrooms, rich balsamic cream and flavourful parmesan. Added bonus? Orzotto is so simple and easy to make.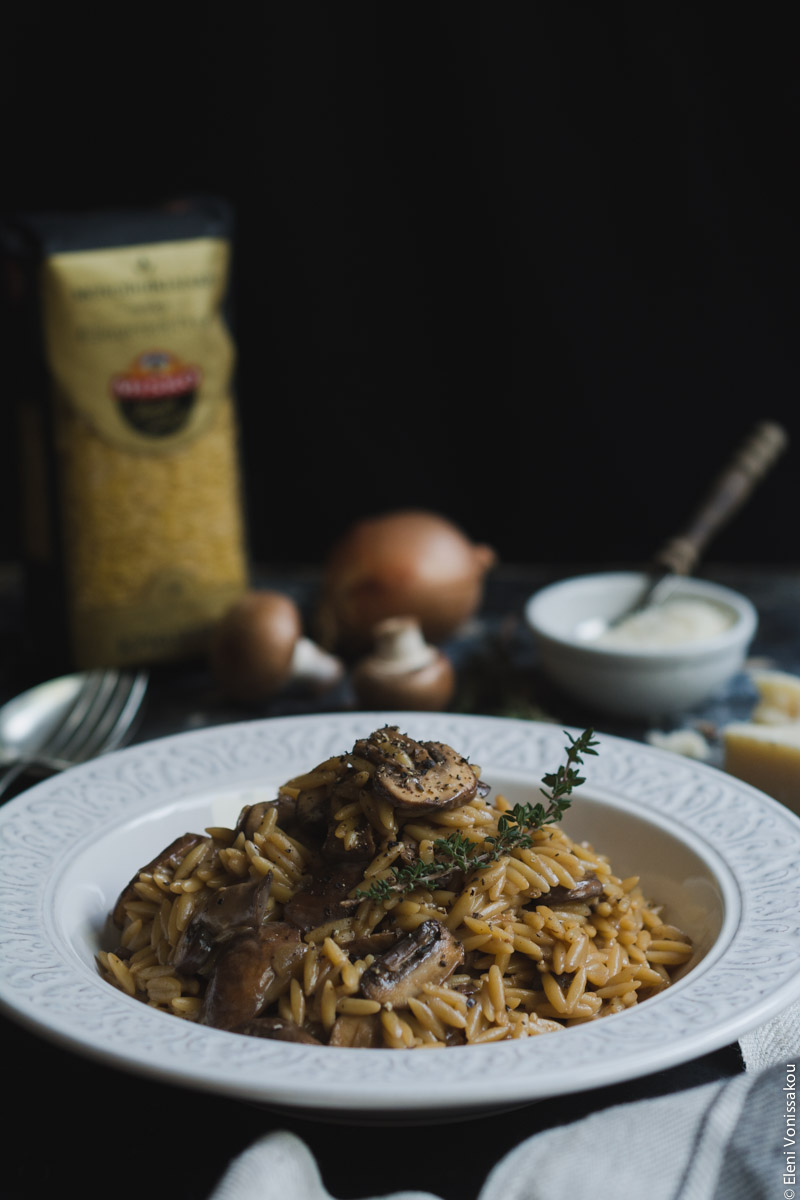 Orzo pasta is very popular in Greece. For a long time I didn't even know there was a word for it in English. I had never come across it in any non-Greek recipes and Mrs D., although English, always called it kritharaki which is its Greek name. But a few years ago I discovered that yes, kritharaki does indeed exist outside this country, and it's called orzo (which is actually the Italian name). Of course it is also used in Italian, Turkish and Middle Eastern cooking, like many other ingredients we think of as Greek. I really don't think there are many things that can claim to originate from any single country, there are so many influences from so many parts of the world, on all aspects of cooking. It's quite interesting when you start looking into it.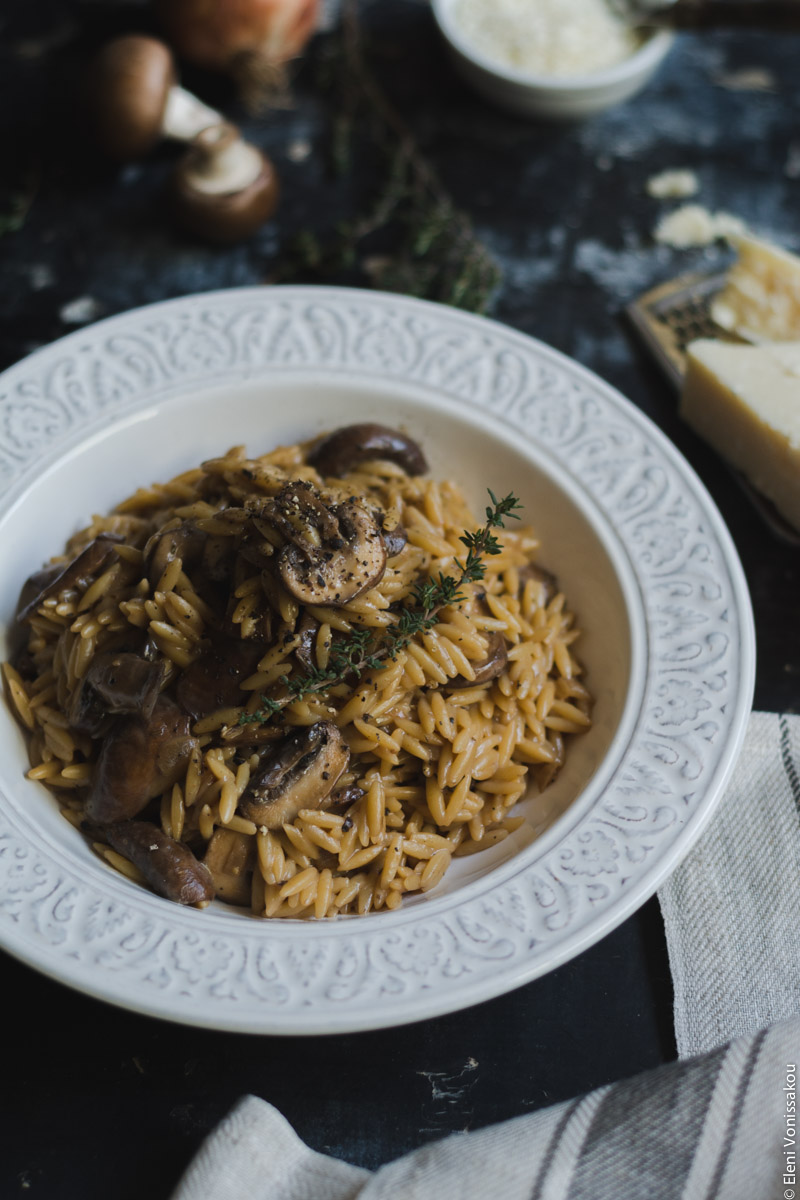 Anyway, orzo is a type of pasta shaped like large grains of rice. It looks like barley, which is where it gets its name from in both Italian and Greek (krithari is barley, kritharaki is "little barley"). It's a great alternative to rice when making risotto-like dishes, because it cooks quicker and the best part is… wait for it… you don't have to gradually add liquid. You can dump the whole lot in at the beginning and let the orzo absorb it nicely without sticking or becoming a big gloopy mess. Just make sure you stir a few times during cooking. How great is that? Perfect for a busy weeknight.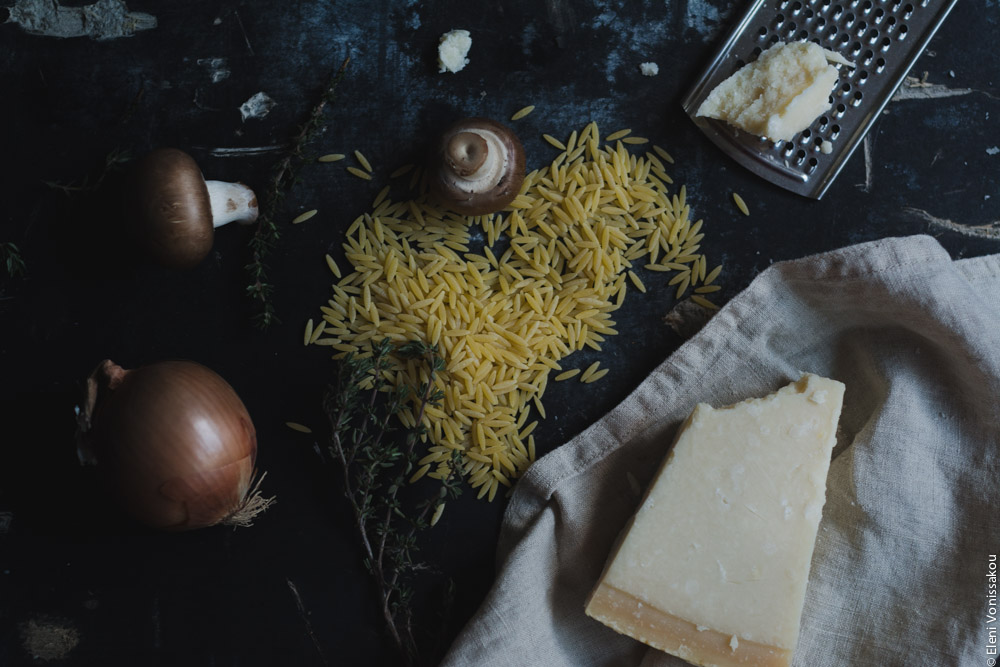 Mushrooms are a classic option for risotto, so I decided to use them in this orzotto. They suit pasta perfectly anyway, so I was sure it would be super tasty. And to be honest I'm not the first to have thought of it, there are several recipes out there combining the two. Here however, I've added balsamic cream to give a deep, rich and slightly sweet flavour to everything. It is the ideal partner for mushrooms, and makes a lot of difference to the end result. Parmesan complements the combo extremely well (of course it would, parmesan is just plain gorgeous) and a splash of fresh cream always makes everything even better. So there is some of that too. Now look at that ingredient list and try to resist running to the shops! Actually don't try to resist. Go shop and make this delicious orzotto asap.