Greek beef and turkey village-style sausages make the base for these super loaded hot dogs. The beef one is topped with delicious caramelised onions and a beer cheese sauce, and the turkey one, our lighter option, is smothered in feta cream and Greek salad salsa.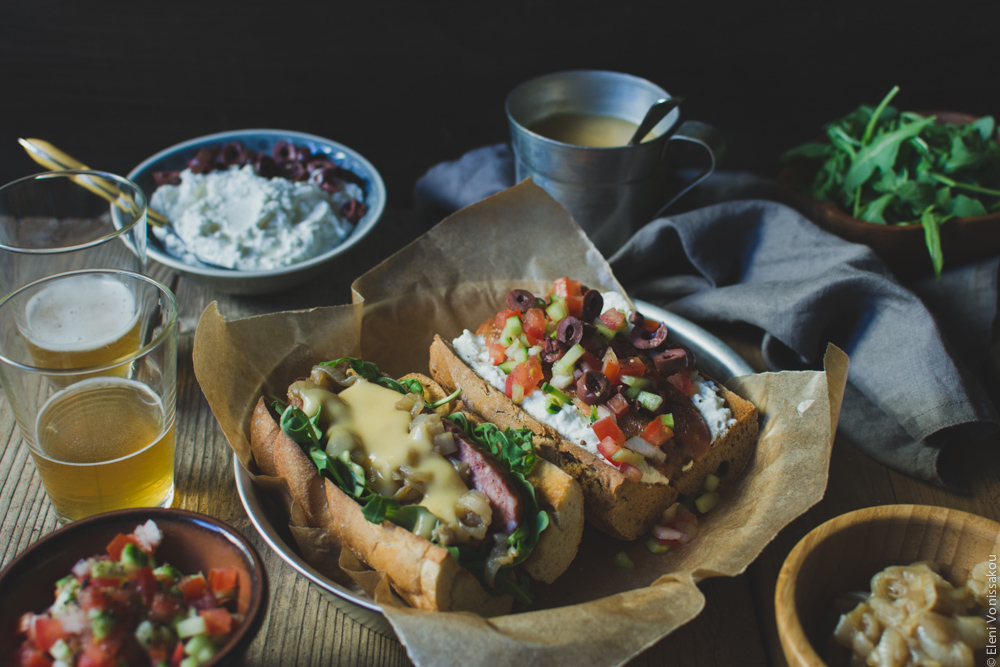 I know that it's probably impossible to get tired of hot dogs, even in their most simple version such as sausage, ketchup and mustard, but it's always good to have some fancier options for when we want to make a bigger d/meal out of it.
These are pretty fancy. The first is a country/village style beef sausage in a baguette, with properly caramelised onions and an amazing beer cheese sauce made with cheddar and San Michali cheese from Syros. San Michali is also known as the Greek Parmesan, but I think that is a little unfair as it definitely has its own unique flavour. San Michali is a hard yellow cheese made from cow's milk, and it's exclusive to the island of Syros with a POD status. It's a little salty with a spicy aftertaste. It might be tricky to find, so you could go with parmesan or try any other cheese you like the taste of. As long as it's strong flavoured. The sauce also works well with smoked yellow cheese. A few arugula leaves make a good garnish for this hot dog, as the flavours mix well.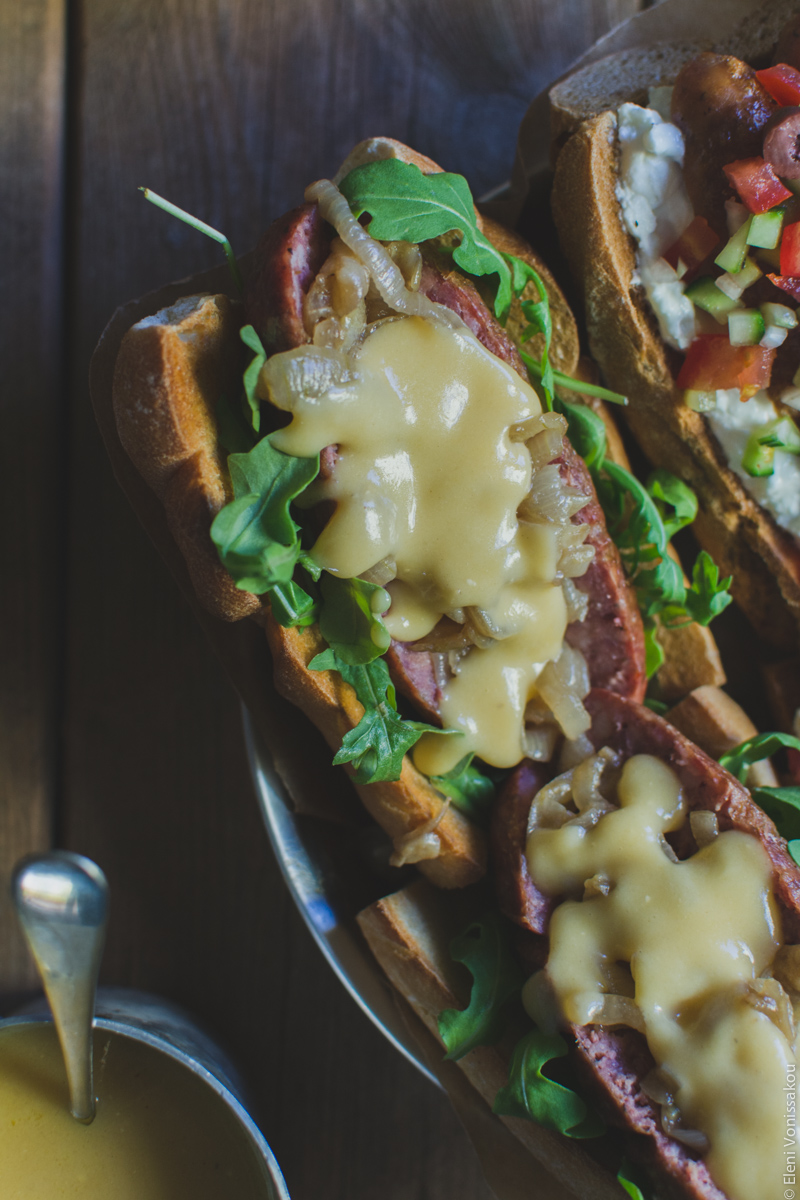 The other sausage is turkey, which suits its topping beautifully. Thick and creamy, the topping is made by mashing feta with Greek yoghurt and a soft white cheese called Galotyri. Galotyri is made from sheep or goat's milk, or a combination of both. It is creamy, with a fresh, strong, slightly sour flavour. If you can't find it you can omit it altogether, or use a little more feta. A sprinkling of Greek salad salsa provides the cool crispness that balances everything out. I've used a whole-wheat baguette here since we're going lighter with this version. Olives I suppose make a good garnish, since they are part and parcel of Greek salad, but since I can't stand the things, I've not actually tried the combo myself. Yes, I'm Greek and I don't like olives. Are you giving me the shocked look? I've had to deal with that one since childhood…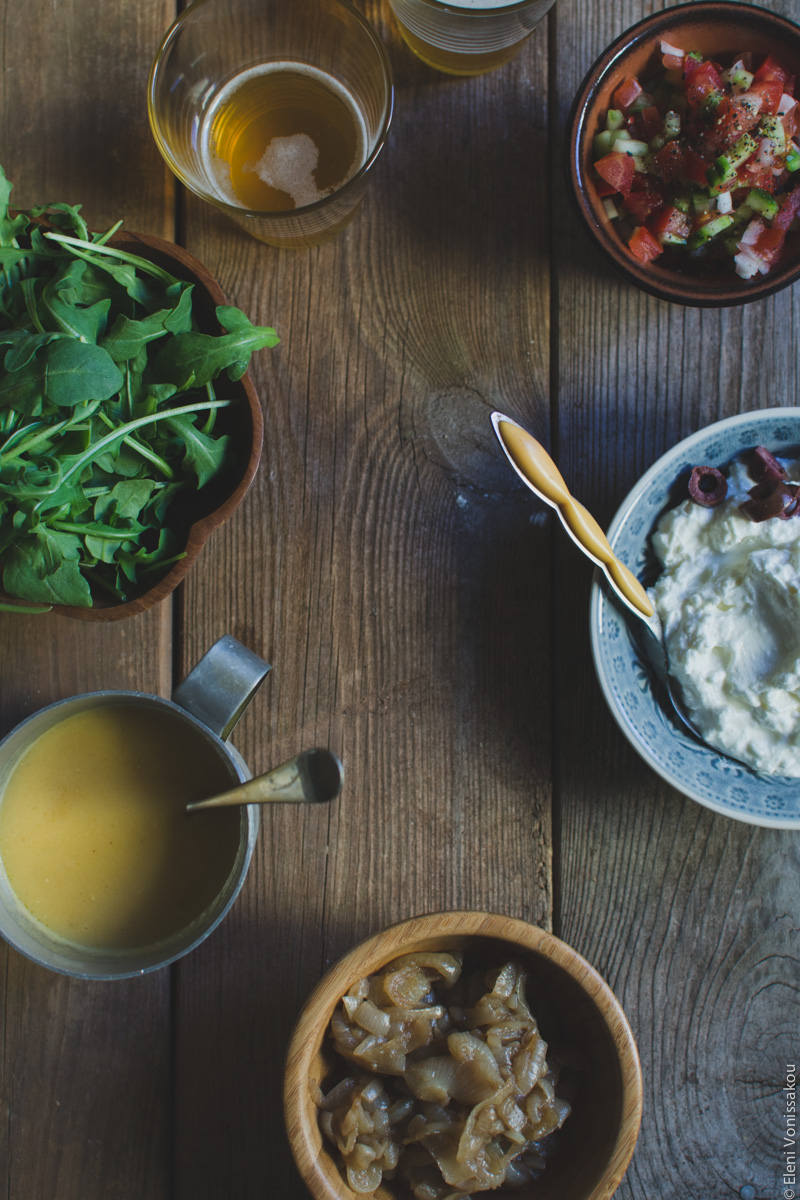 The sausages are cooked in a frying pan on the stove, so there is no need to brush the cobwebs off the barbecue just yet. Yay.
A couple more things before I let you browse the actual recipe (many steps but all easy!). Keep any leftover caramelised onions in the freezer, in ice cube molds for portion control. If you have leftover beer cheese sauce it will have probably thickened quite a bit. Spread it over toast and grill (broil) until bubbly and delicious. You have yourselves a version of a Welsh Rarebit. If you have leftover feta cream try using it as a salad dressing. You might need a little olive oil to thin it out, but it's actually very tasty. I tried it on a spinach and rocket (arugula) mix.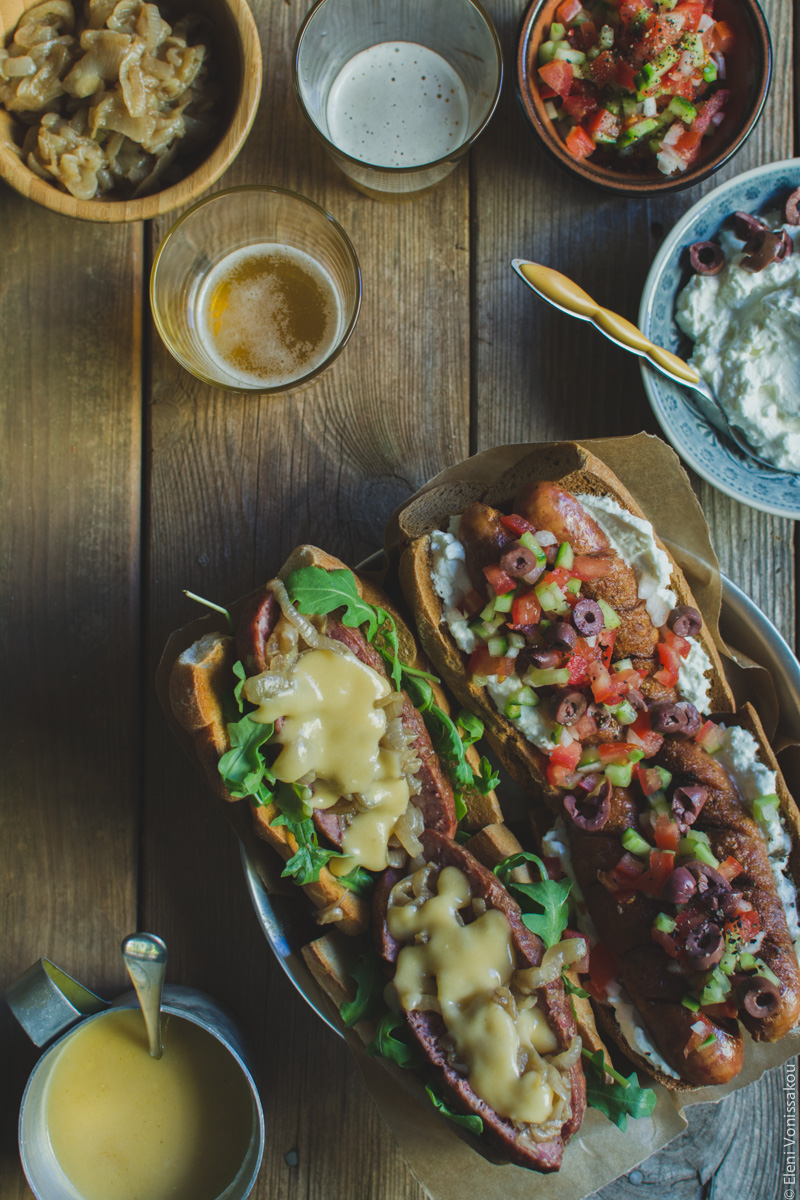 So is it barbecue weather where you are yet? We've had some weird weather over the past few days, with lots or rain (insert happy face) and lower than normal temperatures. But it seems to be getting back to normal (bah), so I'll have to console myself with cold beer and hot dogs!