A hearty, tasty soup with butternut squash, carrots and red lentils, to warm you through on a cold day. Best things about it? There is very low food waste as you don't peel the vegetables, and of course it's ridiculously easy as you literally just pop everything in the slow cooker and let it do its thing!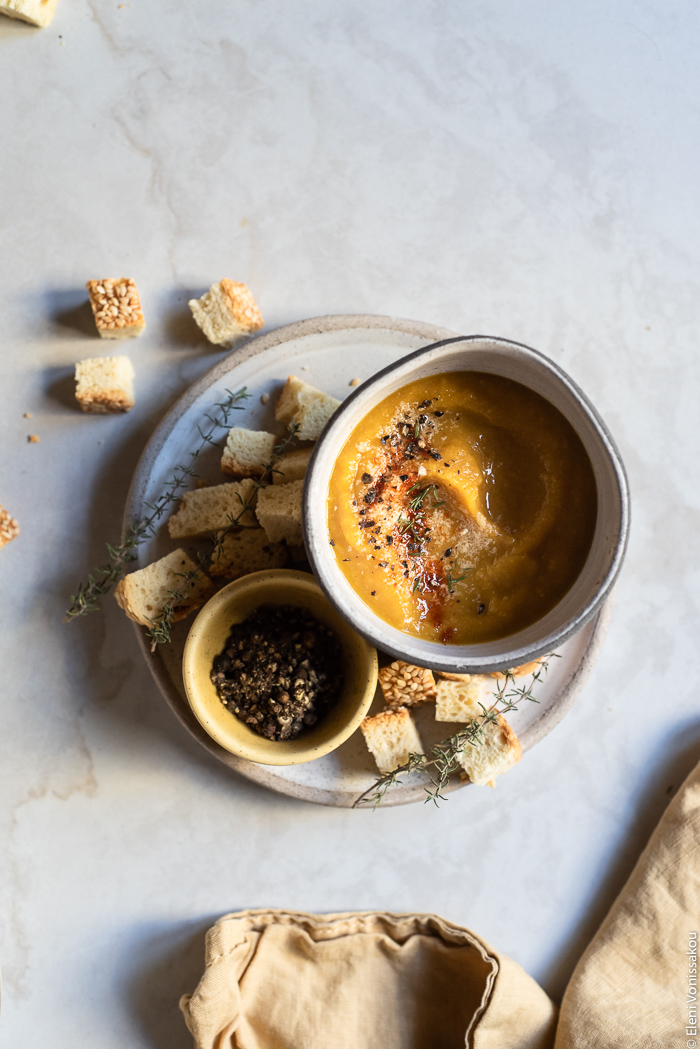 I've known for some years now that butternut squash skin is edible. Mrs D. told me ages ago that a friend of hers would leave the skin on the squash or pumpkin that she added to her Bolognese sauce. For some reason I hadn't tried it myself. Until recently.
I was making something a few weeks ago and needed half a butternut squash. The remaining half I just popped in the slow cooker as I usually do. This is the way I normally cook squash. Either whole or halved, I just put it in the insert and turn the cooker on. No water, nothing else is required. This results in a gorgeous puree that you just scoop out of its skin and use as needed.
When I took the cooked squash out of the slow cooker I decided I would make soup with it. And then I remembered the whole edible skin thing and thought it was a good opportunity to give it a try. So I pulled the stalk off and popped it back in, having removed the seeds before cooking. I added a few more ingredients including red lentils and made a pretty good soup! It was definitely a keeper so I kept my notes in order to re-test and fine-tune it.
The second time I made it I decided to use a whole butternut squash, seeds and all. I halved it, although next time I might not bother, removed the stalk and the hard bit at the bottom and in it went with everything else. The only small issue with this method is that you need a good blender otherwise some of the seeds might show up in your spoonful of soup. Personally I don't mind, and prefer that to throwing the seeds away. So I just used a stick blender. It's up to you.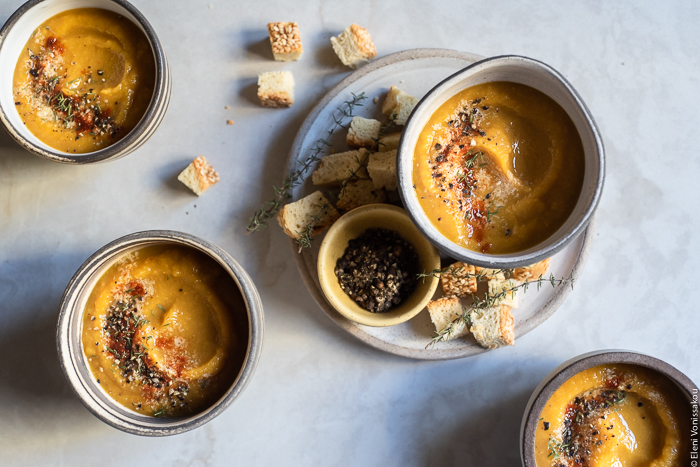 The red lentils make this soup very filling and the carrots complete the sweetness of the butternut squash. I also added some ginger and turmeric because they always give a good flavour boost to everything. You can of course experiment with all sorts of spices, I think some good old curry powder would be good or some cumin. I have a feeling that some orange juice could be a good addition too, but I didn't try it because the oranges on my tree are still a bit sour. Next time I'll add some juice at the end of cooking. The strange thing is that there was an orangey taste even as it was. Maybe I was imagining it!
In any case, this soup is a very good option for dinner on a cold evening, or even for lunch on a day that you need something filling to keep you going. I serve it with homemade croutons or rusks, some nutritional yeast and lots of pepper. The red spice in the photos is paprika and it's there mostly for styling purposes, although it didn't taste bad at all.