Shepherd's pie, with its layer of meat chunks and veggies in gravy, and its layer of fluffy cheesy mashed potatoes, is a fantastic way to use up any roast lamb you might have from Easter Sunday.
This is the second installment of my "use up Easter leftovers" series. Here I'm sharing a great English recipe that will take care of any bits of roast lamb that your family or guests just couldn't manage.
Shepherd's pie is traditionally a dish that does exactly that. My grandma used to make it on Monday, following a lamb roast on Sunday. She could feed a family of eight (!) using just one leg of lamb, AND have enough for the pie the next day. Now that is frugal cooking. And it's what we should be doing more of, now that we all know it's time to cut down on our meat consumption.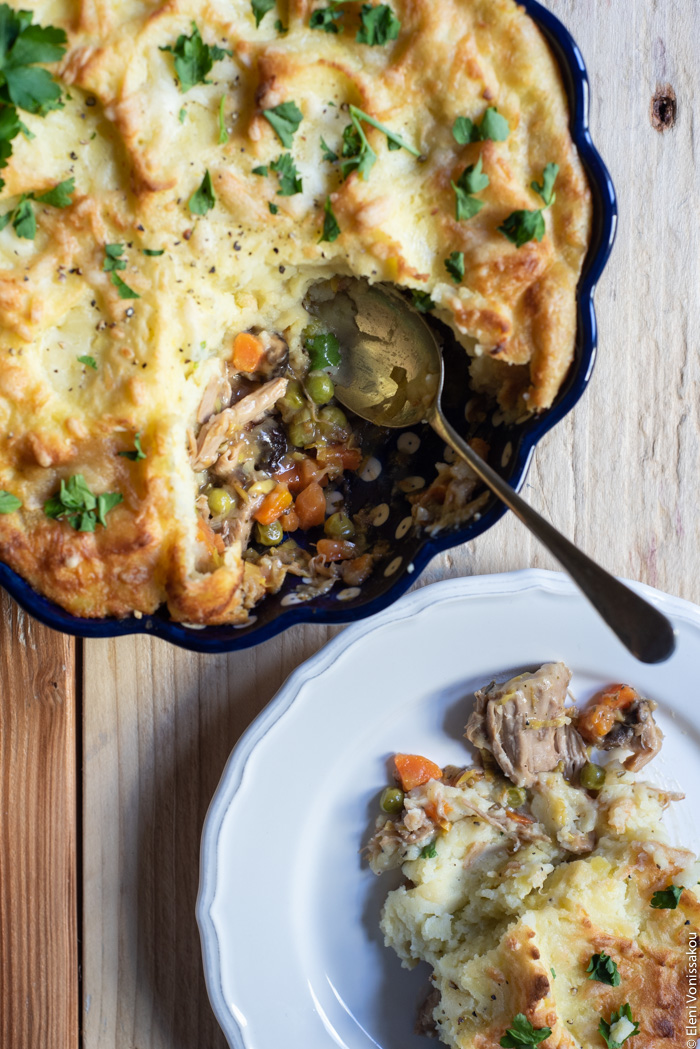 Since Greek people often tend to cook a bit more than they can actually eat, I thought this would be a great suggestion for lamb that is cooked on the spit on Easter Sunday in Greece. With its juicy layer of meat, vegetables and gravy, and its delicious layer of cheesy mashed potato, it's a meal that will please both kids and grown-ups alike.
I hope you try it, and if you do, I hope you tag me in any pics you share on Instagram!
If you missed the first post of the leftovers series, check out these pickled eggs and a few thoughts on food waste that I shared.
{Water footprint for sheep's meat: 10,400 litres per kilo!}