A very different, plant-based version of the famous Greek pasta bake called pastitsio, made with lentils and mushrooms instead of minced meat, and topped with a super easy oat milk and semolina bechamel.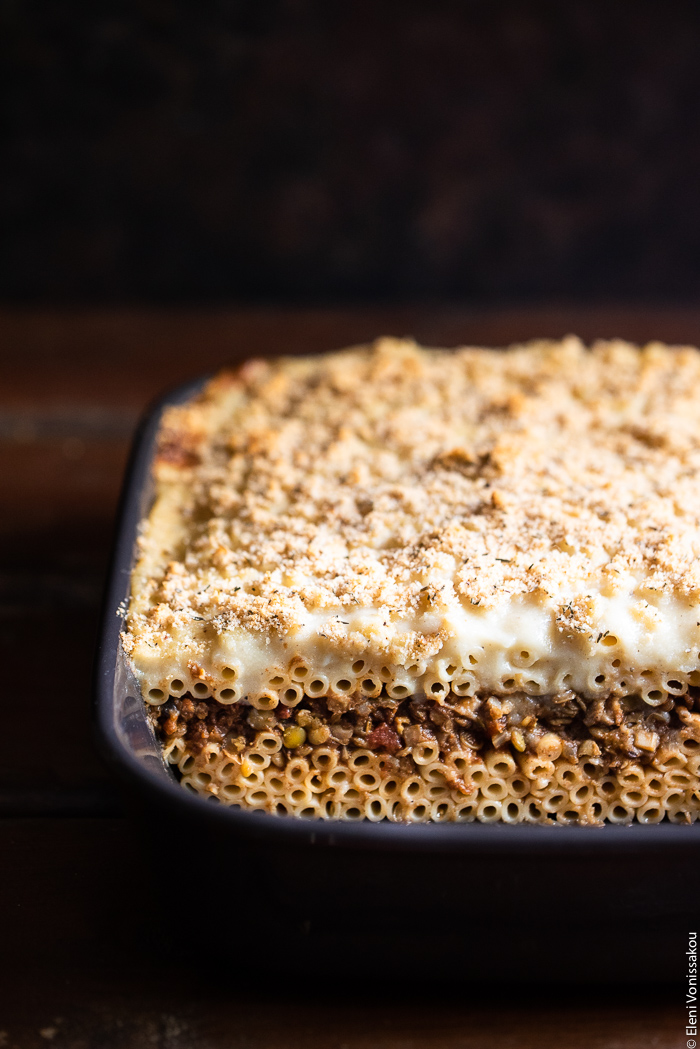 It's been a while since I created this recipe. About a year in fact. I first developed it last year for a client and it was posted on their website, but for some reason I never got around to posting it here. Well, the time has come – it is the start of Greek Orthodox holy week after all, and this is a great dish for anyone fasting. But regardless of Lent, this recipe deserves a place on my blog, that's for sure.
So, have you heard of pastitsio before? If you haven't, and you are a meat eater, you should go check it out. If you don't eat meat however, stay with me, for I have created a pretty good alternative – if I may say so myself. It's not the same, and I hate it when plant-based alternatives to certain foods are "sold" to us with phrases such as "you won't know the difference". You will know the difference; you almost always do. That doesn't mean the alternative isn't just as delicious! For me such descriptions are doing the new dish a disservice as they're elevating expectations to an unrealistic level. Then you try it and your first thought is "this isn't (insert x, y, z here)". When it could be "hey this is tasty". Take mozzarella for example. I tried making a vegan mozzarella. Everyone in the recipe comments was saying how brilliant and close to the real thing it was. Nope. It wasn't anything like the real thing. So to begin with I was disappointed. Then I realized that although it wasn't mozz, it was actually pretty good. But if you do that to someone who isn't open minded about replacing animal with plant products, you've lost them. Anyway, I'm rambling.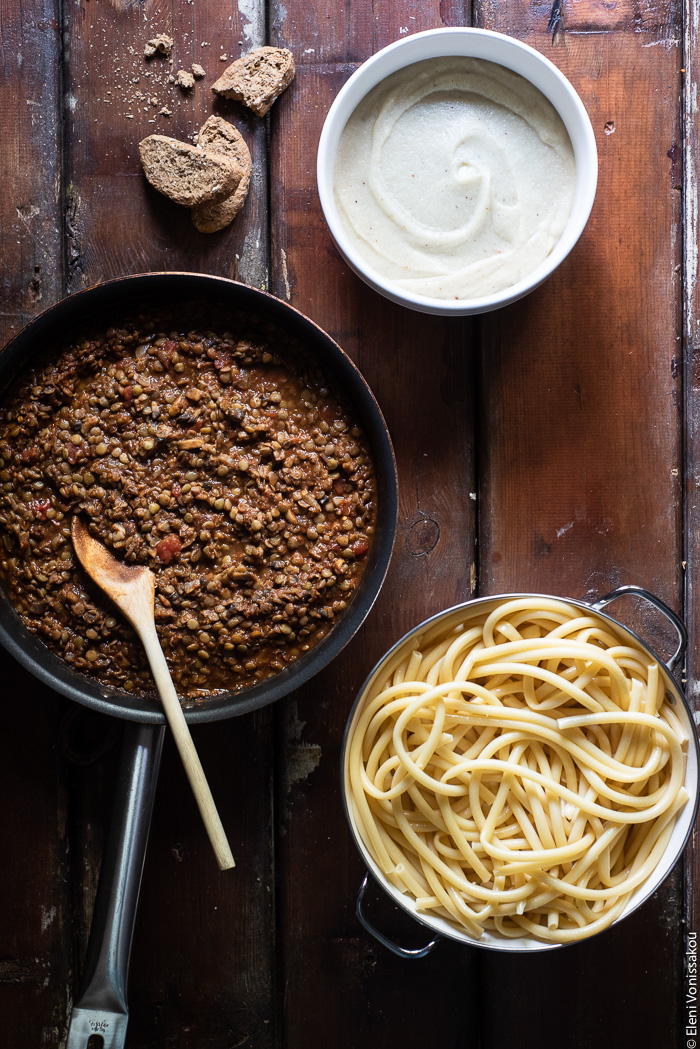 Back to the pastitsio. I would have named it something else but the dish actually gets its name from the type of pasta used. It's a very thick spaghetti with a hole in the middle, a bit like bucatini (although I think it's even thicker than bucatini). If you can find pastitsio pasta (maybe in a Greek deli?) use that, otherwise bucatini works just fine. The sauce is made using a lentil and mushroom base, and lots of yummy spices and umami-filled flavourings (think soy sauce, garlic paste etc). The bechamel is a deliciously creamy concoction made with oat milk and semolina, then flavoured with nutritional yeast and other good stuff. It's much easier than classic bechamel too, as you don't have to worry about making a roux and getting lumps in your sauce.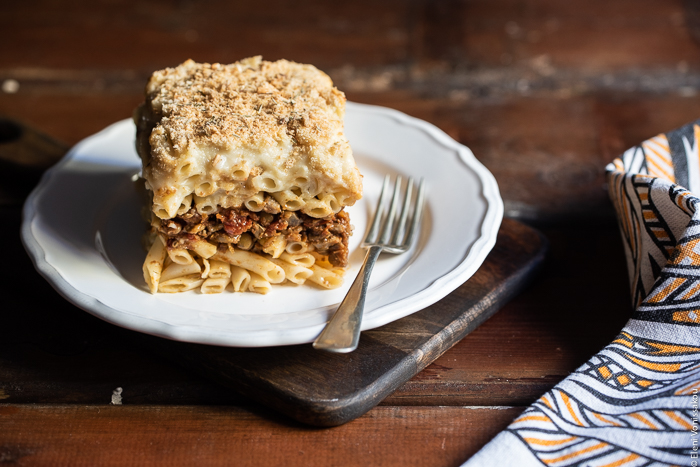 I'd love to say this is a quick dish to prepare, but I would be lying. And I have never lied to you guys. It is easy, but it isn't quick. There are a lot of stages BUT, you can do some of them the day before, and as I said, they aren't difficult. So if you feel like spending some time pottering around the kitchen this is a great option. If you're looking for a quick fix I suggest you look at my other pasta dishes and save this for another day. I do hope you try it though.
Either way, I would love to hear from you guys. Sometimes it feels like I'm talking into a black hole of nothingness, so it's always great when I get messages or comments. You know where to find me!