A super simple and very straightforward recipe for a yummy frittata. Because at this time of year we can't much be bothered with more cooking, can we? Its basic ingredients of spinach, cherry tomatoes and anthotyro keep it light, which again, is just what we need after the holiday season!
But let's take a step back so I can wish you a Happy New Year! May it be full of joyful moments, successful ventures and fun times! And of course the Greek in me can't go without wishing everyone good health. It's the first thing we say here in Greece when giving wishes. We might be a bit obsessed with our health, in the way that Brits are obsessed with the weather. Anyway, it's actually a very important aspect of living happily, so… here's to a healthy 2017 as well as everything else.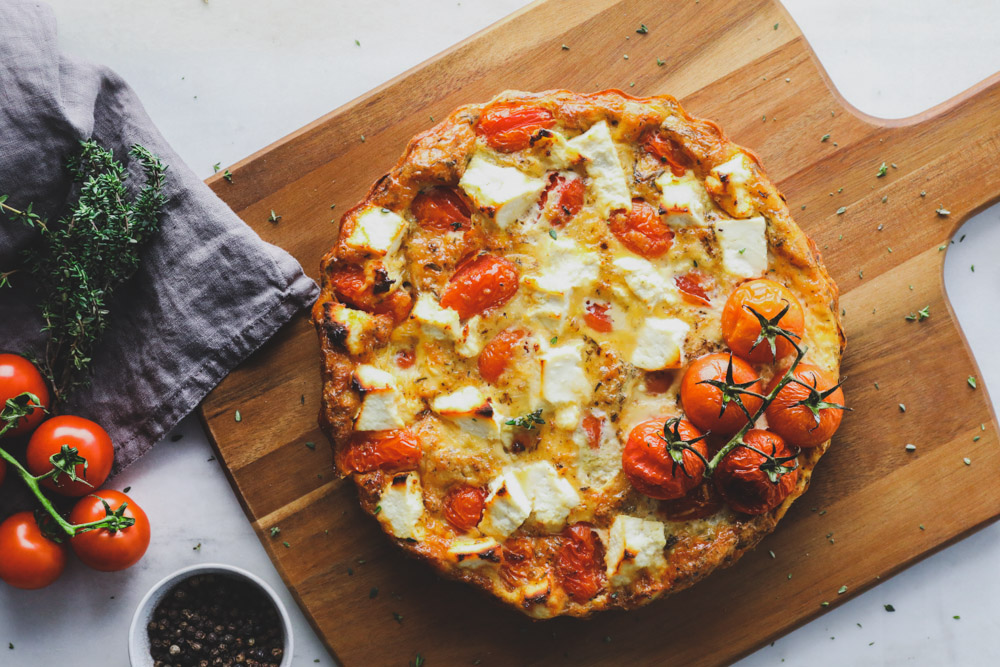 Hello frittata. Hello best thing to make when you need to clean out the fridge (apart from maybe soup). There are hundreds of combos you can try with these oven-baked omelets. Veggies (make sure you sauté them first if they have a high water content), all sorts of cheese, all sorts of deli or cooked meats, leftover pasta, leftover rice, the list goes on. All brought together with some eggs, and boosted in flavour with some herbs and spices. I chose a simple but delicious combination with spinach, cherry tomatoes and the Greek cheese anthotyro, which is very similar to ricotta (you can easily substitute).
It's light, it's healthy, it's tasty. And see how easy it is to throw together in this fab video I participated in, for the supermarket chain AB Vassilopoulos.