Back with the second part of my recap! More photos from the food styling and photography workshop we held in April in Chania, Crete. And a few words to go with them.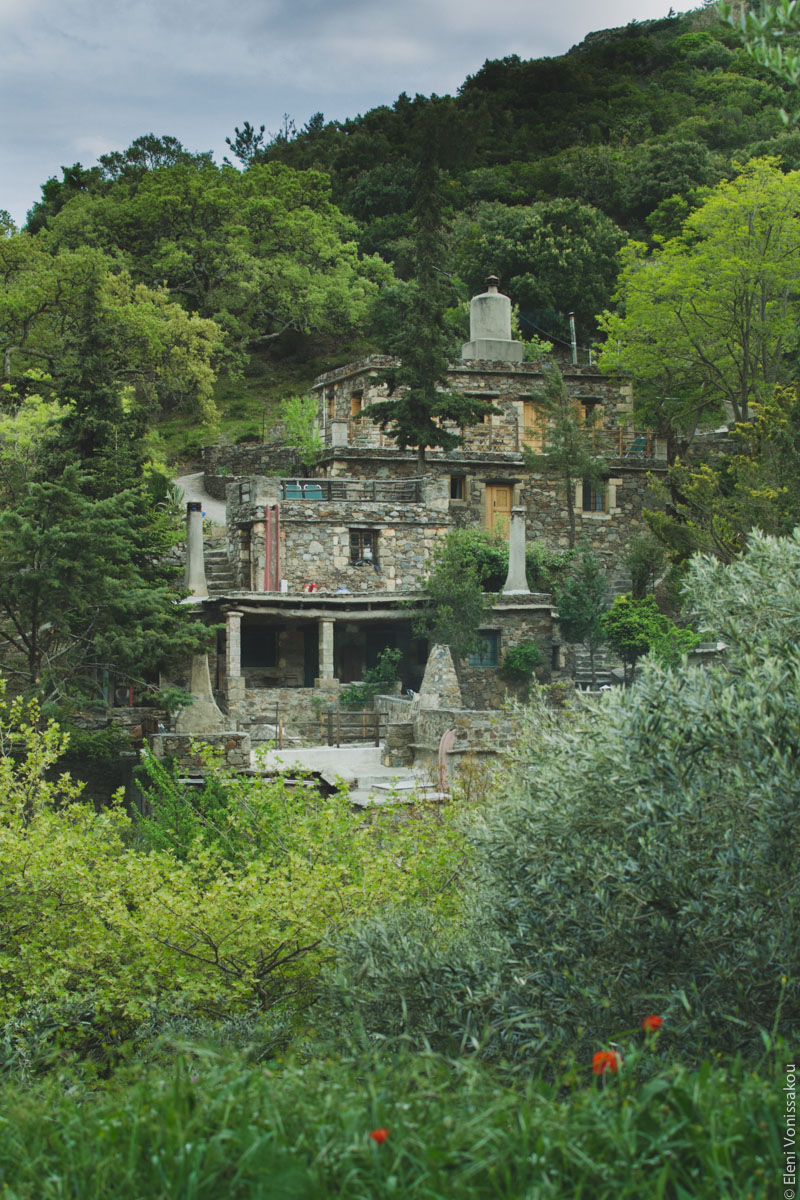 So, where were we? Ah yes, I went on and on a bit, and then described Day 1. So after a great start, we were ready to immerse ourselves fully in the workshop mood. We woke on Day 2 to find that the weather was pretty dark and gray. But hey, I thought, we're in Greece, it will be sunny within the hour. It wasn't. I was really loving it, secretly, but felt a bit bad for all the attendees coming from cooler countries expecting Crete to be warm and sunny!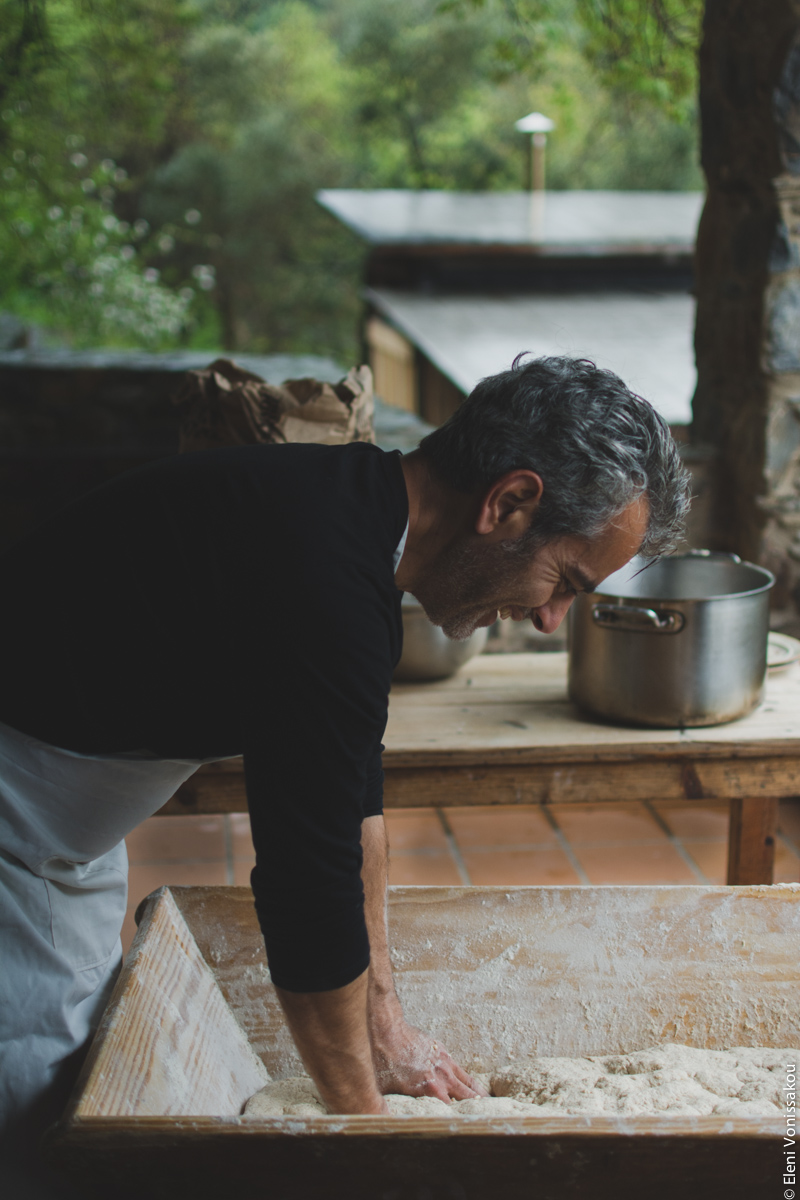 Our first activity of the day was a bread making demonstration by our friends at Milia. Tasos and Miri brought all the ingredients down to our workshop area, however, it was so gloomy outside that not enough light was coming in through the windows. But since no problem is without a solution, we just moved everything outside onto the veranda area. Voila!
After the bread making demo, we were scheduled to go on a picnic to Elafonissi beach. Yes, you guessed it. The rain was still pelting down, and it was actually quite cold. So we snacked on our food in the dining area of Milia, and then made our way to the beach anyway.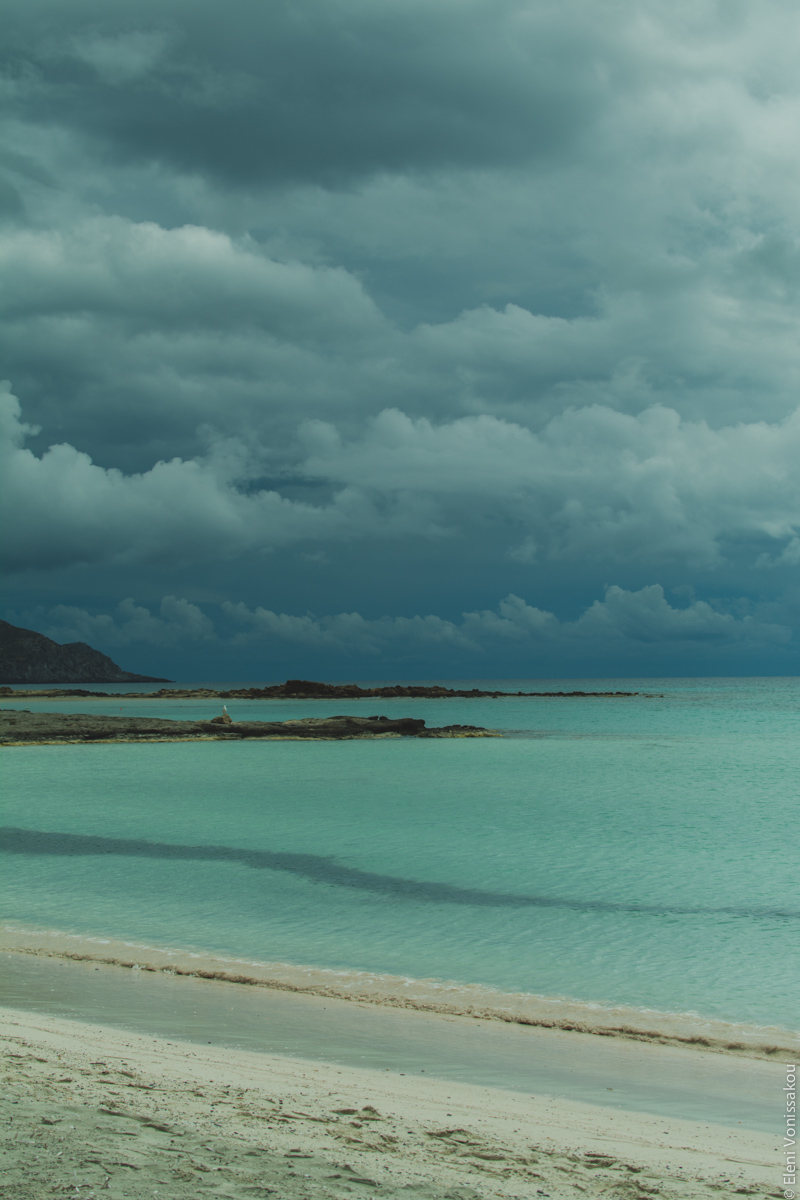 §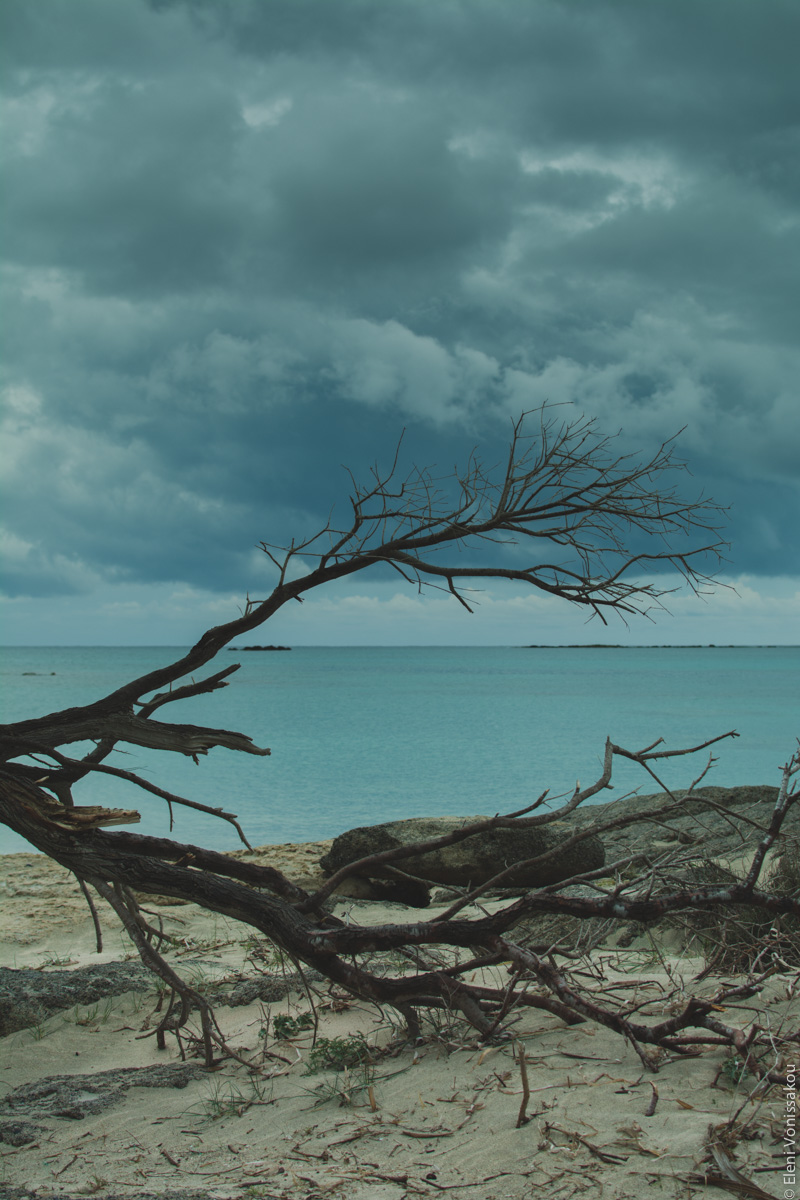 Photographically speaking, the scenery was so much more interesting with the dramatic black clouds and gloomy atmosphere. And then, after we'd been there for a while, the sun found its way through the clouds and shone like it was supposed to! So we got to see all sorts of colours and different shades of light.

§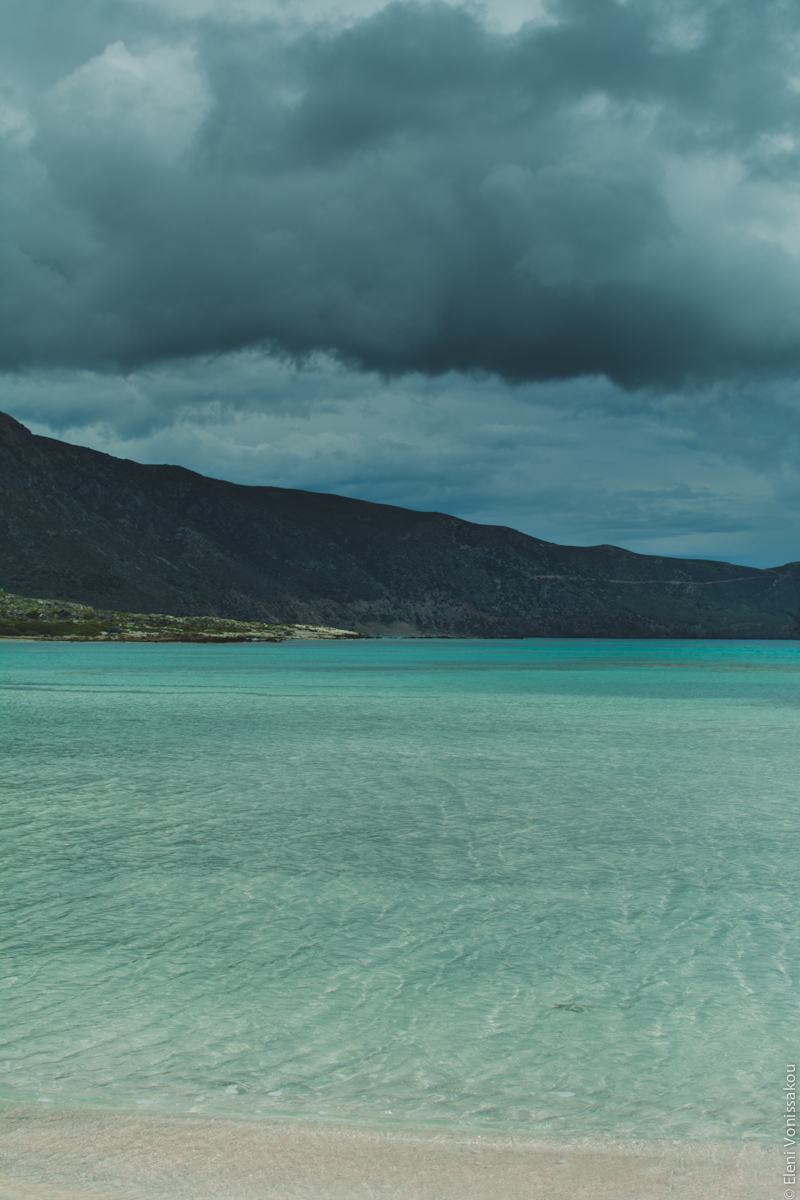 Back to Milia next, for styling and lightroom sessions. Betty, a brilliant photographer and our amazing teacher during the workshop, showed us how to style a random vegetable and turn it into a work of art. Just by adding a prop or two, and manipulating the light to get the mood and effect we want.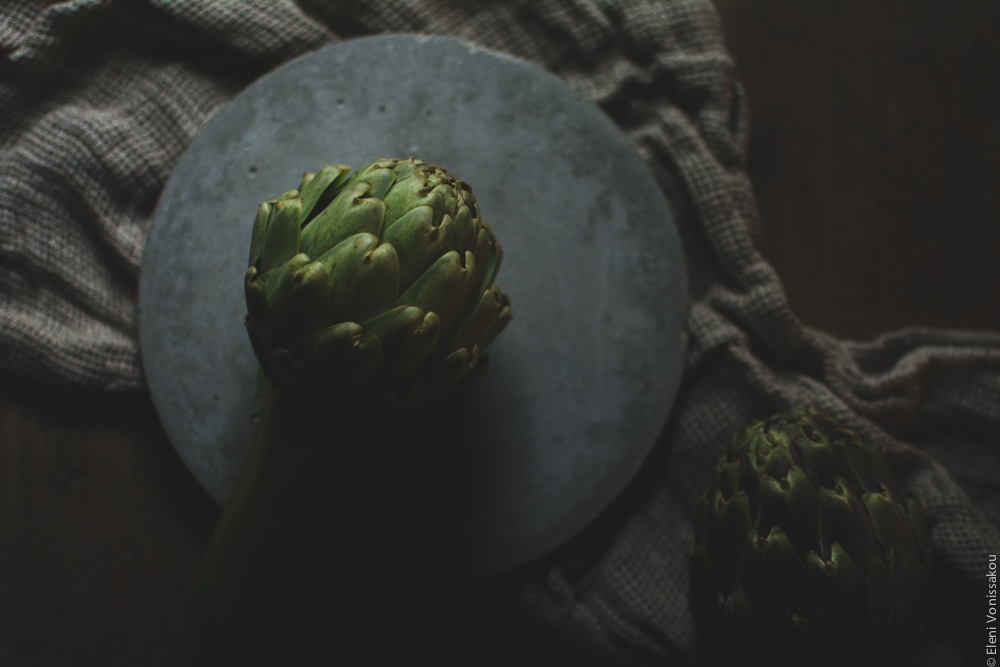 Jenny, also an excellent photographer and Betty's assistant for the workshop, also helped with tips and pointers, and even modelled for us (see previous post!). Later on we talked about using Lightroom for editing photos and we got right into the nitty gritty of turning a good photograph into a jaw-dropping one!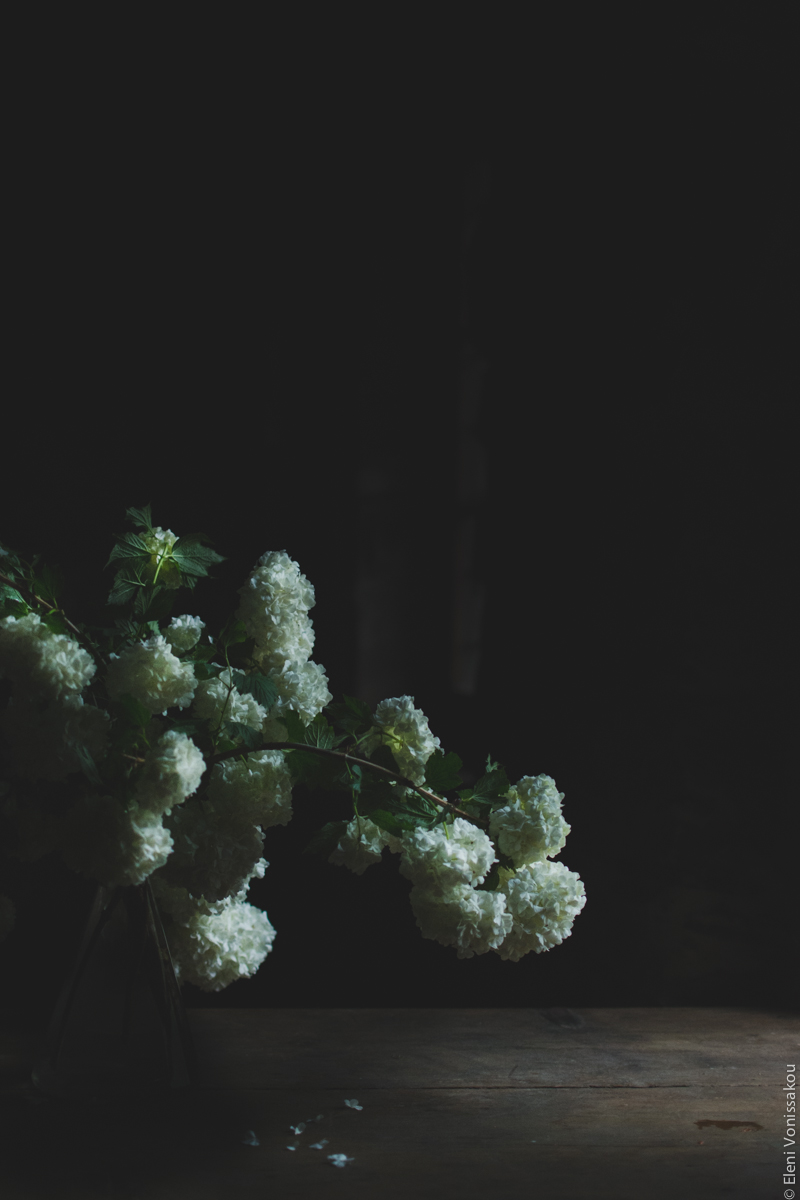 §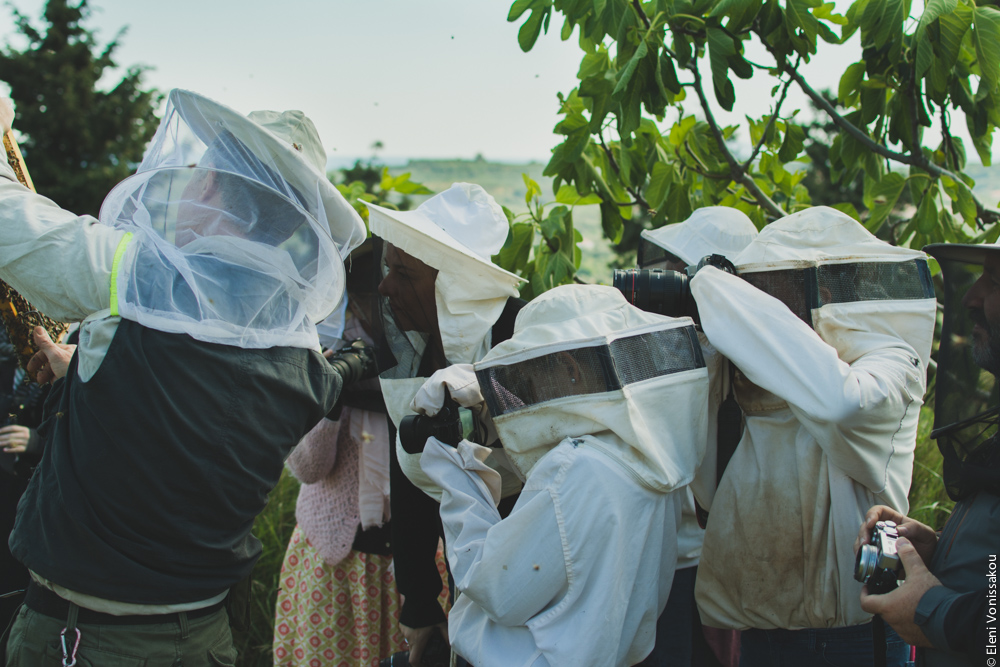 Day 3 was like being in a different country weather wise. The sun was shining and the birds were chirping. Perfect for our visit to some beehives! We learned a lot about how these magnificent creatures live and work, and how lucky we are to be able to use their food (yes, honey is their food) for our pleasure. To be honest I had a bit of a meltdown when a bee stung the keeper and it dawned on me that now this bee will die, just because it was protecting its home from an intruder. And that if we hadn't gone to visit this bee would still be alive. I know. Call me psycho. I won't go into all that any further, but can I just say, we need to be more appreciative of nature and all that we humans take from it. And if you eat honey take a few moments to read up on bees, they are truly amazing!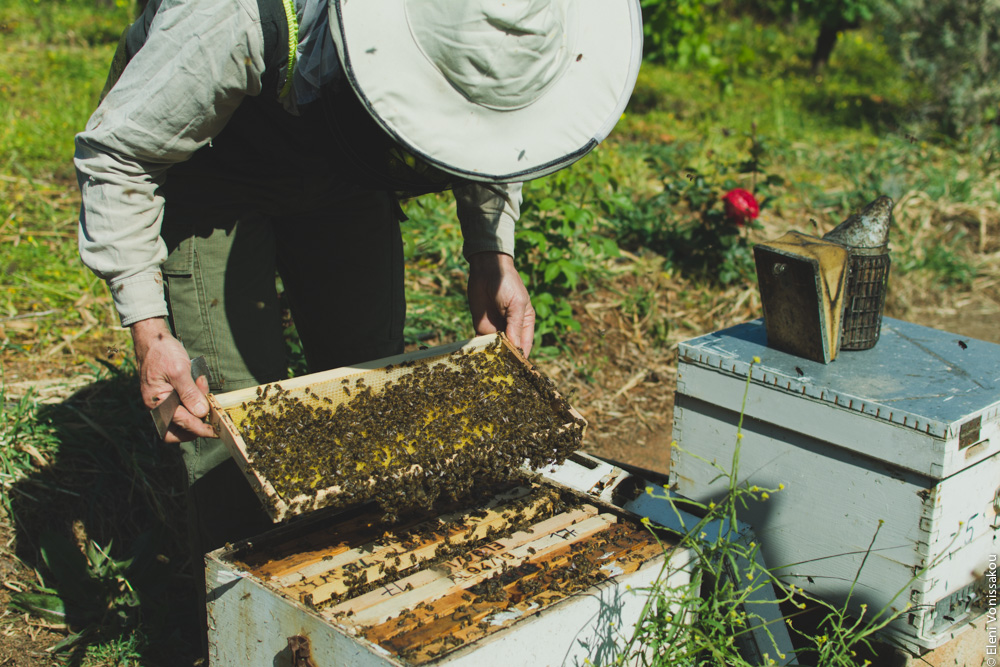 The bee keeper's garden was pretty cool, he had these gigantic turkeys that were a very noisy and a little bit scary, and a huge avocado tree. Did you know Crete produces avocados?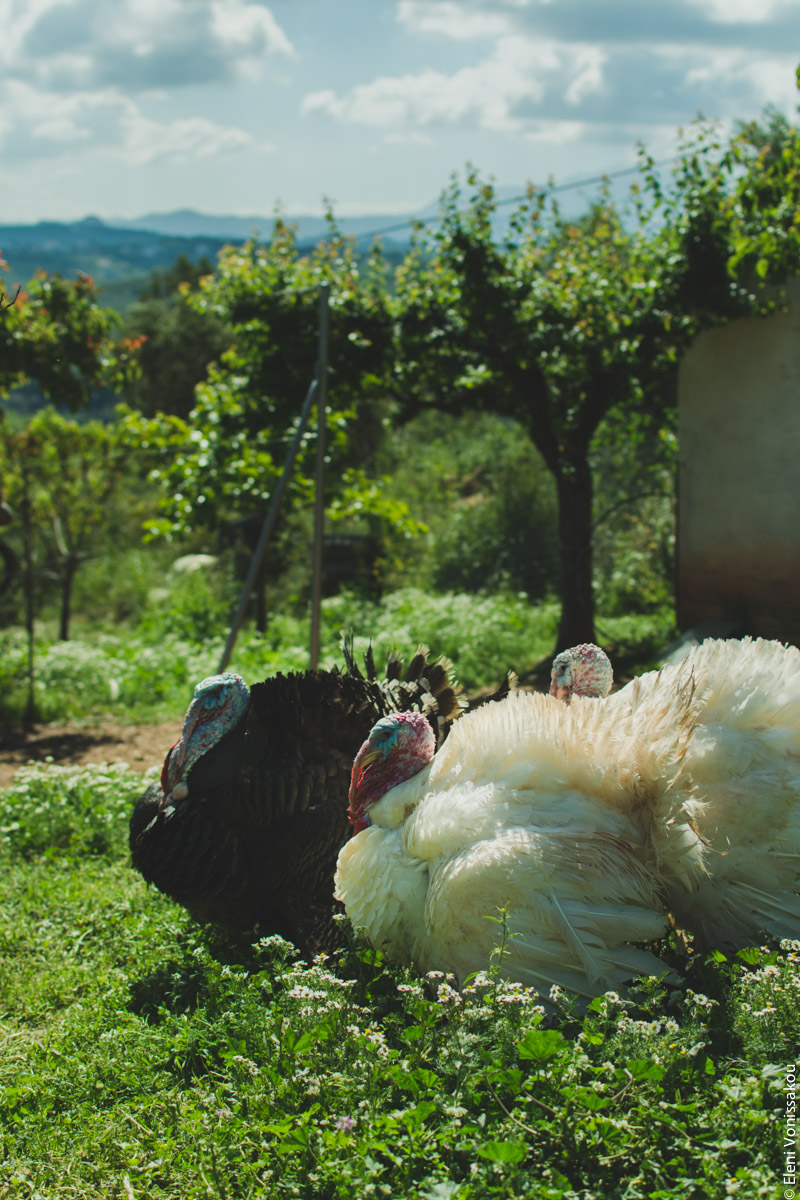 §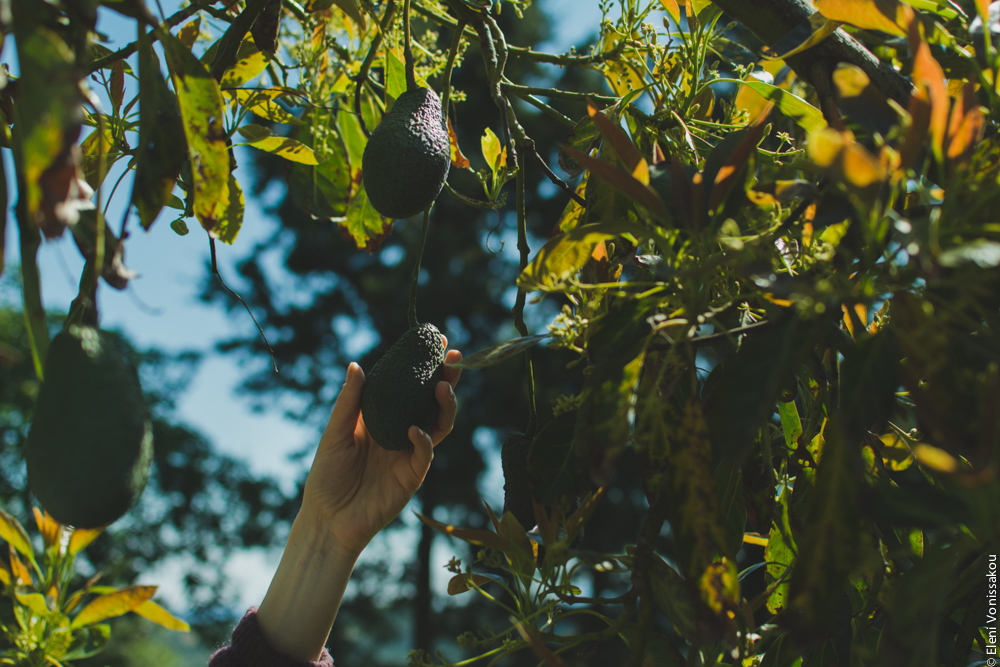 After our visit we headed back to Milia, eager to get stuck into another styling and shooting session. And what better subject for this than a young chef rolling out phyllo dough.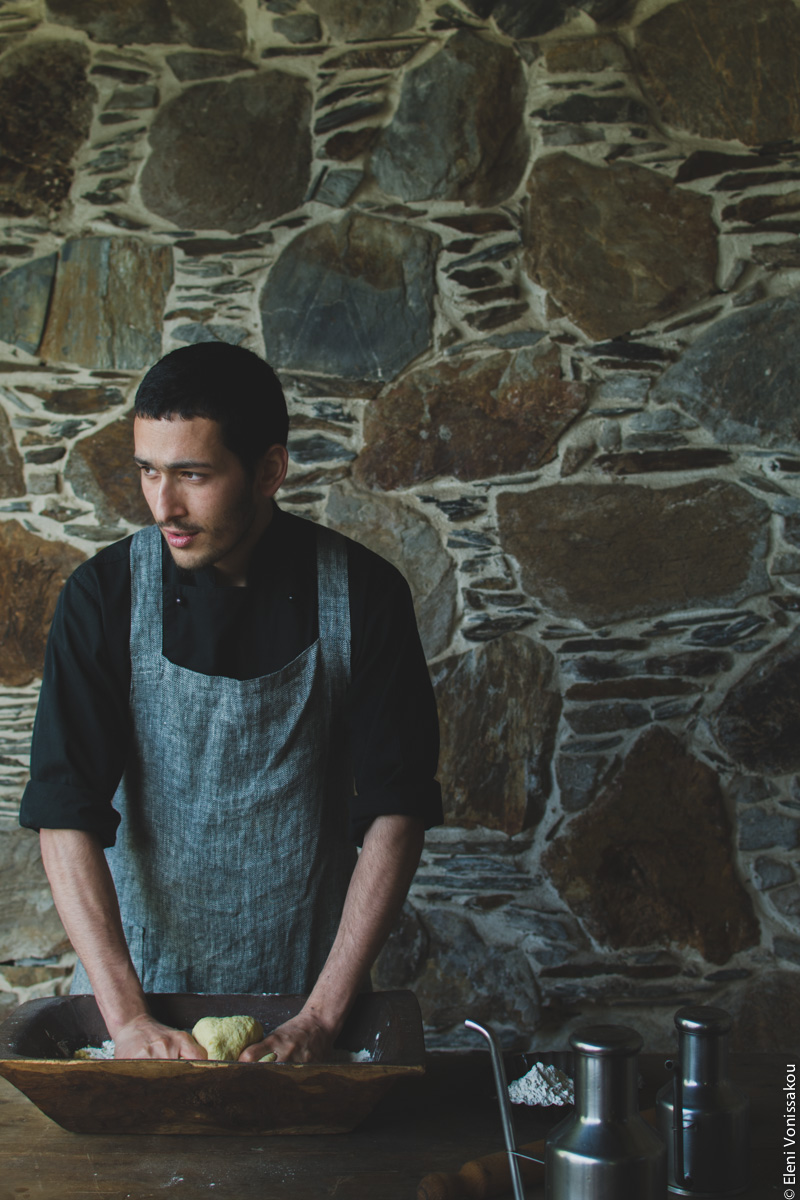 §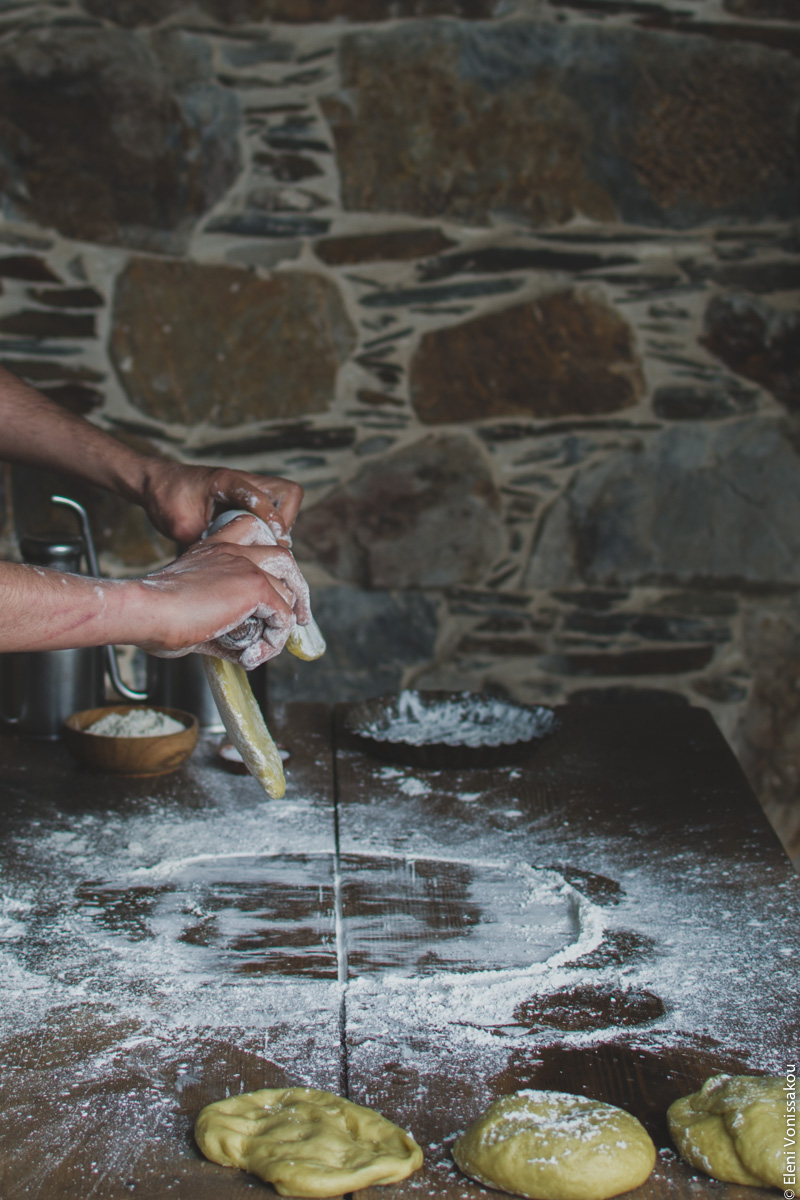 Panagiotis showed us how to make a delicious pie with spinach and leeks and other things I can't remember because I was too busy snapping pictures. Shame on me. Thank you Panagiotis for your patience!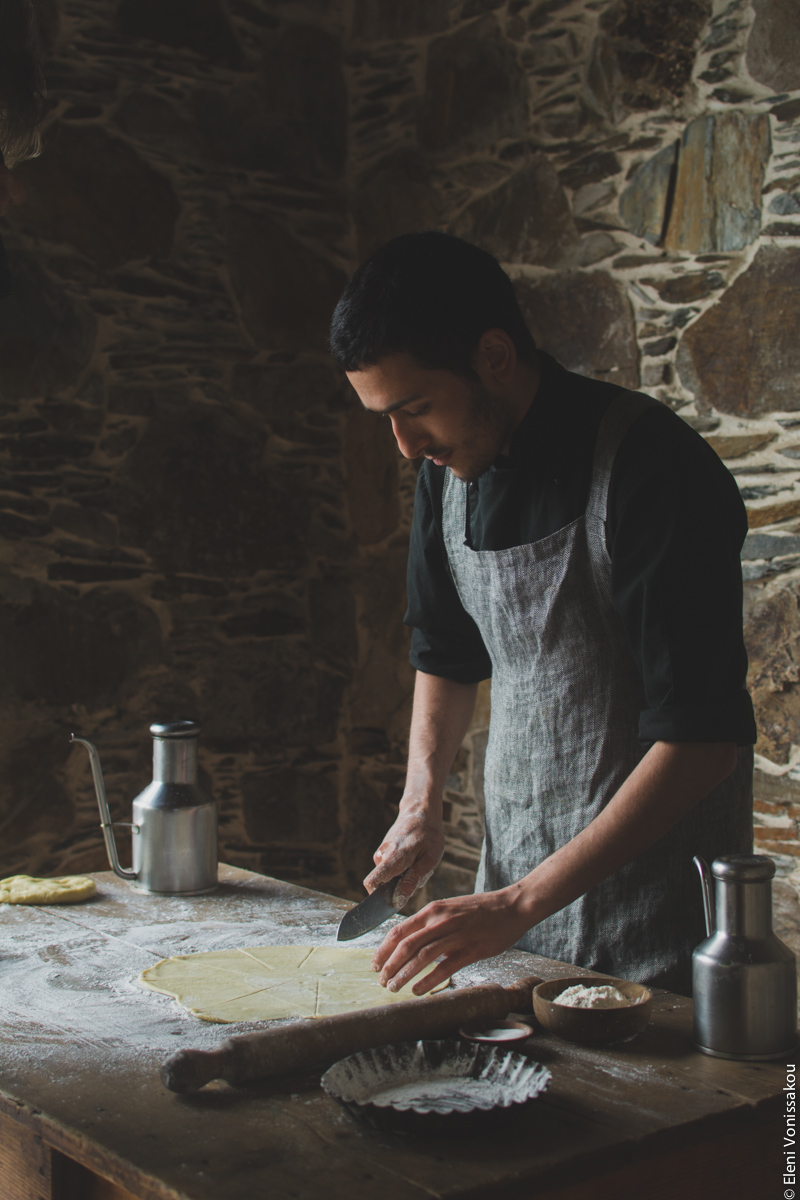 §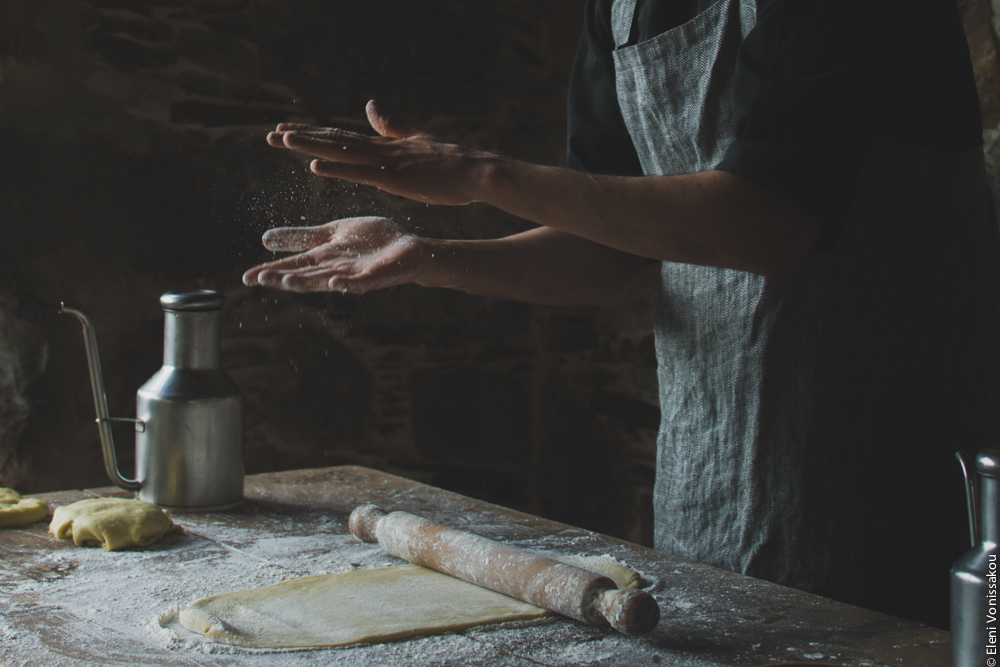 Pie all done and in the wood-fired oven, we were still hungry for more photography, so we continued with another styling session. We had a gorgeous collection of props, some that Betty brought with her, some of ours, and some from our lovely sponsors. Super cute cement plates by Rhoncus, and beautiful handmade wooden chopping boards by Tzoumani Bros (see below photos).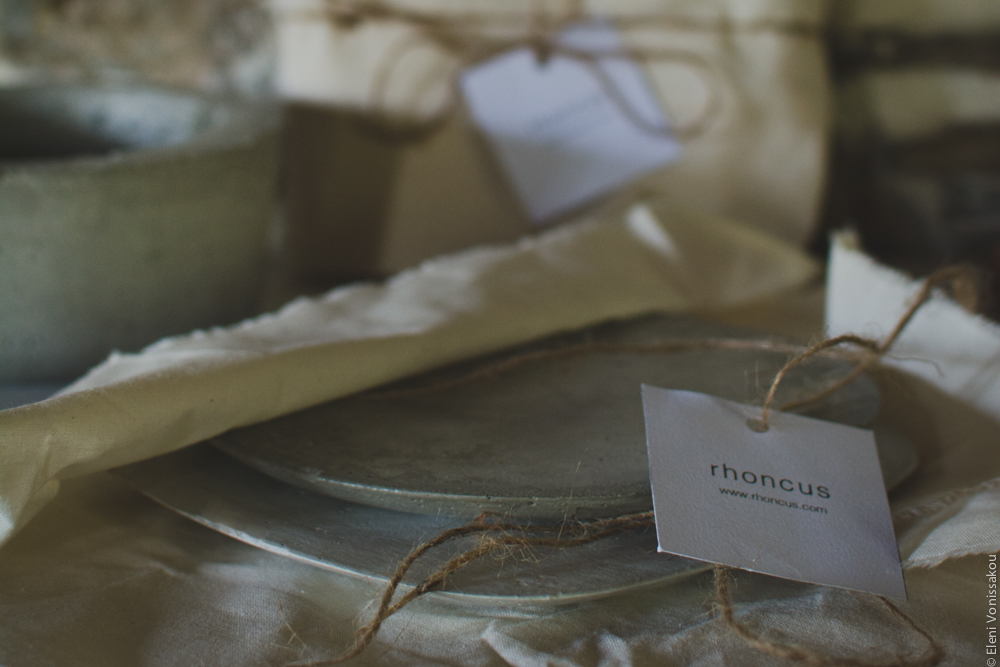 §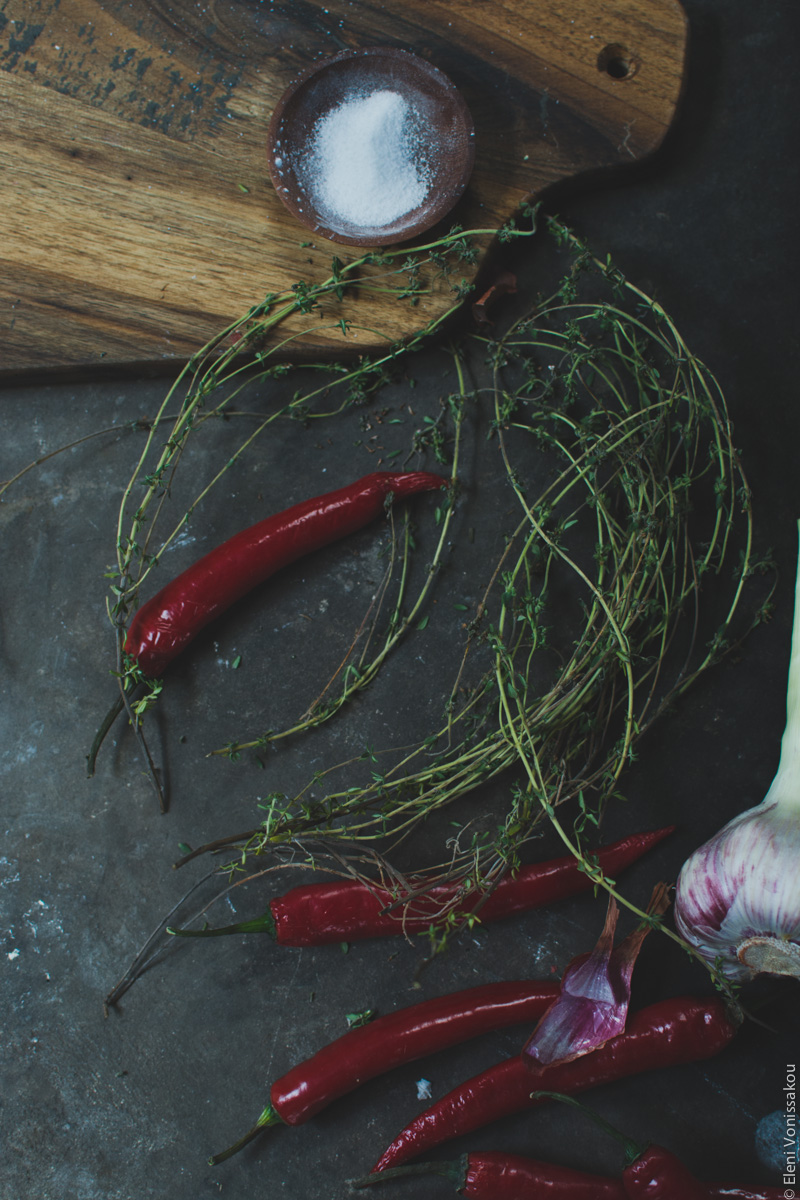 These were also included in the goodie bags our attendees got to take home with them! Thanks to both, I am so happy that we got to give such gorgeous gifts to our participants. Go take a look at their sites and social media, they ship internationally!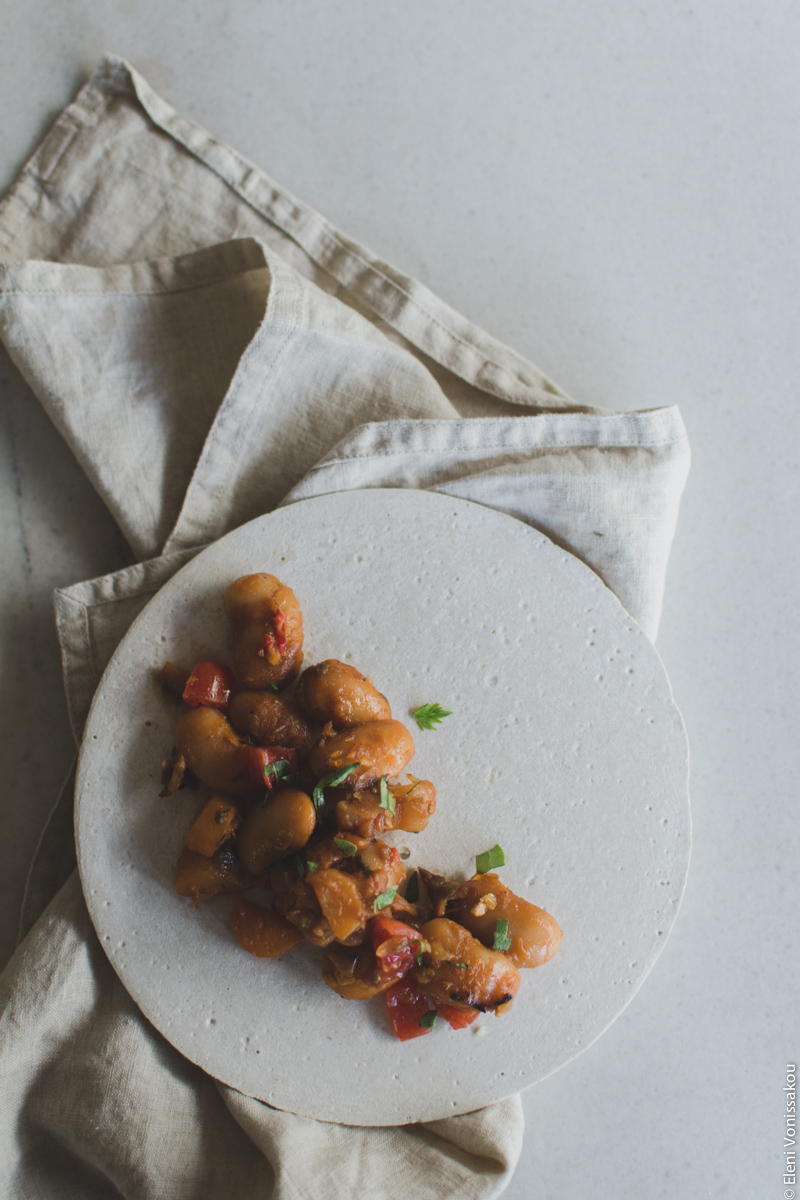 This styling session actually overflowed from the workshop area into a store-room nearby. It was so inspiring to see how you can scout for interesting surfaces and use colour and texture to enhance an otherwise plain-ish subject. Remember what I said in the first part, about coming away from workshops with amazing inspiration? Well, something as small as this, seeing someone use a rough floor as a backdrop to create a beautiful shot, can make all the difference in the way you work in future.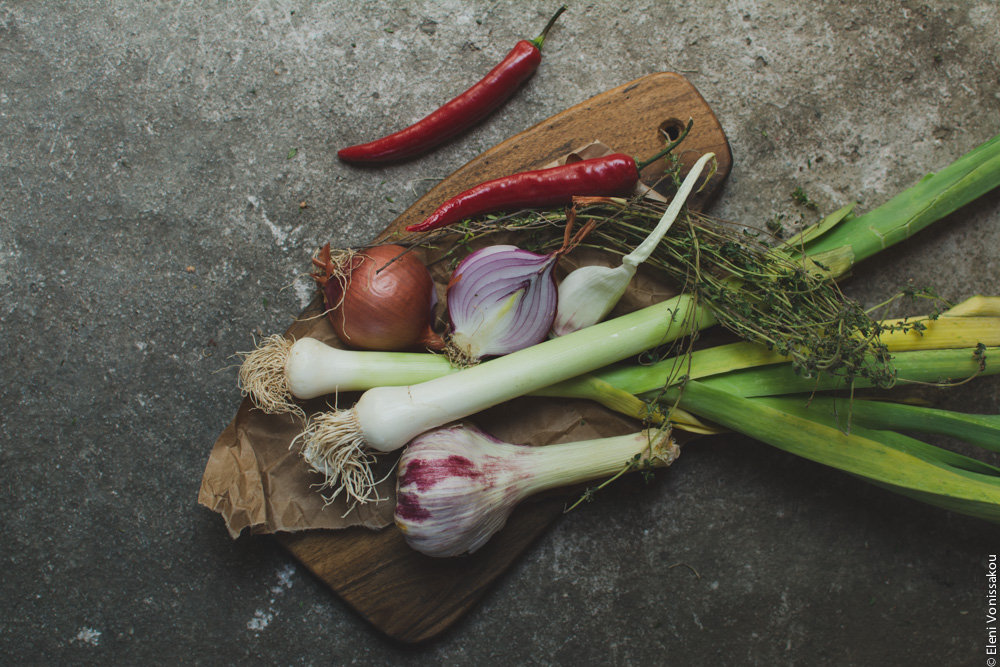 Finally, after the last light had fallen and we were practically in the dark, we put away our cameras and got ready for our last dinner as a group. A bitter sweet evening, with lots of laughter, some sadness that is was all coming to an end, and a general feeling of fulfillment. For me at least, I hope also for the others. Luckily we had lots of amazing wine to get us through the sad bits, and make sure we were as jolly as possible for the most part! Our glasses didn't stay empty for long, thanks to the Dourakis Winery, a local vineyard located in Chania, who were awesome enough to send us way too much of their gorgeous red Lihnos and white Kudos. The white is my new favourite by the way. Look out for their labels in Europe and soon in other areas too! (For more photos of these lovely wines you can see my facebook post here.)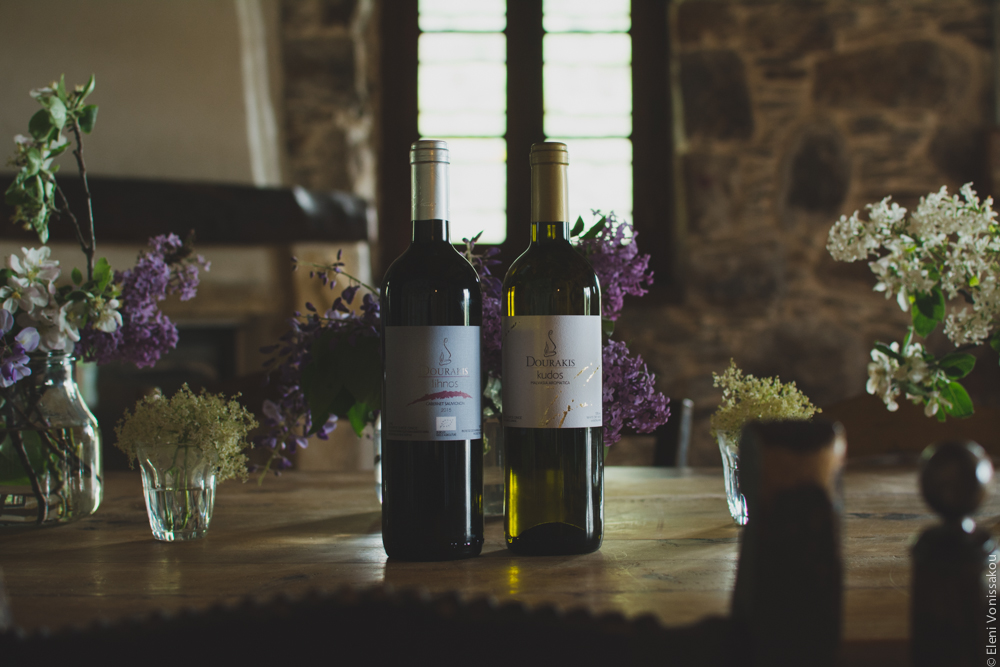 §

In the morning we said our goodbyes and our "let's keep in touch"s, and the group made its way to the town, where each of our new friends continued on their journey home or to other Greek destinations. For us, a mad rush started to try and pack everything and leave the retreat without forgetting half our stuff all over the place (did I mention we had made ourselves at home?). We made it (forgetting only one box, which was a success), and drove down to Chania Town to enjoy a late lunch/early dinner with Betty and Jenny. They were spending a couple more days in Chania at a wonderful boutique hotel called Domus Renier, whose owners also have two great restaurants right on the seafront of the Old Harbour in town. If you visit this area, you have to have dinner in the Old Harbour at least once! We sat at Lithos, and enjoyed a delicious meal with all sorts of different dishes. There is quite an amazing variety to choose from, from seafood (check out that gorgeous fish below), to traditional meat dishes, burgers and light snacks or salads. Their hospitality was warm and welcoming, and it was the perfect ending to a perfect weekend!

Photo credits: Artemis Tsipi
So, there we are. That was our brilliant, amazing, wonderful, inspiring retreat workshop at Milia. I will always remember it as one of the most fulfilling experiences of my life. Thanks again to Betty and Jenny for coming all the way from the US, thanks to Artemis for joining me in organizing it, and thanks to Constantina for being such a massive help with everything. Way to go team! And finally, thanks to our fabulous, talented attendees for making it happen! Take a look below for their blogs and Instagram accounts, and make sure to visit them. Catch you all later!