Smoked pork knuckle (ham hock) smothered in blueberry jam and slow cooked in good quality beer. A perfect meze to accompany your, er, beer.
Over on the Greek side I started this post by saying "you might be wondering what kind of a combination this is". Beer with jam? Ok, maybe you're thinking the same, but if I explain I think you'll know where it came from. Have you ever ordered a lager and black? Or a Guinness and black? Aha, is it making more sense now? In British pubs these are things you might hear quite often, especially if there are students around. The "black" refers to blackcurrant cordial, and it's added to beer or Guinness because it tastes yummy. The other day I was with some friends in an Irish pub here in Athens, gorging on fish and chips, and steak and ale pie, and you get the picture…, when a friend ordered her beer with some blackcurrant in it. I hadn't thought of this combo for years and it stuck with me.
The next day I finally decided to cook a smoked pork knuckle (ham hock) I had in the fridge. My original plan had been to cook it in beer after smothering it in honey. As I was prepping, it suddenly popped into my head that I had some blueberry jam. Ok it's definitely not the same as blackcurrant, but why not try that instead of the honey? We know dark berry flavours go with beer, so maybe it would work. It did. The flavour is very intense, so it's not something you will eat kilos of, but it's a fab idea for something to serve with beer as a snack (or meze as we say here in Greece). It needs some picking with your fingers to tear up the meaty bits and discard the fatty bits, so it's best to do that before serving.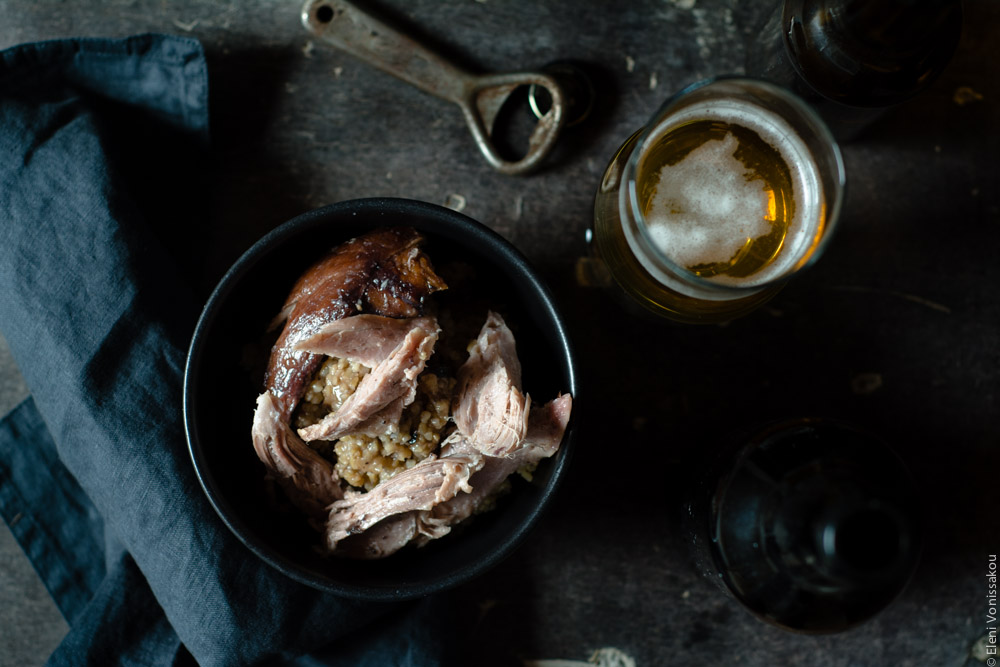 Another very important thing is to use a good beer. I mean a beer that you love the flavour of. Definitely something you really enjoy drinking. They always say that you should cook with alcohol that you would drink, but when it comes to cooking in a slow cooker, that rule applies a hundredfold. This is because slow cooking retains so much flavour. So when you pour the beer in there, expect the meat to soak up the taste. You better like the taste. If you're iffy about beer in general, move on and find another recipe. Or, if the jam sounds too strange an addition, go with honey.
At the end of cooking you will be left with lots of juice. Beer and smoked pork flavoured juice. It's strong stuff. I couldn't bear to chuck it, so I boiled some bulgur (cracked) wheat in it. Delish. Again, intense. You can get a small amount of cooked bulgur from the juice from one hock, or you can dilute with water and get a milder tasting result, but more of it. See step 3.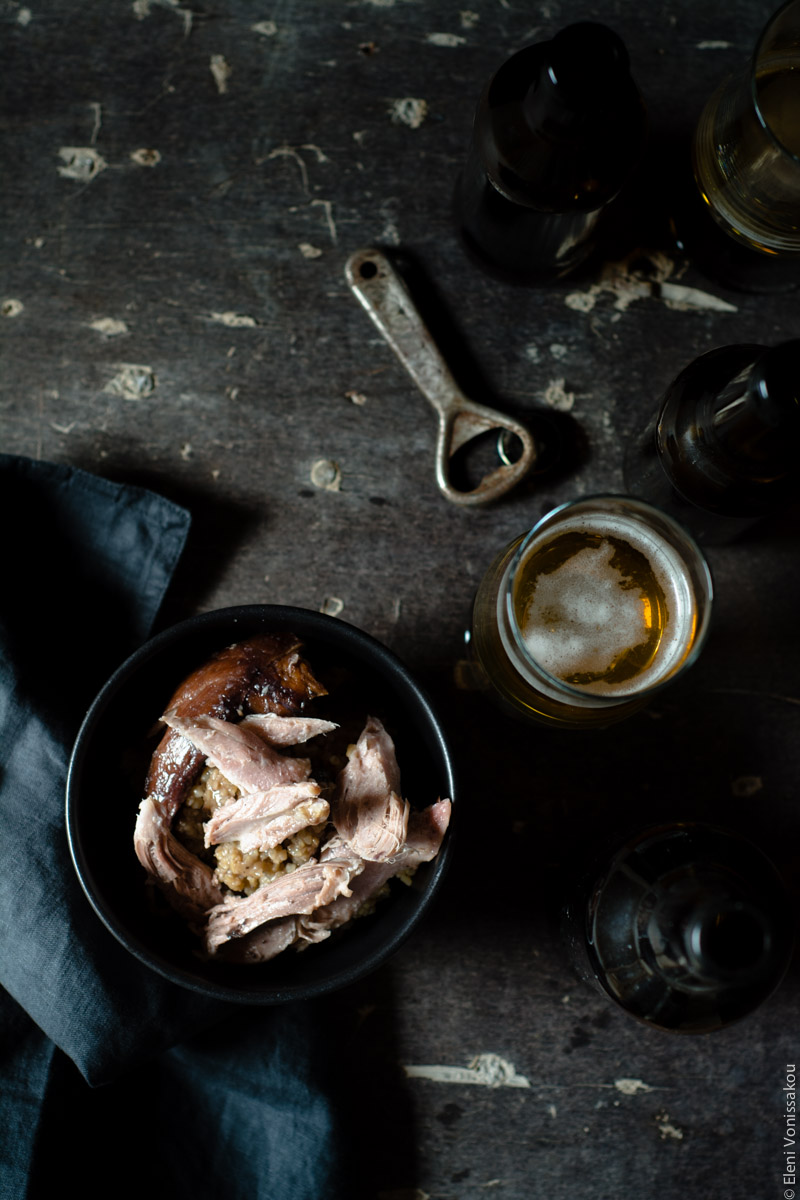 Do you use beer in your slow cooker? What do you cook in it? Give me some ideas!